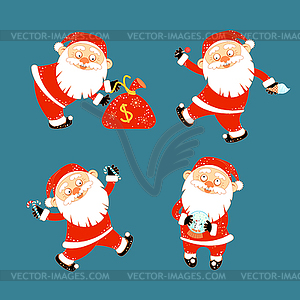 Vector Clipart ID:
c3619560
color vector clipart
Image title: Collection of stickers with Christmas Santa Claus
Description:
Collection of four old man in costume of Santa Claus. Cartoon Characters with different New year objects. Santa with bag of money, candies, ice cream and glass ball with snowman and snow, Vector illustration isolated on blue background. For your design of banner, greeting card, invitation, poster, package and other decorations
Type of vectorization: non-vinyl (not cuttable) vector file
Available vector graphic file formats and file size:
| | | | |
| --- | --- | --- | --- |
| | EPS | EPS 10 | 441.9 kb |
| | JPEG/JPG** | 5000x5000 px | 3035.0 kb |
EPS, AI, CDR, WMF - scalable vector grafic formats; JPG - unscalable raster format. Other graphic formats are available upon request.
The EPS 10 files may contain the graphic effects compatible with Adobe Illustrator only. Other vector editors may process such files incorrectly.