◢ Member Account
Find us on Facebook ›
Support / Help:
Last updates
VI Updates

›
New vector images
on Vector-Images.com
Updates on Cliparto
International Non-European Civic Heraldry - Vector clipart set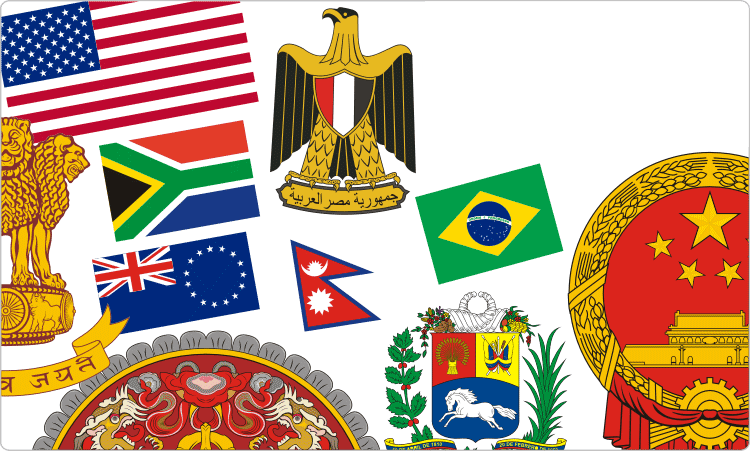 International Non-European Civic Heraldry
5217 vector images
Description:

Coats of arms and flags of non-European countries; over 1800 images. National and state seals and flags; coats of arms of cities, states and provinces in United States, Canada, Australia, New Zealand, South Africa, Argentina, Brazil, Colombia, etc.

The collection contains only the images indicated in the list below.
CD option
Ship Only - $495
What if your laptop doesn't have a CD/DVD-ROM? Not a problem! You can just order USB Flash Drive with all the files instead of CD.
FREE
Shipping
The CD orders are shipped by post (Economy Air Mail). It might take 2 or 3 weeks to deliver the CD by post in Europe and 2 or 4 weeks to the USA, Canada and other regions; cost $0. We do not charge for postage.
CD Bundle option
Order several related clipart collections in bundle set and save! The set "International Non-European Civic Heraldry" is available with the following CD Bundle also:

Note: 2CO/2CheckOut (Ohio, USA) is an authorized retailer for goods and services provided by Vector-Images.com

Total vector images - 5217:


›› U.S., flag

- ID 167


›› U.S., obverse side of The Great Seal

- ID 196


›› Australia, coat of arms

- ID 4450


›› Australia, flag

- ID 290


›› Canada, coat of arms

- ID 119


›› NATO, flag

- ID 3503


›› New Zealand, coat of arms

- ID 76


›› Serbia, coat of arms

- ID 5074


›› Serbia, flag

- ID 1373


›› South Africa (RSA), coat of arms

- ID 568


›› UN Educational, Scientfic and Cultural Organization (UNESCO), flag

- ID 4742


›› United Nations (UN), flag

- ID 21


›› Afghanistan, coat of arms (2004)

- ID 18541


›› Afghanistan, flag (2004)

- ID 1581


›› Albania, coat of arms

- ID 564


›› Albania, flag

- ID 328


›› Algeria, flag

- ID 326


›› Algeria, national emblem (1976)

- ID 7041


›› Angola, coat of arms (1992)

- ID 3975


›› Angola, flag (1975)

- ID 1753


›› Angola, proposed flag (2003)

- ID 3065


›› Anguilla, coat of arms

- ID 3078


›› Anguilla, flag

- ID 3079


›› Antigua and Barbuda, coat of arms

- ID 66


›› Antigua and Barbuda, flag

- ID 1799


›› Argentina, coat of arms

- ID 3940


›› Argentina, flag

- ID 1800


›› Armenia, coat of arms

- ID 16


›› Armenia, flag

- ID 1302


›› Aruba, coat of arms

- ID 4743


›› Aruba, flag

- ID 1852


›› ASEAN, flag

- ID 4756


›› Azerbaijan, coat of arms

- ID 17


›› Azerbaijan, flag

- ID 1301


›› Bahamas, coat of arms

- ID 3984


›› Bahamas, flag

- ID 1801


›› Bahrain, coat of arms

- ID 110


›› Bahrain, flag (2002)

- ID 8350


›› Bangladesh, coat of arms

- ID 4219


›› Bangladesh, flag

- ID 1733


›› Barbados, coat of arms

- ID 2701


›› Barbados, flag

- ID 1803


›› Belize, coat of arms

- ID 111


›› Belize, flag

- ID 1802


›› Benin, coat of arms

- ID 4542


›› Benin, flag

- ID 1754


›› Bermuda, coat of arms

- ID 96


›› Bermuda, flag

- ID 459


›› Bhutan, flag

- ID 1734


›› Bhutan, state emblem

- ID 6042


›› Bolivia, coat of arms

- ID 127


›› Bolivia, flag

- ID 1804


›› Botswana, coat of arms

- ID 4470


›› Botswana, flag

- ID 1755


›› Brazil, coat of arms

- ID 403


›› Brazil, flag

- ID 1805


›› British Antarctic Territory, coat of arms

- ID 4791


›› British Antarctic Territory, flag

- ID 4790


›› British Commonwealth, flag

- ID 1857


›› British Indian Ocean Territory, coat of arms

- ID 10345


›› British Indian Ocean Territory, flag

- ID 4793


›› British Virgin Islands, coat of arms

- ID 3938


›› British Virgin Islands, flag

- ID 3939


›› Brunei Darussalam, coat of arms

- ID 112


›› Brunei Darussalam, flag

- ID 1735


›› Burkina Faso, coat of arms

- ID 4471


›› Burkina Faso, flag

- ID 1756


›› Burundi, coat of arms

- ID 566


›› Burundi, flag

- ID 1757


›› Cambodia (Kampuchea), Royal Arms

- ID 7068


›› Cambodia, flag

- ID 146


›› Cameroon, coat of arms

- ID 4544


›› Cameroon, flag

- ID 1758


›› Canada, flag

- ID 108


›› Cape Verde, coat of arms

- ID 567


›› Cape Verde, flag

- ID 1759


›› Cayman Islands, coat of arms

- ID 3080


›› Cayman Islands, flag

- ID 3081


›› Central African Republic, coat of arms

- ID 7056


›› Central African Republic, flag

- ID 1760


›› Chad, coat of arms

- ID 39


›› Chad, flag

- ID 1853


›› Chile, coat of arms

- ID 3714


›› Chile, flag

- ID 1806


›› China, coat of arms

- ID 113


›› China, flag

- ID 1736


›› Colombia, coat of arms

- ID 3985


›› Colombia, flag

- ID 1807


›› Commonwealth of Independent States (CIS), flag

- ID 1990


›› Comoros, coat of arms

- ID 7055


›› Comoros, flag

- ID 4913


›› Congo (Democratic Republic of Congo), coat of arms (2006)

- ID 7753


›› Congo (Democratic Republic of Congo), flag (2006)

- ID 7527


›› Congo (People's Republic of Congo), coat of arms

- ID 7061


›› Congo (People's Republic of Congo), flag

- ID 1762


›› Cook Islands, coat of arms

- ID 4218


›› Cook Islands, flag

- ID 4220


›› Costa Rica, coat of arms

- ID 114


›› Costa Rica, flag

- ID 1808


›› Cote d'Ivoire, coat of arms (1964)

- ID 3977


›› Cote d'Ivoire, flag

- ID 1764


›› Cuba, coat of arms

- ID 115


›› Cuba, flag

- ID 1798


›› Djibouti, coat of arms

- ID 147


›› Djibouti, flag

- ID 1766


›› Dominica, coat of arms

- ID 1129


›› Dominica, flag

- ID 1809


›› Dominican Republic, coat of arms

- ID 365


›› Dominican Republic, flag

- ID 1810


›› East Timor (Timor Leste), coat of arms

- ID 3648


›› East Timor (Timor Leste), flag

- ID 144


›› Ecuador, coat of arms

- ID 148


›› Ecuador, flag

- ID 1820


›› Egypt, emblem

- ID 4543


›› Egypt, flag

- ID 1724


›› El Salvador, coat of arms

- ID 4123


›› El Salvador, flag

- ID 1811


›› Equatorial Guinea, coat of arms

- ID 1768


›› Equatorial Guinea, flag

- ID 1767


›› Eritrea, coat of arms

- ID 7038


›› Eritrea, flag

- ID 1770


›› Eswatini, coat of arms

- ID 4473


›› Eswatini, flag

- ID 1792


›› Ethiopia, flag

- ID 1769


›› Ethiopia, state emblem (1996)

- ID 3979


›› Eurasian Economic Union (EAEU), flag

- ID 28823


›› Falkland Islands (Malvinas), coat of arms

- ID 843


›› Falkland Islands (Malvinas), flag

- ID 506


›› Fiji, coat of arms

- ID 3996


›› Fiji, flag

- ID 1833


›› Food and Agricultural Organization (FAO), flag

- ID 6466


›› French Guiana, coat of arms

- ID 10376


›› French Guiana, department flag (2010)

- ID 19222


›› French Polynesia, emblem (coat of arms)

- ID 19226


›› French Polynesia, flag

- ID 3637


›› Gabon, coat of arms

- ID 162


›› Gabon, flag

- ID 1771


›› Gambia, coat of arms

- ID 4883


›› Gambia, flag

- ID 1772


›› Georgia (Sakartvelo), coat of arms

- ID 1157


›› Georgia (Sakartvelo), flag

- ID 3066


›› Ghana, coat of arms

- ID 4469


›› Ghana, flag

- ID 1773


›› Grenada, coat of arms

- ID 4513


›› Grenada, flag

- ID 1813


›› Guatemala, coat of arms

- ID 160


›› Guatemala, national flag

- ID 1815


›› Guinea, coat of arms (1993)

- ID 10370


›› Guinea, flag

- ID 4923


›› Guinea-Bissau, coat of arms

- ID 6362


›› Guinea-Bissau, flag

- ID 1774


›› Guyana, coat of arms

- ID 7085


›› Guyana, flag

- ID 1816


›› Haiti, coat of arms

- ID 161


›› Haiti, flag

- ID 1817


›› Honduras, coat of arms

- ID 3986


›› Honduras, flag

- ID 1818


›› Hong Kong (Xianggang), coat of arms

- ID 194


›› Hong Kong (Xianggang), flag

- ID 1498


›› Hungary, coat of arms

- ID 6534


›› Hungary, flag

- ID 1352


›› India, flag

- ID 1737


›› India, national emblem

- ID 109


›› Indonesia, coat of arms

- ID 164


›› Indonesia, flag

- ID 1856


›› International Atomic Energy Agency (IAEA), flag

- ID 4739


›› International Labour Organization, flag

- ID 6063


›› International Maritime Organization (IMO), flag

- ID 4751


›› International Olympic Committee (IOC), flag

- ID 25


›› International Telecommunications Union (ITU), flag

- ID 4752


›› Iran, emblem

- ID 2724


›› Iran, flag

- ID 1715


›› Iraq, coat of arms (2008)

- ID 3109


›› Iraq, flag (2008)

- ID 10133


›› Ireland, coat of arms

- ID 120


›› Ireland, flag

- ID 1366


›› Israel, coat of arms

- ID 163


›› Israel, flag

- ID 1716


›› Jamaica, coat of arms

- ID 165


›› Jamaica, flag

- ID 1819


›› Japan, emblem

- ID 116


›› Japan, flag

- ID 1743


›› Jordan, coat of arms

- ID 7040


›› Jordan, flag

- ID 1725


›› Kazakhstan, coat of arms (2018)

- ID 27813


›› Kazakhstan, flag

- ID 131


›› Kenya, coat of arms

- ID 3976


›› Kenya, flag

- ID 1775


›› Kiribati, coat of arms

- ID 3506


›› Kiribati, flag

- ID 1834


›› Kosovo, coat of arms

- ID 10361


›› Kosovo, flag

- ID 10132


›› Kuwait, coat of arms

- ID 3716


›› Kuwait, flag

- ID 1717


›› Kyrgyzstan, coat of arms

- ID 1152


›› Kyrgyzstan, flag

- ID 1300


›› Lao People's Democratic Republic (Laos), coat of arms (1991)

- ID 11676


›› Lao People's Democratic Republic, flag

- ID 1740


›› League of Arab States (Arab League), emblem

- ID 10352


›› League of Arab States (Arab League), flag

- ID 10353


›› Lebanon, coat of arms

- ID 254


›› Lebanon, flag

- ID 255


›› Lesotho, coat of arms

- ID 3980


›› Lesotho, flag (2006)

- ID 8996


›› Liberia, coat of arms

- ID 256


›› Liberia, flag

- ID 1777


›› Libya, coat of arms (1977)

- ID 7084


›› Libya, flag (1977)

- ID 1726


›› Libya, flag (2011)

- ID 14292


›› Macao (Aomen), coat of arms

- ID 334


›› Macao (Aomen), flag

- ID 1497


›› Madagascar, coat of arms

- ID 7059


›› Madagascar, flag

- ID 1765


›› Malawi, coat of arms

- ID 7057


›› Malawi, flag

- ID 1778


›› Malaysia, flag

- ID 1741


›› Malaysia, Royal Arms

- ID 7069


›› Maldives, coat of arms

- ID 6041


›› Maldives, flag

- ID 1742


›› Mali, flag

- ID 1779


›› Mali, state seal

- ID 6043


›› Marshall Islands, flag

- ID 1835


›› Marshall Islands, seal

- ID 7115


›› Mauritania, coat of arms (2018)

- ID 33066


›› Mauritania, flag (2017)

- ID 33065


›› Mauritius, coat of arms

- ID 4472


›› Mauritius, flag

- ID 1780


›› Mayotte, coat of arms

- ID 4023


›› Mayotte, flag

- ID 4022


›› MERCOSUR, flag

- ID 4755


›› Mexico, coat of arms

- ID 128


›› Mexico, flag

- ID 1821


›› Micronesia (Federated states of Micronesia), flag

- ID 1836


›› Micronesia (Federated states of Micronesia), seal

- ID 7087


›› Mongolia, coat of arms

- ID 6359


›› Mongolia, flag

- ID 1744


›› Montenegro, coat of arms

- ID 6176


›› Montenegro, flag

- ID 4740


›› Montserrat, coat of arms

- ID 3988


›› Montserrat, flag

- ID 3989


›› Morocco, coat of arms

- ID 6387


›› Morocco, flag

- ID 1727


›› Mozambique, coat of arms (1982)

- ID 3981


›› Mozambique, flag

- ID 1781


›› Myanmar, flag (2010)

- ID 10348


›› Myanmar, former state seal

- ID 6040


›› Myanmar, state seal (2010)

- ID 10374


›› Namibia, coat of arms

- ID 3715


›› Namibia, flag

- ID 1782


›› Nauru, coat of arms

- ID 4474


›› Nauru, flag

- ID 1837


›› Nepal, coat of arms (2006)

- ID 9092


›› Nepal, flag

- ID 1745


›› Netherlands Antilles, coat of arms

- ID 3647


›› Netherlands Antilles, flag

- ID 1859


›› New Caledonia, emblem

- ID 3638


›› New Caledonia, flag (2010, Kanak Flag)

- ID 19228


›› New Zealand, flag

- ID 1838


›› Nicaragua, coat of arms

- ID 272


›› Nicaragua, flag

- ID 1822


›› Niger, coat of arms

- ID 6360


›› Niger, flag

- ID 1783


›› Nigeria, coat of arms

- ID 4013


›› Nigeria, flag

- ID 1784


›› Niue, flag

- ID 6985


›› North Korea (Democratic People's Republic of Korea), coat of arms

- ID 815


›› North Korea (Democratic People's Republic of Korea), flag

- ID 1738


›› Northern Cyprus, coat of arms

- ID 5107


›› Northern Cyprus, flag

- ID 5106


›› Oman, flag

- ID 1718


›› Oman, national emblem

- ID 10347


›› Organization of Petroleum Exporting Countries (OPEC), flag

- ID 4754


›› Pakistan, coat of arms

- ID 184


›› Pakistan, flag

- ID 1746


›› Palau, flag

- ID 1839


›› Palau, Government seal

- ID 7114


›› Palestine, coat of arms

- ID 10346


›› Palestine, flag

- ID 1719


›› Panama, coat of arms

- ID 134


›› Panama, flag

- ID 1812


›› Papua - New Guinea, coat of arms

- ID 6044


›› Papua New Guinea, flag

- ID 1840


›› Paraguay, flag (back side)

- ID 5073


›› Paraguay, flag (front side)

- ID 1823


›› Paraguay, national emblem

- ID 7116


›› Peru, civil flag

- ID 1824


›› Peru, coat of arms

- ID 5075


›› Peru, national emblem

- ID 458


›› Philippines, coat of arms

- ID 1130


›› Philippines, flag

- ID 1847


›› Pitcairn, coat of arms

- ID 7524


›› Pitcairn, flag

- ID 7525


›› Qatar, coat of arms

- ID 3994


›› Qatar, flag

- ID 1728


›› Romania, coat of arms (2016)

- ID 19448


›› Romania, flag

- ID 1356


›› Rwanda, coat of arms (2001)

- ID 3749


›› Rwanda, flag

- ID 1855


›› Samoa (West Samoa), coat of arms

- ID 3636


›› Samoa (West Samoa), flag

- ID 1841


›› Sao Tome and Principe, coat of arms

- ID 3641


›› Sao Tome and Principe, flag

- ID 1787


›› Saudi Arabia, flag

- ID 289


›› Saudi Arabia, state emblem

- ID 6415


›› Senegal, coat of arms

- ID 6371


›› Senegal, flag

- ID 1788


›› Seychelles, coat of arms

- ID 7155


›› Seychelles, flag

- ID 1848


›› Sierra Leone, coat of arms

- ID 6416


›› Sierra Leone, flag

- ID 1789


›› Singapore, coat of arms

- ID 3640


›› Singapore, flag

- ID 1747


›› Slovenia, coat of arms

- ID 427


›› Slovenia, flag

- ID 1334


›› Solomon Islands, coat of arms

- ID 6417


›› Solomon Islands, flag

- ID 1842


›› Somalia, coat of arms

- ID 3982


›› Somalia, flag

- ID 1790


›› South Africa (RSA), flag

- ID 1785


›› South Georgia and South Sandwich Islands, coat of arms

- ID 6177


›› South Georgia and South Sandwich Islands, flag

- ID 6178


›› South Korea (Republic of Korea), emblem

- ID 269


›› South Korea (Republic of Korea), flag

- ID 1739


›› South Sudan, coat of arms

- ID 14291


›› South Sudan, flag

- ID 14290


›› Sri Lanka, coat of arms

- ID 5029


›› Sri Lanka, flag

- ID 1748


›› St. Helena Island, coat of arms

- ID 6181


›› St. Helena Island, flag

- ID 6182


›› St. Kitts and Nevis, coat of arms

- ID 7044


›› St. Kitts and Nevis, flag

- ID 1826


›› St. Lucia, coat of arms

- ID 3712


›› St. Lucia, flag

- ID 1827


›› St. Pierre and Miquelon, flag

- ID 7560


›› St. Vincent and Grenadines, flag

- ID 1828


›› St. Vincent and the Grenadines, coat of arms

- ID 7070


›› Sudan, coat of arms

- ID 7058


›› Sudan, flag

- ID 1791


›› Suriname, coat of arms

- ID 3987


›› Suriname, flag

- ID 1829


›› Syria, coat of arms

- ID 6020


›› Syria, flag

- ID 1720


›› Taiwan, flag

- ID 1749


›› Taiwan, state emblem

- ID 6875


›› Tajikistan, coat of arms

- ID 1001


›› Tajikistan, flag

- ID 451


›› Tanzania, coat of arms

- ID 4744


›› Tanzania, flag

- ID 1793


›› Thailand, flag

- ID 1751


›› Thailand, state emblem

- ID 7042


›› Tibet, emblem

- ID 10375


›› Tibet, flag

- ID 6183


›› Togo, coat of arms (1980)

- ID 7528


›› Togo, flag

- ID 1794


›› Tokelau, flag (2008)

- ID 10349


›› Tonga, coat of arms

- ID 4885


›› Tonga, flag

- ID 1843


›› Trinidad and Tobago, coat of arms

- ID 5204


›› Trinidad and Tobago, flag

- ID 1830


›› Tristan da Cunha (Dependency of Saint Helena), coat of arms

- ID 6179


›› Tristan da Cunha (Dependency of Saint Helena), flag

- ID 6180


›› Tunisia, coat of arms

- ID 4221


›› Tunisia, flag

- ID 1729


›› Turkey, coat of arms

- ID 118


›› Turkey, flag

- ID 1721


›› Turkmenistan, coat of arms

- ID 1516


›› Turkmenistan, flag

- ID 582


›› Turks and Caicos Islands, coat of arms

- ID 9383


›› Turks and Caicos Islands, flag

- ID 9384


›› Tuvalu, coat of arms

- ID 7024


›› Tuvalu, flag

- ID 1844


›› Uganda, coat of arms

- ID 5455


›› Uganda, flag

- ID 1795


›› UN Industrial Development Organization (UNIDO), flag

- ID 4753


›› United Arab Emirates (UAE), coat of arms

- ID 10232


›› United Arab Emirates (UAE), flag

- ID 1722


›› Uruguay, coat of arms

- ID 273


›› Uruguay, flag

- ID 1831


›› Uzbekistan, coat of arms

- ID 20


›› Uzbekistan, flag

- ID 452


›› Vanuatu, flag

- ID 1845


›› Vanuatu, state emblem

- ID 7043


›› Venezuela, coat of arms (2006)

- ID 7623


›› Venezuela, flag (2006)

- ID 7624


›› Vietnam, coat of arms

- ID 195


›› Vietnam, flag

- ID 1846


›› Wallis and Futuna, unofficial flag

- ID 6051


›› Western Sahara (Sahrawi Arab Democratic Republic, SADR), coat of arms

- ID 10538


›› Western Sahara (Sahrawi Arab Democratic Republic, SADR), flag

- ID 1730


›› World Health Orgaisation (WHO), flag

- ID 7072


›› World Intellectual Property Organization (WIPO), flag

- ID 6978


›› World Meteorology Orgaisation (WMO), flag

- ID 7073


›› World Post Union, flag

- ID 7074


›› Yemen, coat of arms

- ID 7596


›› Yemen, flag

- ID 1723


›› Yugoslavia (Serbia and Montenegro), coat of arms

- ID 845


›› Yugoslavia (Serbia and Montenegro), flag

- ID 1367


›› Zaire, coat of arms (1971)

- ID 3110


›› Zambia, coat of arms

- ID 4012


›› Zambia, flag

- ID 1797


›› Zimbabwe, coat of arms

- ID 6976


›› Zimbabwe, flag

- ID 1796


›› Albania (People's Republic of Albania), coat of arms

- ID 1517


›› Algeria, national emblem (1971)

- ID 6363


›› Armenian SSR, coat of arms

- ID 78


›› Australia, merchant ensign

- ID 6877


›› Australia, naval ensign

- ID 6876


›› Awdalland (Somalia), flag

- ID 19202


›› Bahrain, flag (1972)

- ID 1714


›› Baku (Azerbaijan), coat of arms

- ID 10440


›› Benin, coat of arms (1975)

- ID 6982


›› Bishkek (Kirgizia), coat of arms

- ID 1286


›› Bishkek (Kirgizia), flag

- ID 2043


›› Brazil, national seal

- ID 106


›› British Armed Forces, Combined Services badge

- ID 12957


›› British Raj, Blue Ensign

- ID 11022


›› British Raj, Order of the Star of India

- ID 11019


›› British Raj, Red Ensign

- ID 11021


›› British Raj, The Governor-General's Flag (1876-1904)

- ID 11020


›› Burkina Faso, coat of arms (1984)

- ID 3525


›› Canada, flag of Queen Elizabeth II for personal use in Canada

- ID 11675


›› Canada, red ensign (1957)

- ID 10428


›› Canadian Forces (CF), badge (insignia)

- ID 11172


›› Canadian Forces (CF), Ensign

- ID 11180


›› Cape Verde, coat of arms (1975)

- ID 1419


›› China, historical emblem (XIX century)

- ID 4545


›› China, Qing Dynasty flag (1889)

- ID 11158


›› Commonwealth of Independent States (CIS), emblem

- ID 380


›› Congo (Democratic Republic of Congo), coat of arms (1999)

- ID 565


›› Congo (Democratic Republic of Congo), coat of arms (2003)

- ID 4884


›› Congo (Democratic Republic of Congo), coat of arms (2004)

- ID 7060


›› Congo (Democratic Republic of Congo), flag (1997)

- ID 1763


›› Congo (People's Republic of Congo), coat of arms (1970)

- ID 7062


›› Congo (People's Republic of Congo), flag (1970)

- ID 7063


›› Costa Rica, state flag

- ID 6945


›› East Timor (Timor Leste), coat of arms (1975)

- ID 9230


›› Egypt, Kingdoms's flag (1922)

- ID 11393


›› El Salvador, civil ensign

- ID 6880


›› El Salvador, civil flag

- ID 4920


›› Ethiopia, coat of arms (1975)

- ID 3978


›› Ethiopia, coat of arms (1987)

- ID 7066


›› Ethiopia, flag (1897)

- ID 6737


›› Ethiopia, unofficial national flag

- ID 6881


›› Formosa (Taiwan), flag (1895)

- ID 10508


›› French Guiana, region flag (1974)

- ID 19223


›› French Guiana, territorial collectivity flag (2016)

- ID 19227


›› Galmudug (Somalia), coat of arms

- ID 19203


›› Galmudug (Somalia), flag (2013)

- ID 19204


›› Galmudug (Somalia), flag (2016)

- ID 19205


›› Georgia (Sakartvelo), flag (1919, 1990)

- ID 1303


›› Georgian SSR, coat of arms

- ID 6310


›› Governor General of Canada, flag

- ID 11674


›› Guinea, coat of arms (1958)

- ID 6361


›› Guinea, coat of arms (1984)

- ID 7064


›› Hong Kong (Xianggang), coat of arms (1959)

- ID 4232


›› Hong Kong (Xianggang), flag (1959)

- ID 6787


›› Hungary, coat of arms (XIX century)

- ID 6391


›› India, Calcutta flag (1906)

- ID 11018


›› Iraq, coat of arms (1965)

- ID 6979


›› Iraq, flag (2004)

- ID 5104


›› Italian Somaliland, governorate coat of arms

- ID 19206


›› Jubaland (Somalia), flag

- ID 19207


›› Kazakh SSR, coat of arms

- ID 756


›› Kazakhstan, coat of arms (1996)

- ID 1890


›› Kazakhstan, coat of arms (2008)

- ID 30830


›› Kyrgyzstan, President standard (flag)

- ID 31226


›› Lao People's Democratic Republic (Laos), coat of arms (1975)

- ID 7086


›› Laos, royal flag

- ID 6736


›› Lithuanian Armed Forces, banner (back side)

- ID 21742


›› Lithuanian Armed Forces, banner (front side)

- ID 21741


›› Lithuanian Armed Forces, emblem

- ID 21740


›› Malagasy Republic, coat of arms (1958)

- ID 1132


›› Malagasy Republic, coat of arms (1975)

- ID 6983


›› Malaysia, royal standard

- ID 7597


›› Mauritania, flag (2017, #2)

- ID 33064


›› Mexico city, coat of arms

- ID 5077


›› Mongolia, coat of arms (1960)

- ID 267


›› Montenegro, coat of arms (1994)

- ID 258


›› Myanmar, former flag

- ID 1750


›› Nepal, coat of arms (1962)

- ID 268


›› Nepal, royal arms

- ID 7153


›› New Zealand, merchant ensign

- ID 6879


›› New Zealand, naval ensign

- ID 6878


›› Northern Cyprus, coat of arms (#2)

- ID 26064


›› Nur-Sultan (Kazakhstan), coat of arms

- ID 27385


›› Nur-Sultan (Kazakhstan), flag

- ID 27384


›› Persia, coat of arms (1806)

- ID 6364


›› Peru, governmental and naval flag

- ID 5076


›› Puerto Rico, coat of arms

- ID 10134


›› Puerto Rico, flag

- ID 1825


›› Puerto Rico, seal

- ID 10135


›› Puntland (Somalia), coat of arms

- ID 20791


›› Puntland (Somalia), flag

- ID 19213


›› Réunion, coat of arms (1925)

- ID 14280


›› Réunion, General Council flag

- ID 19231


›› Réunion, proposed flag (1975, 2003, Lö Mahavéli flag)

- ID 19232


›› Réunion, Regional Council flag

- ID 19230


›› Rhodesia (Southern Rhodesia), coat of arms (1924)

- ID 10189


›› Rhodesia, flag (1968)

- ID 10190


›› Romania, coat of arms (1992)

- ID 265


›› Royal New Zealand Navy (RNZN), crest

- ID 19029


›› Rwanda, coat of arms (1962)

- ID 7065


›› Saudi Arabia, state emblem (N2)

- ID 3995


›› Serbia, large coat of arms

- ID 1039


›› Siam, coat of arms (XIX century)

- ID 5459


›› Slovenia, coat of arms (1946)

- ID 651


›› Somaliland (Somalia), coat of arms

- ID 23332


›› Somaliland (Somalia), flag

- ID 19214


›› South Africa, flag (1928)

- ID 7573


›› South West State of Somalia, flag (2002)

- ID 19215


›› Tajik SSR, coat of arms

- ID 782


›› Tanganyika, coat of arms

- ID 6791


›› Tanganyika, flag (1962)

- ID 10946


›› Togo, coat of arms (1962)

- ID 6358


›› Tokelau, proposed flag (1989)

- ID 7156


›› Turkmenian SSR, coat of arms

- ID 5997


›› Twelve Symbols of China, national emblem

- ID 31149


›› U.S. Department of Defense (DOD), seal

- ID 5027


›› U.S. President flag

- ID 5023


›› U.S. President seal

- ID 7585


›› U.S. Supreme Court, seal

- ID 11730


›› U.S. Vice President flag

- ID 5024


›› U.S. Vice President seal

- ID 7586


›› U.S., obverse side of The Great Seal (b&w)

- ID 2720


›› U.S., reverse side of The Great Seal

- ID 3847


›› U.S., reverse side of The Great Seal (b&w)

- ID 2721


›› United Arab Emirates (UAE), coat of arms (1971)

- ID 270


›› Uzbek SSR, coat of arms

- ID 1065


›› Uzbek SSR, flag

- ID 7052


›› Venezuela, coat of arms (1954)

- ID 274


›› Venezuela, flag (1954)

- ID 1832


›› West Indies Federation, coat of arms (1958)

- ID 11794


›› Yemen (Arab Republic of Yemen), coat of arms (1962)

- ID 6977


›› Yerevan (Armenia), coat of arms

- ID 6021


›› Yerevan (Armenia), flag

- ID 6022


›› Abidjan (Cote d`Ivoire), , flag

- ID 29799


›› Abidjan (Cote d`Ivoire), coat of arms

- ID 29800


›› Abkhazia, coat of arms

- ID 2619


›› Abkhazia, flag

- ID 596


›› Adjara (Georgia), coat of arms

- ID 327


›› Adjara (Georgia), flag (2004)

- ID 5102


›› Akmola oblast (Kazakhstan), coat of arms

- ID 30826


›› Aktobe oblast (Kazakhstan), coat of arms

- ID 31127


›› Alabama, coat of arms

- ID 9289


›› Alabama, flag

- ID 747


›› Alabama, state seal

- ID 4030


›› Alaska, flag

- ID 748


›› Alaska, state seal

- ID 4780


›› Alberta (province in Canada), flag

- ID 10328


›› Alberta (province in Canada), large coat of arms

- ID 4211


›› Algeria, coat of arms (1962)

- ID 1545


›› Almaty (Alma-Ata, Kazakhstan), coat of arms

- ID 30827


›› Almaty (Alma-Ata, Kazakhstan), flag

- ID 30828


›› Almaty oblast (Kazakhstan), coat of arms

- ID 31128


›› American Samoa, flag

- ID 556


›› Arizona, flag

- ID 385


›› Arizona, state seal

- ID 4143


›› Arkansas, flag

- ID 386


›› Arkansas, state seal

- ID 4024


›› Armenian SSR, flag

- ID 7045


›› Artsakh (Nagorny Karabakh), coat of arms

- ID 7540


›› Artsakh (Nagorny Karabakh), flag

- ID 5103


›› Azerbaijan Customs, flag

- ID 3118


›› Azerbaijan Land Forces, flag

- ID 26220


›› Azerbaijan Ministry of National Security (MNS), emblem

- ID 26063


›› Batken oblast (Kyrgyzstan), emblem

- ID 30846


›› Batken oblast (Kyrgyzstan), flag

- ID 31454


›› Benin, flag (1975)

- ID 4924


›› Beograd (Serbia), coat of arms

- ID 3597


›› Beograd (Serbia), flag

- ID 3598


›› Bishkek (Frunze, Kirgizia), soviet coat of arms

- ID 31355


›› Bonaire, coat of arms

- ID 6188


›› Brazil Empire, coat of arms (19 century)

- ID 10408


›› Brazil Empire, flag (19 century)

- ID 10409


›› British Antarctic Territory, state ensign

- ID 4792


›› British Columbia (province in Canada), flag

- ID 4213


›› British Columbia (province in Canada), large coat of arms

- ID 3913


›› British HM Principal Secretary of State for Defence (Defence Secretary), flag

- ID 24362


›› Bucharest (Romania), coat of arms

- ID 9822


›› Budapest (Hungary), coat of arms

- ID 7714


›› Buenos Aires (Argentina), historical coat of arms (1649)

- ID 6281


›› California, flag

- ID 1276


›› California, state seal

- ID 4032


›› Camaguey (province in Cuba), coat of arms

- ID 7660


›› Cameroon (German colony), coat of arms (1914)

- ID 7852


›› Cameroon (German colony), flag (1914)

- ID 7853


›› Canadian Air Force, Ensign

- ID 11182


›› Canadian Army, Ensign (2013)

- ID 20626


›› Canadian Coast Guard (CCG), badge (insignia)

- ID 11656


›› Canadian Coast Guard (CCG), Flag

- ID 11183


›› Canadian Expeditionary Force Command, badge (insignia)

- ID 11626


›› Canadian Forces Air Command, badge (insignia)

- ID 11625


›› Canadian Forces Canada Command (Canada COM), badge (insignia)

- ID 11628


›› Canadian Forces Canada Command (Canada COM), logo

- ID 11627


›› Canadian Forces Maritime Command (MARCOM, Royal Canadian Navy), badge (insignia)

- ID 11173


›› Canadian Land Force Command (LFC, Canadian Army), badge (insignia)

- ID 11177


›› Canberra (Australia), coat of arms

- ID 9572


›› Cape Colony (South Africa), coat of arms (1876)

- ID 7517


›› Chernovtsy (Chernivtsi, Chernovtsy oblast), coat of arms

- ID 18508


›› Chuy oblast (Kyrgyzstan), emblem

- ID 30847


›› Chuy oblast (Kyrgyzstan), flag

- ID 30848


›› Colorado, flag

- ID 388


›› Colorado, state seal

- ID 4039


›› Columbia (DC), flag

- ID 387


›› Comoros, flag (1996)

- ID 1761


›› Confederate States of America, Navy Jack (1863-1865)

- ID 8816


›› Confederate States of America, seal

- ID 9073


›› Connacht (historical province in Ireland), flag

- ID 10340


›› Connecticut, flag

- ID 2066


›› Connecticut, state seal

- ID 4031


›› Delaware, flag

- ID 2734


›› Delaware, state seal

- ID 4778


›› Dhaka North city corporation (Bangladesh), logo

- ID 29970


›› Dhaka South city corporation (Bangladesh), logo

- ID 29971


›› Dushanbe (Tajikistan), coat of arms

- ID 7756


›› East Kazakhstan oblast, coat of arms

- ID 30836


›› Erivan gubernia (Russian empire), coat of arms

- ID 4065


›› Ethiopia, H.I.M Haile Selassie I Personal Imperial Standard

- ID 8749


›› First Mexican Empire, coat of arms (1822)

- ID 11535


›› Florida, flag

- ID 333


›› Florida, state seal

- ID 18


›› French Southern and Antarctic Lands (TAAF), coat of arms

- ID 19221


›› French Southern and Antarctic Lands (TAAF), flag

- ID 18865


›› Georgia (U.S.), flag (1920)

- ID 4035


›› Georgia (U.S.), flag (1956)

- ID 4036


›› Georgia (U.S.), flag (2001)

- ID 4037


›› Georgia (U.S.), flag (2003)

- ID 389


›› Georgia (U.S.), state seal

- ID 4038


›› Georgian SSR, flag

- ID 8328


›› German East Africa (Tanzania), coat of arms (1914)

- ID 7848


›› German East Africa (Tanzania), flag (1914)

- ID 7849


›› German South West Africa (Namibia), coat of arms (1914)

- ID 7850


›› German South West Africa (Namibia), flag (1914)

- ID 7851


›› Havana (province in Cuba), coat of arms

- ID 3651


›› Hawaii, flag

- ID 390


›› Hawaii, state seal

- ID 4127


›› Hungary, coat of arms (1957)

- ID 4217


›› Idaho, flag

- ID 4478


›› Idaho, state seal

- ID 4128


›› Illinois, flag

- ID 391


›› Illinois, state seal

- ID 4040


›› Indiana, flag

- ID 859


›› Indiana, state seal

- ID 4142


›› Iowa, flag

- ID 1277


›› Iowa, state seal

- ID 4141


›› Ireland, the four provinces flag

- ID 10841


›› Issyk-Kul oblast (Kyrgyzstan), coat of arms

- ID 31356


›› Issyk-Kul oblast (Kyrgyzstan), flag

- ID 31357


›› Jakarta (Indonesia), coat of arms

- ID 7631


›› Jambyl oblast (Kazakhstan), coat of arms

- ID 31129


›› Jetisu oblast (Kazakhstan), coat of arms

- ID 33041


›› Kansas, flag

- ID 4879


›› Kansas, state seal

- ID 4878


›› Karaganda oblast (Kazakhstan), emblem

- ID 139


›› Kazakh SSR, flag

- ID 7048


›› Kentucky, flag

- ID 4130


›› Kentucky, state seal

- ID 4129


›› Kirgizian SSR, flag

- ID 7049


›› Kostanay oblast (Kazakhstan), coat of arms

- ID 30831


›› Kyzylorda oblast (Kazakhstan), coat of arms

- ID 26820


›› Kzyl-Orda (Kyzylorda oblast), coat of arms

- ID 31160


›› Kzyl-Orda (Kyzylorda oblast), coat of arms (#2)

- ID 31169


›› La Paz (Bolivia), coat of arms

- ID 10504


›› Las Villas (province in Cuba), coat of arms

- ID 7661


›› Leinster (historical province in Ireland), flag

- ID 10404


›› Lesotho, flag (1987)

- ID 1776


›› Lima (Peru), coat of arms

- ID 10410


›› Lithuanian Air Force (LAF), emblem

- ID 21736


›› Lithuanian Air Force (LAF), flag

- ID 21737


›› Lithuanian Air Force (LAF), former emblem

- ID 21735


›› Lithuanian Armed Forces Joint Headquarters, emblem

- ID 23818


›› Lithuanian Armed Forces, Commander (Chief of Defence) flag

- ID 24333


›› Lithuanian Army Training and Doctrine Command (TRADOC), banner

- ID 22863


›› Lithuanian Army Training and Doctrine Command (TRADOC), emblem

- ID 22862


›› Lithuanian Army Training and Doctrine Command (TRADOC), former emblem

- ID 24335


›› Lithuanian Land Forces, emblem

- ID 21725


›› Lithuanian Land Forces, flag

- ID 21726


›› Lithuanian Minister of National Defence, standard

- ID 21715


›› Lithuanian Ministry of National Defence, emblem

- ID 21714


›› Lithuanian Ministry of National Defence, emblem of departments and services

- ID 21713


›› Lithuanian National Defence Volunteer Force (NDVF), banner

- ID 24325


›› Lithuanian National Defence Volunteer Force (NDVF), emblem

- ID 21705


›› Lithuanian Naval Forces, emblem

- ID 21733


›› Lithuanian Naval Forces, flag

- ID 21734


›› Lithuanian Special Operations Force, banner

- ID 23817


›› Lithuanian Special Operations Force, emblem

- ID 21721


›› Ljubljana (Slovenia), coat of arms

- ID 7627


›› London (United Kingdom), large coat of arms (#2)

- ID 18529


›› London (United Kingdom), small coat of arms

- ID 18528


›› Louisiana, flag

- ID 2603


›› Louisiana, state seal

- ID 4041


›› Louisiana, unofficial flag (1861)

- ID 11156


›› Maine, flag

- ID 4043


›› Maine, state seal/coat of arms

- ID 4042


›› Manitoba (province in Canada), flag

- ID 3909


›› Manitoba (province in Canada), large coat of arms

- ID 98


›› Maryland, flag

- ID 861


›› Maryland, state seal

- ID 4877


›› Maryland, state seal (reverse side)

- ID 6048


›› Massachusetts, flag

- ID 1278


›› Massachusetts, state seal

- ID 4059


›› Matanzas (province in Cuba), coat of arms

- ID 7662


›› Mauritania, coat of arms (1959)

- ID 271


›› Mauritania, flag (1959)

- ID 1731


›› Michigan, flag

- ID 2609


›› Michigan, state seal

- ID 263


›› Minnesota, flag

- ID 4516


›› Minnesota, state seal

- ID 3934


›› Mississippi, flag

- ID 2348


›› Mississippi, state seal

- ID 4062


›› Missouri, flag

- ID 2616


›› Missouri, state seal

- ID 4782


›› Montana, flag

- ID 862


›› Montana, state seal

- ID 4061


›› Montevideo (department in Uruguay), coat of arms

- ID 10949


›› Munster (historical province in Ireland), flag

- ID 10339


›› Nagaland (state in India), seal

- ID 11016


›› Nakhichevan ASSR, coat of arms

- ID 6008


›› Nebraska, flag

- ID 2605


›› Nebraska, state seal

- ID 4060


›› Nevada, flag

- ID 2604


›› Nevada, flag (1905)

- ID 11155


›› Nevada, state seal

- ID 4515


›› New Bruncwick (province in Canada), large coat of arms

- ID 3915


›› New Brunswick (province in Canada), flag

- ID 3952


›› New Guinea (German colony), coat of arms (1914)

- ID 7856


›› New Guinea (German colony), flag (1914)

- ID 7857


›› New Hampshire, flag

- ID 2610


›› New Hampshire, state seal

- ID 3935


›› New Jersey, coat of arms

- ID 19516


›› New Jersey, flag

- ID 4140


›› New Jersey, state seal

- ID 4139


›› New Mexico, flag

- ID 2349


›› New Mexico, state seal

- ID 4138


›› New Spain, coat of arms (1785)

- ID 7118


›› New Spain, flag (Cross of Burgundy)

- ID 10474


›› New York (state), flag

- ID 2733


›› New York, state seal

- ID 4192


›› New Zealand Police, flag

- ID 24921


›› New Zealand Police, logo

- ID 24922


›› Newfoundland and Labrador (province in Canada), flag

- ID 4014


›› Newfoundland and Labrador (province in Canada), large coat of arms

- ID 4209


›› North Carolina, flag

- ID 1274


›› North Carolina, state seal

- ID 4747


›› North Dakota, flag

- ID 2611


›› North Dakota, state seal

- ID 4193


›› North Kazakhstan oblast, coat of arms

- ID 18884


›› Northwest Territories (Canada), coat of arms

- ID 3917


›› Northwest Territories (Canada), flag

- ID 3919


›› Nova Scotia (province in Canada), flag

- ID 335


›› Nova Scotia (province in Canada), large coat of arms

- ID 4210


›› Nunavut (Territory in Canada), coat of arms

- ID 3956


›› Nunavut (Territory in Canada), flag

- ID 3957


›› Nyasaland, coat of arms

- ID 24764


›› Nyasaland, flag

- ID 24765


›› Odessa (Odessa oblast), coat of arms (1999, #2)

- ID 18504


›› Odessa (Odessa oblast), coat of arms (1999, with star)

- ID 18503


›› Odessa (Odessa oblast), flag

- ID 20587


›› Ohio, flag

- ID 2350


›› Ohio, state seal

- ID 4137


›› Oklahoma, flag

- ID 2606


›› Oklahoma, state seal

- ID 4781


›› Ontario (province in Canada), flag

- ID 3955


›› Ontario (province in Canada), large coat of arms

- ID 3953


›› Oregon, flag (back side)

- ID 2614


›› Oregon, flag (front side)

- ID 2613


›› Oregon, state seal

- ID 4194


›› Oriente (province in Cuba), coat of arms

- ID 7663


›› Pavlodar oblast, emblem

- ID 20599


›› Pennsylvania, flag

- ID 2732


›› Pennsylvania, state seal

- ID 20459


›› Philippines, Presidential Seal

- ID 8755


›› Pinar del Rio (province in Cuba), coat of arms

- ID 10411


›› Prince Edward Island (province in Canada), flag

- ID 3959


›› Prince Edward Island (province in Canada), large coat of arms

- ID 8076


›› Quebec (province in Canada), coat of arms

- ID 3717


›› Quebec (province in Canada), flag

- ID 3650


›› Rhode Island, flag

- ID 2351


›› Rhode Island, governor flag

- ID 2617


›› Rhode Island, state seal

- ID 4134


›› Royal Canadian Air Force (RCAF), former emblem (1950-1960s)

- ID 11181


›› Royal Canadian Air Force (RCAF), former flag (1950-1960s)

- ID 11624


›› Royal Malaysian Navy (RMN), emblem

- ID 27015


›› Royal Thai Navy, emblem

- ID 26059


›› Royal Thai Navy, naval ensign

- ID 26060


›› Rwanda, flag (1962)

- ID 1786


›› Samoa (German colony), coat of arms (1914)

- ID 7858


›› Samoa (German colony), flag (1914)

- ID 7859


›› Santa Cruz Department (Bolivia), coat of arms

- ID 10505


›› Santa Cruz Department (Bolivia), flag

- ID 10413


›› Santiago (Chile), coat of arms

- ID 10414


›› Santiago (Chile), flag

- ID 10415


›› Saskatchewan (province in Canada), flag

- ID 10329


›› Saskatchewan (province in Canada), large coat of arms

- ID 2523


›› Sikkim (state in India), flag (1967)

- ID 11015


›› Socialist Republic of Romania, coat of arms (1965)

- ID 10416


›› Socialist Republic of Romania, flag (1965)

- ID 10417


›› South Africa (RSA), coat of arms (1930)

- ID 14276


›› South Africa (RSA), coat of arms (1932)

- ID 3983


›› South Carolina, state seal

- ID 4779


›› South Dakota, flag

- ID 4132


›› South Dakota, state seal

- ID 4131


›› South Ossetia, coat of arms

- ID 10441


›› South Ossetia, flag

- ID 10442


›› Special State Protection Service of Azerbaijan, emblem

- ID 26226


›› Tadzhik SSR, flag

- ID 7050


›› Tajikistan, coat of arms (1992)

- ID 1588


›› Talas oblast (Kyrgyzstan), coat of arms

- ID 31361


›› Talas oblast (Kyrgyzstan), flag

- ID 31362


›› Tanganyika, flag (1919)

- ID 10945


›› Tashkent (Uzbekistan), coat of arms (2019)

- ID 27735


›› Tbilisi (Georgia), emblem

- ID 16929


›› Tbilisi (Georgia), flag

- ID 16930


›› Tennessee, flag

- ID 2353


›› Tennessee, state seal

- ID 4135


›› Texas, flag

- ID 2602


›› Texas, state seal

- ID 3317


›› Togo (German colony), coat of arms (1914)

- ID 7854


›› Togo (German colony), flag (1914)

- ID 7855


›› Turkistan oblast (Kazakhstan), coat of arms

- ID 30723


›› Turkmenian SSR, flag

- ID 7051


›› U.S. Air Force, emblem

- ID 6428


›› U.S. Army, flag

- ID 14301


›› U.S. Army, Star Logo

- ID 6423


›› U.S. Attorney General, flag

- ID 5026


›› U.S. Bennington Flag (1776)

- ID 18694


›› U.S. Betsy Ross flag (1777)

- ID 4034


›› U.S. Coast Guard (USCG), ensign

- ID 11365


›› U.S. Coast Guard (USCG), seal

- ID 6438


›› U.S. Coast Guard, banner (flag)

- ID 14306


›› U.S. Department of Defense, Pentagon plaque

- ID 11146


›› U.S. Department of the Air Force, seal

- ID 6429


›› U.S. Department of the Army, seal

- ID 6357


›› U.S. Department of the Navy, seal

- ID 6432


›› U.S. Marine Corps (USMC), flag

- ID 14305


›› U.S. Marine Corps (USMC), seal

- ID 6430


›› U.S. National Guard, emblem

- ID 11145


›› U.S. Navy Jack flag (1776)

- ID 2727


›› U.S. Navy, flag

- ID 14303


›› U.S. Secretary of the Army, flag

- ID 14300


›› U.S. Secretary of the Navy, flag

- ID 14304


›› Ulster (historical province in Ireland), flag

- ID 10325


›› Utah, flag

- ID 14353


›› Utah, state seal

- ID 4195


›› Uzbekistan Ministry of Defence, emblem

- ID 27165


›› Uzhgorod (Uzhhorod, Zakarpatye oblast), flag

- ID 20592


›› Vermont, flag

- ID 1732


›› Vermont, state seal

- ID 4514


›› Vilnius garrison officer club (ramove), emblem

- ID 24336


›› Virginia, flag

- ID 4197


›› Virginia, state seal

- ID 4196


›› Vojvodina (Serbia), coat of arms

- ID 9995


›› Washington, District of Columbia (D.C.), seal

- ID 5457


›› Washington, District of Columbia (D.C.), seal (black & white)

- ID 19447


›› Washington, state flag

- ID 2352


›› Washington, state seal

- ID 4198


›› West Kasakhstan oblast, emblem

- ID 30837


›› West Virginia, flag

- ID 2731


›› West Virginia, state seal

- ID 4199


›› Wisconsin, flag

- ID 4202


›› Wisconsin, state seal

- ID 4200


›› Wyoming, flag

- ID 2355


›› Wyoming, state seal

- ID 4201


›› Yerevan (Armenia), coat of arms (1843)

- ID 642


›› Yukon (province in Canada), coat of arms

- ID 3910


›› Yukon (province in Canada), flag

- ID 3912


›› Zakaspiyskaya oblast (Russian Empire), coat of arms

- ID 6154


›› Zaporozhye (Zaporizhia, Zaporozhye oblast), coat of arms

- ID 18350


›› Zaporozhye (Zaporizhia, Zaporozhye oblast), flag

- ID 20595


›› Afghanistan, coat of arms (1987)

- ID 45


›› Afghanistan, flag (1987)

- ID 6987


›› Alberta (province in Canada), small coat of arms

- ID 4212


›› Arkansas, state coat of arms (1876)

- ID 27720


›› Arzerbaijan SSR, flag

- ID 7046


›› Astana (Kazakhstan), coat of arms (1998)

- ID 3816


›› Astana (Kazakhstan), coat of arms (2008)

- ID 10371


›› Astana (Kazakhstan), flag (2008)

- ID 10372


›› Australian Defence Force (ADF), flag

- ID 16299


›› Australian Defence Force (ADF), Joint Services Crest

- ID 16298


›› Azerbaijan SSR, coat of arms

- ID 5998


›› Azuay (province in Ecuador), flag

- ID 4847


›› Bács-Kiskun megye (county in Hungary), coat of arms

- ID 13452


›› Baja California (state in Mexico), coat of arms

- ID 14037


›› Baja California (state in Mexico), flag

- ID 14038


›› Baja California Sur (state in Mexico), coat of arms

- ID 11530


›› Baja California Sur (state in Mexico), flag

- ID 11531


›› Baku (Aserbaijan), coat of arms (1843)

- ID 6140


›› Baku (Aserbaijan), coat of arms (1883)

- ID 6141


›› Baku gubernia (Russian empire), coat of arms

- ID 655


›› Baranya megye (county in Hungary), coat of arms

- ID 13453


›› Békés megye (county in Hungary), coat of arms

- ID 13454


›› Bogota (Distrito Federal, Columbia), coat of arms

- ID 10478


›› Bolivar (province in Ecuador), flag

- ID 4848


›› Borsod-Abaúj-Zemplén megye (county in Hungary), coat of arms

- ID 13455


›› British Army Royal Tank Regiment, badge (1924)

- ID 26526


›› British Army, logo (emblem)

- ID 24769


›› British Army, non-ceremonial flag

- ID 12549


›› British Columbia (province in Canada), small coat of arms

- ID 3914


›› British Royal Air Force (RAF), badge

- ID 14662


›› British Royal Air Force (RAF), Ensign

- ID 10456


›› British Royal Navy, logo (emblem)

- ID 13098


›› Canadian Army, Ensign (1868)

- ID 20627


›› Canadian Army, Ensign (1921)

- ID 20628


›› Canadian Army, Ensign (1998)

- ID 11178


›› Canadian Coast Guard (CCG), Auxiliary Flag

- ID 11184


›› Canadian Department of National Defence, badge/insignia of Assistant Deputy Minister (Finance and Corporate Services Group) (ADM (Fin CS))

- ID 11191


›› Canadian Department of National Defence, badge/insignia of Assistant Deputy Minister (Information Management Group) (ADM (IM))

- ID 11192


›› Canadian Department of National Defence, badge/insignia of Assistant Deputy Minister (Materiel Group) (ADM (Mat))

- ID 11193


›› Canadian Department of National Defence, Chief Military Personnel (CMP) badge/insignia

- ID 11194


›› Canadian Fleet Pacific (CANFLTPAC), badge (insignia)

- ID 11566


›› Canadian Force Mobile Command (FMC), former badge (insignia)

- ID 11660


›› Canadian Forces Administration, obsolete branch badge (insignia)

- ID 11197


›› Canadian Forces Air Operations, branch badge (insignia)

- ID 11198


›› Canadian Forces Commander-in-Chief Unit Commendation, flag (pennant)

- ID 11663


›› Canadian Forces Commander-in-Chief Unit Commendation, insignia

- ID 11662


›› Canadian Forces Communications & Electronics, branch badge (insignia)

- ID 11199


›› Canadian Forces Information Operations Group (CFIOG), badge (insignia)

- ID 11196


›› Canadian Forces Intelligence, branch badge (insignia)

- ID 11205


›› Canadian Forces Intelligence, flag

- ID 11206


›› Canadian Forces Legal, branch badge (insignia)

- ID 11200


›› Canadian Forces Logistics, branch badge (insignia)

- ID 11207


›› Canadian Forces Medical, branch badge (insignia)

- ID 11211


›› Canadian Forces Military Engineering, branch badge (insignia)

- ID 11209


›› Canadian Forces Military Police, badge (Security branch insignia)

- ID 11203


›› Canadian Forces Military Police, flag

- ID 11204


›› Canadian Forces Naval Operations, branch badge

- ID 11174


›› Canadian Forces Personnel Selection, branch badge (insignia)

- ID 11202


›› Canadian Forces Public Affairs, branch badge (insignia)

- ID 11201


›› Canadian Forces Recruiting, Education and Training Systems (CFRETS), badge (insignia)

- ID 11195


›› Canadian Forces Training Development, branch badge (insignia)

- ID 11208


›› Canadian Maritime Forces Pacific, badge (insignia)

- ID 11190


›› Canadian Naval Reserve (NAVRES), badge (crest)

- ID 11644


›› Canadian Navy, Auxiliary Vessels Jack

- ID 11176


›› Canadian Navy, Naval Board Flag

- ID 11179


›› Canar (province in Ecuador), flag

- ID 4849


›› Cape Province (South Africa), coat of arms (1951)

- ID 7518


›› Carchi (province in Ecuador), flag

- ID 4850


›› Caspian oblast (Russian empire), coat of arms

- ID 613


›› Chiapas (state in Mexico), coat of arms

- ID 14039


›› Chiapas (state in Mexico), flag

- ID 14040


›› Chimborazo (province in Ecuador), flag

- ID 4851


›› CIS Anti-Terrorism Center, emblem

- ID 12715


›› Colombia, civil ensign

- ID 4918


›› Confederate States of America, battle flag (1861-1865)

- ID 8814


›› Confederate States of America, flag (1861-1863, 13 stars; The Stars and Bars)

- ID 8810


›› Confederate States of America, flag (1861-1863, 7 stars; The Stars and Bars)

- ID 8811


›› Confederate States of America, flag (1863-1865, The Stainless Banner)

- ID 8812


›› Confederate States of America, flag (1865)

- ID 8813


›› Confederate States of America, Navy Jack (1861-1863)

- ID 8815


›› Cotopaxi (province in Ecuador), flag

- ID 4852


›› Csongrád megye (county in Hungary), coat of arms

- ID 13456


›› Defense Forces of Georgia, emblem (2018)

- ID 27728


›› Dublin (Ireland), coat of arms

- ID 7578


›› Eastern Cape province (South Africa), coat of arms

- ID 6374


›› El Oro (province in Ecuador), flag

- ID 4853


›› Elizavetpol gubernia (Russian empire), coat of arms

- ID 1143


›› Esmeraldas (province in Ecuador), flag

- ID 4854


›› Federal Bureau of Investigations (FBI), seal

- ID 10768


›› Fejér megye (county in Hungary), coat of arms

- ID 13457


›› Fergana oblast (Russian Empire), coat of arms

- ID 6153


›› Florida, flag (1861)

- ID 9005


›› Free State province (South Africa), coat of arms

- ID 6378


›› Galapagos (province in Ecuador), flag

- ID 4855


›› Gauteng province (South Africa), coat of arms

- ID 19189


›› General J.Zemaitis Lithuanian Military Academy, emblem

- ID 24326


›› Georgian-Imeretian gubernia (Russian empire), coat of arms

- ID 966


›› Guayas (province in Ecuador), flag

- ID 4856


›› Győr-Moson-Sopron megye (county in Hungary), coat of arms

- ID 13449


›› Hajdú-Bihar megye (county in Hungary), coat of arms

- ID 13472


›› Hawaii, coat of arms (1843)

- ID 4033


›› Heves megye (county in Hungary), coat of arms

- ID 13450


›› Imbabura (province in Ecuador), flag

- ID 4857


›› Indian Air Force (IAF), crest (emblem)

- ID 27139


›› Indian Air Force (IAF), Ensign (flag)

- ID 11795


›› Iraq, flag (1991)

- ID 1256


›› Isiolo county (Kenya), coat of arms

- ID 29804


›› Isiolo county (Kenya), flag

- ID 29803


›› Jász-Nagykun-Szolnok megye (county in Hungary), coat of arms

- ID 13458


›› Jordan, Royal Standard

- ID 7067


›› Kara-Kalpak ASSR, coat of arms

- ID 6007


›› Karakalpakstan, coat of arms

- ID 23960


›› Karakalpakstan, flag

- ID 23959


›› Kazakhstan Accounts Committee, emblem

- ID 30714


›› Kazakhstan Agency for Anti-Corruption Affairs, emblem

- ID 30717


›› Kazakhstan Armed Forces, emblem

- ID 20416


›› Kazakhstan Armed Forces, emblem (#2)

- ID 20415


›› Kazakhstan Central Election Commission, emblem

- ID 30835


›› Kazakhstan Customs, emblem

- ID 30833


›› Kazakhstan Customs, flag

- ID 30834


›› Kazakhstan Customs, flag (1997)

- ID 3119


›› Kazakhstan Finance Police, emblem

- ID 30829


›› Kazakhstan Foreign Intelligence Agency, emblem

- ID 30715


›› Kazakhstan Ministry of Culture and Information, emblem

- ID 30763


›› Kazakhstan Ministry of Emergency Situations, emblem

- ID 11161


›› Kazakhstan Ministry of Emergency Situations, flag

- ID 11162


›› Kazakhstan Ministry of Internal Affairs (MVD), emblem

- ID 29973


›› Kazakhstan Ministry of Justice, emblem

- ID 23962


›› Kazakhstan Ministry of Justice, emblem of Prison and Punishment Department

- ID 10373


›› Kazakhstan National Guard, emblem

- ID 32044


›› Kazakhstan National Guard, flag

- ID 32045


›› Kazakhstan National Security Committee (NSC), emblem

- ID 23961


›› Kazakhstan State Security Service, emblem

- ID 30719


›› Kazakhstan State Security Service, small emblem

- ID 30720


›› Kirghiz SSR, coat of arms

- ID 5996


›› Komárom-Esztergom megye (county in Hungary), coat of arms

- ID 13473


›› Kwazulu-Natal province (South Africa), coat of arms

- ID 6380


›› Kyrgyzstan Customs, flag

- ID 3120


›› Kyrgyzstan General Staff of the Armed Forces, emblem

- ID 31216


›› Kyrgyzstan Ministry of Defense, emblem

- ID 31221


›› Kyrgyzstan Ministry of Finance, emblem

- ID 31220


›› Kyrgyzstan Ministry of Internal Affairs, emblem

- ID 31222


›› Kyrgyzstan Supreme Court, emblem

- ID 31227


›› Kyrgyzstan Tax Service, emblem

- ID 30849


›› Kyrgyzstan Tax Service, flag

- ID 30850


›› Limpopo province (South Africa), coat of arms

- ID 6381


›› Lithuanian Armed Forces, banner of an Land Force unit (front side)

- ID 21739


›› Lithuanian Army 2nd Investigation Department, banner

- ID 24339


›› Lithuanian Army 2nd Investigation Department, emblem

- ID 24338


›› Lithuanian Army Cyber Security and Telecommunications Service, emblem

- ID 21723


›› Lithuanian Army Depot Storage Service, emblem

- ID 21722


›› Lithuanian Army Finance and Property Service, emblem

- ID 22860


›› Lithuanian Army Infrastructure Development Department, emblem

- ID 22349


›› Lithuanian Army Logistics Command, banner

- ID 24327


›› Lithuanian Army Logistics Command, emblem

- ID 21707


›› Lithuanian Army Logistics Command, former emblem

- ID 24328


›› Lithuanian Army Material Assets Department, emblem

- ID 22348


›› Lithuanian Army Military Cartography Center, emblem

- ID 22354


›› Lithuanian Army Mobilisation Department, emblem (logo)

- ID 24331


›› Lithuanian Army Mobilisation Department, former emblem (logo)

- ID 22350


›› Lithuanian Army Movement Control Centre, banner (back side)

- ID 21729


›› Lithuanian Army Movement Control Centre, emblem

- ID 21728


›› Lithuanian Chaplains` Office, emblem

- ID 21718


›› Lithuanian Land Forces Command, former emblem

- ID 21724


›› Lithuanian Military Police, banner (back side)

- ID 21732


›› Lithuanian Military Police, emblem

- ID 21731


›› Loja (province in Ecuador), flag

- ID 4858


›› Lori (province in Armenia), coat of arms

- ID 7483


›› Los Rios (province in Ecuador), flag

- ID 4859


›› Lutsk (Volyn oblast), coat of arms

- ID 18451


›› Manabi (province in Ecuador), flag

- ID 4860


›› Manitoba (province in Canada), small coat of arms

- ID 319


›› Massachusetts, coat of arms

- ID 1279


›› MD Jonas Basanavičius Military Medical Service, banner

- ID 23825


›› MD Jonas Basanavičius Military Medical Service, emblem

- ID 23823


›› MD Jonas Basanavičius Military Medical Service, former emblem

- ID 23824


›› Michoacán (Michoacán de Ocampo, state in Mexico), coat of arms

- ID 14041


›› Michoacán (Michoacán de Ocampo, state in Mexico), flag

- ID 14042


›› Mississippi, coat of arms

- ID 9290


›› Missouri, state coat of arms (1876)

- ID 27723


›› Mombasa county (Kenya), coat of arms

- ID 29805


›› Morona-Santiago (province in Ecuador), flag

- ID 4861


›› Mpumalanga province (South Africa), coat of arms

- ID 6382


›› Mpumalanga province (South Africa), flag

- ID 6383


›› Napo (province in Ecuador), flag

- ID 4862


›› Natal (former province in South Africa), coat of arms (1955)

- ID 6384


›› New Bruncwick (province in Canada), small coat of arms

- ID 3916


›› New Caledonia, government emblem

- ID 19229


›› New York City, flag

- ID 6171


›› New York City, seal

- ID 6170


›› Nógrád megye (county in Hungary), coat of arms

- ID 13474


›› North American Aerospace Defense Command (NORAD), distinctive unit insignia

- ID 12698


›› North American Aerospace Defense Command (NORAD), shoulder sleeve insignia

- ID 12699


›› North Carolina, confederate battle flag (1861-1865)

- ID 8807


›› North-West province (South Africa), coat of arms

- ID 6377


›› Northern Cape province (South Africa), coat of arms

- ID 6375


›› Ontario (province in Canada), small coat of arms

- ID 3954


›› Orellana (province in Ecuador), flag

- ID 4863


›› Pastaza (province in Ecuador), flag

- ID 4864


›› Pennsylvania, coat of arms

- ID 20458


›› Pennsylvania, coat of arms (#2)

- ID 5408


›› Pennsylvania, state seal (#2)

- ID 4136


›› Pennsylvania, state seal (black & white)

- ID 19439


›› Pennsylvania, state seal (black & white, #2)

- ID 20460


›› Peruvian Army, emblem

- ID 21459


›› Peruvian Army, flag

- ID 21469


›› Pest megye (county in Hungary), coat of arms

- ID 13451


›› Philadelphia (Pennsylvania), coat of arms

- ID 19440


›› Philadelphia (Pennsylvania), flag

- ID 6173


›› Philadelphia (Pennsylvania), logo (Liberty Bell)

- ID 19441


›› Philadelphia (Pennsylvania), seal

- ID 6172


›› Philadelphia (Pennsylvania), seal (black & white)

- ID 19442


›› Pichincha (province in Ecuador), flag

- ID 6114


›› Poltava (Poltava oblast), coat of arms (#2)

- ID 18483


›› Prince Edward Island (province in Canada), small coat of arms

- ID 3958


›› Puebla (state in Mexico), coat of arms

- ID 14288


›› Quebec (province in Canada), small coat of arms

- ID 3649


›› Quintana Roo (state in Mexico), coat of arms

- ID 11532


›› Quintana Roo (state in Mexico), flag

- ID 11533


›› Rhode Island, coat of arms

- ID 2618


›› Rovno (Rivne, Rovno oblast), coat of arms (#3)

- ID 18447


›› Royal Canadian Air Cadets (RCAirC), badge (insignia)

- ID 11221


›› Royal Canadian Armoured Corps (RCAC), badge (Armour branch insignia)

- ID 11185


›› Royal Canadian Armoured Corps (RCAC), flag

- ID 11186


›› Royal Canadian Army Cadets (RCAC), badge (insignia)

- ID 11623


›› Royal Canadian Infantry Corps (RCIC), badge (Infantry branch insignia)

- ID 11187


›› Royal Canadian Mounted Police (RCMP), badge (insignia)

- ID 11672


›› Royal Canadian Sea Cadets (RCSC), badge (insignia)

- ID 11621


›› Royal Canadian Sea Cadets (RCSC), Ensign

- ID 11622


›› Royal Regiment of Canadian Artillery, badge (Artillery branch insignia)

- ID 11188


›› Royal Regiment of Canadian Artillery, flag

- ID 11189


›› Saint Barthelemy (Guadeloupe), coat of arms

- ID 3642


›› Saint Martin (Guadeloupe), coat of arms

- ID 3643


›› Saint Martin (Guadeloupe), flag

- ID 3644


›› Samarkand oblast (Russian Empire), coat of arms

- ID 6152


›› San Juan (Puerto Rico), coat of arms

- ID 10664


›› San Juan (Puerto Rico), coat of arms (18 century)

- ID 10666


›› San Juan (Puerto Rico), flag

- ID 10665


›› Saskatchewan (province in Canada), small coat of arms

- ID 3936


›› Sint Maarten, coat of arms

- ID 5111


›› Sint Maarten, flag

- ID 26066


›› Somogy megye (county in Hungary), coat of arms

- ID 13475


›› South African National Defence Force (SANDF), Emblem

- ID 12255


›› South African National Defence Force (SANDF), flag

- ID 12256


›› South Carolina, confederate battle flag (1861-1865)

- ID 8808


›› South Kazakhstan oblast, former coat of arms

- ID 30725


›› Sucumbios (province in Ecuador), flag

- ID 4865


›› Sumy (Sumy oblast), coat of arms

- ID 18462


›› Syr Darya oblast (Russian empire), coat of arms

- ID 4070


›› Szabolcs-Szatmár-Bereg megye (county in Hungary), coat of arms

- ID 13476


›› Tashkent (Uzbekistan), coat of arms

- ID 12500


›› Tashkent (Uzbekistan), coat of arms (1909)

- ID 11536


›› Tashkent (Uzbekistan), logo (2019)

- ID 27736


›› Tashkent (Uzbekistan), proposed coat of arms (2019)

- ID 27149


›› Texas, reverse side of state seal

- ID 9264


›› Tiflis gubernia (Russian empire), coat of arms

- ID 4075


›› Tolna megye (county in Hungary), coat of arms

- ID 13477


›› Trenton (New Jersey), flag

- ID 19534


›› Trenton (New Jersey), seal

- ID 19536


›› Trenton (New Jersey), seal (black & white)

- ID 19535


›› Tungurahua (province in Ecuador), flag

- ID 4866


›› Turkmenistan, president's flag

- ID 3258


›› U.S. Africa Command (AFRICOM), distinctive unit insignia

- ID 12662


›› U.S. Africa Command (AFRICOM), emblem (crest)

- ID 10468


›› U.S. Africa Command (AFRICOM), shoulder sleeve insignia

- ID 12661


›› U.S. Agency of International Development (USAID), seal

- ID 7590


›› U.S. Air Combat Command (ACC), emblem

- ID 11355


›› U.S. Air Education and Training Command (AETC), emblem

- ID 11359


›› U.S. Air Education and Training Command (AETC), seal

- ID 12703


›› U.S. Army Adjutant General Corps, branch insignia

- ID 11057


›› U.S. Army Adjutant General Corps, branch plaque

- ID 7011


›› U.S. Army Adjutant General Corps, regimental coat of arms

- ID 11305


›› U.S. Army Adjutant General Corps, regimental insignia

- ID 11304


›› U.S. Army Air Defense Artillery, branch insignia

- ID 11058


›› U.S. Army Air Defense Artillery, branch plaque

- ID 7021


›› U.S. Army Armor, branch insignia

- ID 11059


›› U.S. Army Armor, branch plaque

- ID 7012


›› U.S. Army Aviation, branch insignia

- ID 11061


›› U.S. Army Aviation, branch plaque

- ID 7013


›› U.S. Army Cavalry, obsolete branch insignia

- ID 11060


›› U.S. Army Chemical Corps, branch insignia

- ID 11063


›› U.S. Army Chemical Corps, branch plaque

- ID 7109


›› U.S. Army Chemical Corps, regimental coat of arms

- ID 11307


›› U.S. Army Chemical Corps, regimental insignia

- ID 11306


›› U.S. Army Civil Affairs, branch insignia

- ID 11064


›› U.S. Army Civil Affairs, branch plaque

- ID 7111


›› U.S. Army Civil Affairs, regimental coat of arms

- ID 12611


›› U.S. Army Civil Affairs, regimental insignia

- ID 12610


›› U.S. Army Corps of Engineers, branch insignia

- ID 11065


›› U.S. Army Corps of Engineers, branch plaque

- ID 7134


›› U.S. Army Corps of Engineers, regimental coat of arms

- ID 7135


›› U.S. Army Corps of Engineers, regimental insignia

- ID 7136


›› U.S. Army Field Artillery, branch insignia

- ID 11066


›› U.S. Army Field Artillery, branch plaque

- ID 7020


›› U.S. Army Finance Corps, branch insignia

- ID 11067


›› U.S. Army Finance Corps, branch plaque

- ID 7107


›› U.S. Army Finance Corps, regimental coat of arms

- ID 11341


›› U.S. Army Finance Corps, regimental insignia

- ID 11340


›› U.S. Army General Staff, branch insignia

- ID 11144


›› U.S. Army General Staff, identification badge

- ID 7104


›› U.S. Army Infantry, branch insignia

- ID 11068


›› U.S. Army Infantry, branch plaque

- ID 7108


›› U.S. Army Judge Advocate General (JAG), branch insignia

- ID 11070


›› U.S. Army Judge Advocate General (JAG), branch plaque

- ID 7142


›› U.S. Army Judge Advocate General (JAG), regimental coat of arms

- ID 7143


›› U.S. Army Judge Advocate General (JAG), regimental insignia

- ID 7144


›› U.S. Army Logistics, branch insignia

- ID 11135


›› U.S. Army Logistics, branch plaque

- ID 11136


›› U.S. Army Medical Corps, branch insignia

- ID 11071


›› U.S. Army Medical Corps, branch plaque

- ID 7014


›› U.S. Army Medical Corps, regimental colours (flag)

- ID 12605


›› U.S. Army Military Intelligence, branch insignia

- ID 11077


›› U.S. Army Military Intelligence, branch plaque

- ID 7113


›› U.S. Army Military Intelligence, obsolete branch insignia (1923)

- ID 11420


›› U.S. Army Military Police Corps, branch insignia

- ID 11078


›› U.S. Army Military Police Corps, branch plaque

- ID 7131


›› U.S. Army Military Police Corps, regimental coat of arms

- ID 7132


›› U.S. Army Military Police Corps, regimental insignia

- ID 7133


›› U.S. Army National Guard, seal

- ID 6424


›› U.S. Army Ordnance Corps, branch insignia

- ID 11081


›› U.S. Army Ordnance Corps, branch plaque

- ID 7137


›› U.S. Army Ordnance Corps, regimental insignia

- ID 7138


›› U.S. Army Psychological Operations Corps, branch insignia

- ID 11137


›› U.S. Army Psychological Operations Corps, branch plaque

- ID 11138


›› U.S. Army Psychological Operations Corps, regimental coat of arms

- ID 11140


›› U.S. Army Psychological Operations Corps, regimental insignia

- ID 11139


›› U.S. Army Public Affairs, branch insignia

- ID 11308


›› U.S. Army Public Affairs, branch plaque

- ID 11309


›› U.S. Army Quartermaster Corps, branch insignia

- ID 11082


›› U.S. Army Quartermaster Corps, branch plaque

- ID 7022


›› U.S. Army Quartermaster Corps, regimental coat of arms

- ID 11339


›› U.S. Army Quartermaster Corps, regimental insignia

- ID 11338


›› U.S. Army Reserve, seal

- ID 6422


›› U.S. Army Retired, flag

- ID 14302


›› U.S. Army Signal Corps, branch insignia

- ID 11083


›› U.S. Army Signal Corps, branch plaque

- ID 7139


›› U.S. Army Signal Corps, regimental coat of arms

- ID 7140


›› U.S. Army Signal Corps, regimental insignia

- ID 7141


›› U.S. Army Special Forces (USASFC), branch insignia

- ID 11141


›› U.S. Army Special Forces (USASFC), branch plaque

- ID 11142


›› U.S. Army Transportation Corps, branch insignia

- ID 11417


›› U.S. Army Transportation Corps, branch plaque

- ID 11418


›› U.S. Army Transportation Corps, regimental insignia

- ID 11419


›› U.S. Army, emblem of Administrative Assistant to the Secretary of the Army

- ID 11121


›› U.S. Bureau of Indian Affairs (BIA), Police Officer badge

- ID 13331


›› U.S. Bureau of Indian Affairs (BIA), seal

- ID 11288


›› U.S. Bureau of Indian Affairs Forestry, emblem

- ID 11289


›› U.S. Bureau of Land Management (BLM), emblem

- ID 11290


›› U.S. Bureau of Reclamation, emblem

- ID 11292


›› U.S. Bureau of the Census, seal

- ID 10466


›› U.S. Centers for Deseases Control and Prevention (CDC), seal

- ID 7591


›› U.S. Central Command (CENTCOM), distinctive unit insignia (emblem)

- ID 11325


›› U.S. Central Command (CENTCOM), shoulder sleeve insignia

- ID 11324


›› U.S. Central Intelligence Agency (CIA), seal

- ID 7587


›› U.S. Chief of Naval Operations (CNO), flag

- ID 11152


›› U.S. Coast Guard Reserve, seal

- ID 6439


›› U.S. Coast Guard, Auxiliary Flag

- ID 11366


›› U.S. Coast Guard, Commandant Flag

- ID 11367


›› U.S. Coast Guard, Vice Commandant Flag

- ID 11368


›› U.S. Commandant of the Marine Corps (CMC), flag

- ID 11756


›› U.S. Congress, seal

- ID 11284


›› U.S. Customs Service, former seal

- ID 10769


›› U.S. Cyber Command (CYBERCOM), emblem

- ID 14072


›› U.S. Department of Agriculture, seal

- ID 4890


›› U.S. Department of Commerce, seal

- ID 4891


›› U.S. Department of Education, seal

- ID 4889


›› U.S. Department of Energy, seal

- ID 4892


›› U.S. Department of Health and Human Services, seal

- ID 4894


›› U.S. Department of Homeland Security, seal

- ID 4895


›› U.S. Department of Housing and Urban Development, seal

- ID 4896


›› U.S. Department of Justice, seal

- ID 5025


›› U.S. Department of Labor, flag

- ID 4930


›› U.S. Department of Labor, seal

- ID 5028


›› U.S. Department of State, seal

- ID 7614


›› U.S. Department of The Interior, seal

- ID 4893


›› U.S. Department of The Treasury, seal

- ID 6713


›› U.S. Department of Transportation, seal

- ID 4897


›› U.S. Department of Veteran Affairs, seal

- ID 4898


›› U.S. Drug Enforcement Administration (DEA), seal

- ID 13330


›› U.S. Environmental Protection Agency (EPA), seal

- ID 10465


›› U.S. Federal Aviation Administration (FAA), emblem

- ID 11297


›› U.S. Federal Bureau of Prisons (BOP), seal

- ID 10770


›› U.S. Federal Reserve System (FRS), seal

- ID 11386


›› U.S. Federal Reserve System (FRS), seal of Board of Governors

- ID 11298


›› U.S. Federal Trade Commission (FTC), seal

- ID 10467


›› U.S. Fish and Wildlife Service (FWS), emblem

- ID 11293


›› U.S. Fish and Wildlife Service (FWS), Refuge Officer badge

- ID 13332


›› U.S. Fleet Forces Command, emblem

- ID 11364


›› U.S. Forest Service (USFS), emblem

- ID 11295


›› U.S. Geological Survey (USGS), seal

- ID 11388


›› U.S. House of Representatives, seal

- ID 11729


›› U.S. Joint Chiefs of Staff (JCS), identification badge

- ID 6435


›› U.S. Joint Forces Command (USJFCOM), distinctive unit insignia

- ID 11323


›› U.S. Joint Forces Command (USJFCOM), emblem

- ID 11117


›› U.S. Joint Forces Command (USJFCOM), shoulder sleeve insignia

- ID 11322


›› U.S. Joint Staff, identification badge

- ID 6434


›› U.S. Marine Corps Forces Reserve (USMCR), seal (2006)

- ID 11375


›› U.S. Marine Corps Reserve (USMCR), obsolete seal

- ID 6431


›› U.S. Marine Forces Pacific (MARFORPAC), emblem

- ID 11755


›› U.S. Military Intelligence, regimental coat of arms

- ID 11351


›› U.S. Military Intelligence, regimental insignia

- ID 11350


›› U.S. Minerals Management Service (MMS), seal

- ID 11387


›› U.S. National Aeronautics and Space Administration (NASA), insignia («meatball» logo)

- ID 11286


›› U.S. National Aeronautics and Space Administration (NASA), seal

- ID 11285


›› U.S. National Archives and Records Administration (NARA), seal

- ID 27144


›› U.S. National Counterterrorism Center (NCTC), seal

- ID 11728


›› U.S. National Drug Intelligence Center (NDIC), seal

- ID 10771


›› U.S. National Guard Bureau, branch insignia

- ID 11079


›› U.S. National Guard Bureau, seal

- ID 6425


›› U.S. National Oceanic and Atmospheric Administration (NOAA), emblem

- ID 11296


›› U.S. National Park Service (NPS), emblem

- ID 11294


›› U.S. National Security Agency (NSA), seal

- ID 11084


›› U.S. Naval Forces Southern Command (USNAVSO), emblem

- ID 11119


›› U.S. Naval Reserve (USNR), seal

- ID 6433


›› U.S. Navy 10th Fleet, emblem

- ID 14198


›› U.S. Navy 2nd Fleet, emblem

- ID 11714


›› U.S. Navy 3rd Fleet, emblem

- ID 11716


›› U.S. Navy 4th Fleet, emblem

- ID 11713


›› U.S. Navy 5th Fleet, emblem

- ID 11718


›› U.S. Navy 6th Fleet, emblem

- ID 11715


›› U.S. Navy 7th Fleet, emblem

- ID 11717


›› U.S. Navy Commander, Naval Submarine Forces (COMSUBFOR), emblem

- ID 14520


›› U.S. Northern Command (NORTHCOM), distinctive unit insignia

- ID 11426


›› U.S. Northern Command (NORTHCOM), emblem

- ID 11327


›› U.S. Northern Command (NORTHCOM), shoulder sleeve insignia

- ID 11328


›› U.S. Office of Surface Mining (OSM), emblem

- ID 11291


›› U.S. Pacific Command (USPACOM), emblem (seal)

- ID 12665


›› U.S. Pacific Command (USPACOM), shoulder sleeve insignia

- ID 11329


›› U.S. Park Police (USPP), Officers badge

- ID 13328


›› U.S. Secret Service (USSS), emblem (logo)

- ID 10772


›› U.S. Senate, seal

- ID 11287


›› U.S. Southern Command (SOUTHCOM), distinctive unit insignia

- ID 12663


›› U.S. Southern Command (SOUTHCOM), emblem

- ID 11118


›› U.S. Southern Command (SOUTHCOM), shoulder sleeve insignia

- ID 12664


›› U.S. Special Operations Command (SOCOM), distinctive unit insignia

- ID 11349


›› U.S. Special Operations Command (SOCOM), emblem

- ID 11303


›› U.S. Special Operations Command (SOCOM), shoulder sleeve insignia

- ID 11348


›› U.S. Strategic Command (STRATCOM), distinctive unit insignia

- ID 11425


›› U.S. Strategic Command (STRATCOM), emblem

- ID 11090


›› U.S. Strategic Command (STRATCOM), shoulder sleeve insignia

- ID 11424


›› U.S. Transportation Command (TRANSCOM), distinctive unit insignia

- ID 11332


›› U.S. Transportation Command (TRANSCOM), emblem

- ID 11330


›› U.S. Transportation Command (TRANSCOM), shoulder sleeve insignia

- ID 11331


›› U.S. Transportation Security Administration (TSA), emblem

- ID 7860


›› U.S. Vice Chief of Naval Operations (VCNO), flag

- ID 11153


›› U.S., White House plaque

- ID 13329


›› Ulan-Bator (Mongolia), emblem

- ID 350


›› Ulan-Bator (Mongolia), flag

- ID 351


›› United Kingdom, White (Naval) Ensign

- ID 5064


›› Utah, flag (1922)

- ID 2615


›› Uzbekistan Customs, emblem

- ID 32410


›› Uzbekistan Customs, flag

- ID 3121


›› Vancouver Island (Canada), Colony flag (1865)

- ID 19194


›› Vas megye (county in Hungary), coat of arms

- ID 13478


›› Vayots Dzor (province in Armenia), coat of arms

- ID 25336


›› Veracruz (Veracruz de Ignacio de la Llave, state in Mexico), coat of arms

- ID 14043


›› Veracruz (Veracruz de Ignacio de la Llave, state in Mexico), flag

- ID 14044


›› Veszprém megye (county in Hungary), coat of arms

- ID 13459


›› Wellington (New Zealand), coat of arms

- ID 8129


›› Western Cape province (South Africa), coat of arms

- ID 6376


›› Wisconsin, coat of arms

- ID 12546


›› Yemen (Arab Republic of Yemen), flag (1962)

- ID 6988


›› Yemen (People's Democratic Republic of Yemen), coat of arms (1967)

- ID 6990


›› Yemen (People's Democratic Republic of Yemen), flag (1967)

- ID 6989


›› Zala megye (county in Hungary), coat of arms

- ID 13460


›› Zamora-Chinchipe (province in Ecuador), flag

- ID 4867


›› 14th U.S. Army, shoulder sleeve insignia

- ID 12624


›› 15th U.S. Army, shoulder sleeve insignia

- ID 12625


›› 1st U.S. Army, distinctive unit insignia

- ID 12615


›› 1st U.S. Army, shoulder sleeve insignia

- ID 12616


›› 4th U.S. Army, distinctive unit insignia

- ID 12618


›› 4th U.S. Army, shoulder sleeve insignia

- ID 12617


›› 6th U.S. Army, distinctive unit insignia

- ID 12619


›› 6th U.S. Army, shoulder sleeve insignia

- ID 12620


›› 7th U.S. Army (Europe), former distinctive unit insignia

- ID 12631


›› 7th U.S. Army (Europe), former shoulder sleeve insignia

- ID 12630


›› 8th U.S. Army, distinctive unit insignia

- ID 12622


›› 8th U.S. Army, shoulder sleeve insignia

- ID 12621


›› 9th U.S. Army, shoulder sleeve insignia

- ID 12623


›› Abbotsford (British Columbia), badge

- ID 11396


›› Abbotsford (British Columbia), coat of arms

- ID 11395


›› Abbotsford (British Columbia), flag

- ID 11397


›› Aberdeen (Washington), flag

- ID 27108


›› Acre (state in Brazil), flag

- ID 4795


›› Adelanto (California), seal

- ID 25146


›› Adrian (Michigan), flag

- ID 28405


›› Afar (state in Ethiopia), flag

- ID 4868


›› Aiken county (South Carolina), seal

- ID 4926


›› Ajax (Ontario), coat of arms

- ID 32709


›› Ak-Tala rayon (Naryn oblast), coat of arms

- ID 31447


›› Akkol rayon (Akmola oblast), coat of arms

- ID 23955


›› Akkuly rayon (Pavlodar oblast), coat of arms

- ID 31367


›› Aksay (West Kasakhstan oblast), coat of arms

- ID 31368


›› Aksu (Pavlodar oblast), coat of arms

- ID 31369


›› Aktau (Mangystau oblast), coat of arms

- ID 30805


›› Aktau (Temirtau, Karaganda oblast), coat of arms

- ID 31370


›› Aktyubinsk (Aktobe, Kazakhstan), coat of arms

- ID 8895


›› Akzhaik rayon (West Kasakhstan oblast), coat of arms

- ID 31448


›› Ala-Buka rayon (Jalal-Abad oblast), emblem

- ID 29963


›› Ala-Buka rayon (Jalal-Abad oblast), flag

- ID 31449


›› Alagoas (state in Brazil), coat of arms

- ID 10280


›› Alagoas (state in Brazil), flag

- ID 10281


›› Alakol rayon (Almaty oblast), coat of arms

- ID 31314


›› Alameda (California), flag

- ID 6561


›› Alameda County (California), flag

- ID 6562


›› Alatau rayon (Almaty), coat of arms

- ID 31371


›› Albany (California), seal

- ID 12738


›› Albany (New York), coat of arms

- ID 21406


›› Albany (New York), flag

- ID 21407


›› Albany (New York), seal

- ID 21408


›› Albany (Oregon), flag

- ID 27096


›› Albany county (New York), seal

- ID 12797


›› Albemarle county (Virginia), seal

- ID 6540


›› Albuquerque (New Mexico), flag

- ID 6223


›› Alcona county (Michigan), flag

- ID 29653


›› Aleksandriya (Oleksandriya, Rovno oblast), coat of arms

- ID 18433


›› Alexander county (North Carolina), seal

- ID 8750


›› Alexandria (Virginia), seal

- ID 12564


›› Alga (Aktobe oblast), coat of arms

- ID 31450


›› Alger county (Michigan), flag

- ID 29654


›› Algiers (Algeria), coat of arms (1830)

- ID 10439


›› Aliquippa (Pennsylvania), flag

- ID 20417


›› Allegany county (Maryland), seal

- ID 1227


›› Alleghany county (Virginia), seal

- ID 12565


›› Allegheny county (Pennsylvania), flag

- ID 20418


›› Allegheny county (Pennsylvania), seal

- ID 20419


›› Allen county (Ohio), flag

- ID 29864


›› Allentown (Pennsylvania), flag

- ID 20420


›› Allentown (Pennsylvania), seal

- ID 20422


›› Allentown (Pennsylvania), seal (black & white)

- ID 20421


›› Almaty (Alma-Ata, Kazakhstan), coat of arms (1993)

- ID 2243


›› Almaty rayon (Nur-Sultan), coat of arms

- ID 31372


›› Alta (Utah), flag

- ID 27102


›› Amapa (state in Brazil), flag

- ID 4796


›› Amazonas (department in Colombia), flag

- ID 4815


›› Amazonas (state in Brazil), flag

- ID 4797


›› Ambato (canton in Ecuador), flag

- ID 6109


›› American Samoa, seal

- ID 4787


›› Amhara (state in Ethiopia), flag

- ID 4869


›› Amhara governorate (Italian East Africa), coat of arms (1936)

- ID 26940


›› Amherst (New York), flag

- ID 21409


›› Amherst (New York), seal (black & white)

- ID 21410


›› Ammon (Idaho), seal

- ID 27135


›› Anaheim (California), flag

- ID 27063


›› Anaheim (California), flag (2018)

- ID 27062


›› Anaheim (California), seal

- ID 12931


›› Anchorage (Alaska), flag

- ID 31056


›› Anchorage (Alaska), seal

- ID 31057


›› Andrushyovka (Andrushivka, Zhitomir oblast), coat of arms

- ID 18304


›› Ankara (Turkey), flag

- ID 7126


›› Annapolis (Maryland), flag

- ID 6355


›› Annapolis county (Nova Scotia), coat of arms

- ID 12974


›› Annapolis county (Nova Scotia), flag

- ID 12975


›› Anne Arundel county (Maryland), seal

- ID 4758


›› Anthony (Texas), flag

- ID 29663


›› Antioquia (department in Colombia), flag

- ID 4816


›› Apple valley (Minnesota), flag

- ID 28406


›› Aralsk (Kyzylorda oblast), coat of arms

- ID 31315


›› Arauca (department in Colombia), flag

- ID 4817


›› Aravan rayon (Osh oblast), coat of arms

- ID 31451


›› Arcadia (California), seal

- ID 27719


›› Arkadelphia (Arkansas), flag

- ID 31058


›› Arkalyk (Kostanay oblast), coat of arms

- ID 25015


›› Arkalyk (Kostanay oblast), former coat of arms

- ID 18866


›› Arlington (Texas), flag

- ID 6198


›› Arlington county (Virginia), flag

- ID 6446


›› Armenian National Security, emblem

- ID 4466


›› Armstrong (British Columbia), coat of arms

- ID 32721


›› Armstrong (British Columbia), flag

- ID 32720


›› Aroostook county (Maine), flag

- ID 28407


›› Artigas (department in Uruguay), flag

- ID 9937


›› Artyomovsk (Artemivsk, Donetsk oblast), coat of arms (#2)

- ID 18317


›› Artyomovsk (Artemivsk, Lugansk oblast), coat of arms

- ID 18310


›› Arviat (Nunavut), flag

- ID 29680


›› Arys (Turkistan oblast), emblem

- ID 4156


›› Asheville (North Carolina), flag

- ID 25413


›› Asheville (North Carolina), seal

- ID 25400


›› Aston (Pennsylvania), flag

- ID 20423


›› Aston township (Pennsylvania), seal

- ID 20424


›› Athens (Pennsylvania), flag

- ID 20425


›› Athens-Clarke County (Georgia), seal

- ID 25401


›› Atlanta (Georgia), flag

- ID 6167


›› Atlantic City (New Jersey), seal

- ID 19469


›› Atlantic county (New Jersey), flag

- ID 19470


›› Atlantic county (New Jersey), seal

- ID 6539


›› Atlantic county (New Jersey), seal (black & white)

- ID 19471


›› Atlantico (department in Colombia), flag

- ID 4818


›› Atyrau (Atyrau oblast), coat of arms

- ID 9914


›› Au gres (Michigan), flag

- ID 29655


›› Auburn (Maine), seal (black & white)

- ID 25402


›› Auezov rayon (Almaty), emblem

- ID 30932


›› Austin (Texas), flag

- ID 25414


›› Austin (Texas), seal

- ID 25403


›› Australian Army, badge

- ID 16297


›› Bahia (state in Brazil), flag

- ID 4798


›› Baikonur (Kazakhstan), coat of arms

- ID 18867


›› Baikonur (Kyzylorda oblast), flag

- ID 32039


›› Baitereksky rayon (West Kazakhstan oblast), coat of arms

- ID 30711


›› Baja (Hungary), coat of arms

- ID 13602


›› Baldwin county (Alabama), seal

- ID 12501


›› Balkhash (Karaganda oblast), coat of arms

- ID 31373


›› Baltimore (Maryland), flag

- ID 4927


›› Baltimore (Maryland), seal

- ID 1233


›› Baltimore county (Maryland), seal

- ID 4757


›› Balykchi (Issyk-Kul oblast), coat of arms

- ID 31452


›› Balykchi (Issyk-Kul oblast), flag

- ID 31453


›› Banos (canton in Ecuador), flag

- ID 6110


›› Bath (Maine), flag

- ID 27079


›› Batken (Batken oblast), coat of arms

- ID 31352


›› Batken (Batken oblast), emblem

- ID 31213


›› Baton Rouge (Louisiana), flag

- ID 6354


›› Bayonne (New Jersey), flag

- ID 19472


›› Bayonne (New Jersey), seal (black & white)

- ID 19473


›› Bayport (Minnesota), flag

- ID 6218


›› Beaumont (Alberta), flag

- ID 28408


›› Beaumont (Texas), flag

- ID 6199


›› Beaver county (Alberta), flag

- ID 20380


›› Beaver county (Pennsylvania), flag

- ID 20426


›› Bedford (Virginia), seal

- ID 12566


›› Behchoko (Northwest Territories), flag

- ID 29681


›› Beineu rayon (Mangystau oblast), coat of arms

- ID 31455


›› Beirut (Lebanon), coat of arms

- ID 10405


›› Békéscsaba (Hungary), coat of arms

- ID 13461


›› Belaya Tserkov (Bila Tserkva, Kiev oblast), coat of arms

- ID 18338


›› Bell (California), seal

- ID 10443


›› Bellevue (Washington), flag

- ID 24233


›› Bellingham (Washington), flag

- ID 27109


›› Beloit (Wisconsin), flag

- ID 27111


›› Belopole (Bilopillia, Sumy oblast), coat of arms

- ID 18458


›› Benbrook (Texas), flag

- ID 6200


›› Benishangul-Gumuz (state in Ethiopia), flag

- ID 4870


›› Bensalem (Pennsylvania), seal

- ID 20427


›› Bensenville (Illinois), flag

- ID 29664


›› Benson (Arizona), flag

- ID 29210


›› Berdichev (Zhitomir oblast), flag

- ID 20568


›› Berestechko (Volyn oblast), coat of arms

- ID 18449


›› Berezan (Kiev oblast), coat of arms

- ID 18339


›› Berezan (Kiev oblast), flag

- ID 20569


›› Berezhnitsa (Berezhnitsya, Rovno oblast), coat of arms

- ID 18434


›› Berezno (Berezne, Rovno oblast), coat of arms

- ID 18435


›› Bergen county (New Jersey), flag

- ID 19474


›› Bergen county (New Jersey), seal

- ID 11458


›› Bergen county (New Jersey), seal (black & white)

- ID 19475


›› Berkeley (New Jersey), seal

- ID 19476


›› Bershad (Vinnitsa oblast), coat of arms

- ID 18454


›› Bethel Park (Pennsylvania), seal

- ID 20428


›› Bethlehem (Pennsylvania), seal

- ID 20429


›› Birmingham (Alabama), flag

- ID 27060


›› Birmingham (Alabama), seal (black/white)

- ID 24835


›› Bismarck (North Dakota), flag

- ID 6356


›› Blair county (Pennsylvania), seal

- ID 20430


›› Bloomington (Minnesota), flag

- ID 28409


›› Blue Springs (Missouri), flag

- ID 29543


›› Boaz (Alabama), seal

- ID 10450


›› Bogota (Distrito Federal, Colombia), flag

- ID 4846


›› Bolivar (department in Colombia), flag

- ID 4819


›› Bolívar canton (Ecuador), flag

- ID 24295


›› Bonaire, flag

- ID 5109


›› Bophuthatswana (former bantustan in South Africa), coat of arms

- ID 7164


›› Bophuthatswana (former bantustan in South Africa), flag

- ID 8729


›› Boulder county (Colorado), seal

- ID 25404


›› Bourne (Massachusetts), flag

- ID 28410


›› Bourne (Massachusetts), seal

- ID 11720


›› Boyaca (department in Colombia), flag

- ID 4820


›› Brandon (Manitoba), badge

- ID 32736


›› Brandon (Manitoba), coat of arms

- ID 32738


›› Brandon (Manitoba), flag

- ID 32737


›› Brandon (South Dakota), flag

- ID 27100


›› Brevard county (Florida), seal

- ID 12427


›› Brick (New Jersey), seal

- ID 19728


›› Bridgewater (New Jersey), seal

- ID 19477


›› Brighton (Michigan), flag

- ID 28411


›› Brighton (Ontario), badge

- ID 32710


›› Brighton (Ontario), coat of arms

- ID 32712


›› Brighton (Ontario), flag

- ID 32711


›› British Army Household Division, badge

- ID 24771


›› British Army King`s Division, badge

- ID 24802


›› British Corps of Royal Engineers (RE), badge

- ID 14664


›› British Corps of Royal Marines (RM), badge

- ID 32378


›› British Royal Armoured Corps (RAC), badge

- ID 14663


›› British Royal Army Medical Corps (RAMC), badge

- ID 14665


›› British Royal Auxiliary Air Force (RAuxAF), badge

- ID 32380


›› British Royal Corps of Signals, badge

- ID 31163


›› British Royal Corps of Signals, flag

- ID 31164


›› British Royal Military Police, badge

- ID 25333


›› Brockport (New York), flag

- ID 24718


›› Brockport (New York), seal (logo)

- ID 24719


›› Brockville (Ontario), coat of arms

- ID 9816


›› Brody (Brodi, Lvovs oblast), coat of arms

- ID 18354


›› Bronx (borough in New York City), flag

- ID 10775


›› Brookhaven (New York), seal

- ID 24720


›› Brooklyn (borough in New York City), flag

- ID 10774


›› Brooklyn (borough in New York City), seal

- ID 10773


›› Brooklyn Park (Minnesota), flag

- ID 31059


›› Broomfield (Colorado), seal

- ID 31075


›› Brown county (Ohio), flag

- ID 29865


›› Brunswuick (New York), seal

- ID 21411


›› Bucha (Kiev oblast), flag

- ID 20570


›› Buckeye (Arizona), flag

- ID 28412


›› Buena Park (California), seal (logo)

- ID 20812


›› Buenos Aires (Argentina), coat of arms (1580)

- ID 10318


›› Buenos Aires (province in Argentina), coat of arms

- ID 6280


›› Buenos Aires (province in Argentina), flag

- ID 10248


›› Buffalo (New York), flag

- ID 21412


›› Buffalo (New York), seal

- ID 21413


›› Buffalo county (Nebraska), seal

- ID 27136


›› Bukhar-Zhyrausky rayon (Karaganda oblast), emblem

- ID 30134


›› Buncombe county (North Carolina), seal

- ID 26427


›› Burbank (California), flag

- ID 10447


›› Burbank (Illinois), seal

- ID 25405


›› Burlington (Vermont), flag

- ID 27105


›› Burlington county (New Jersey), flag

- ID 19478


›› Burlington county (New Jersey), seal

- ID 19480


›› Burlington county (New Jersey), seal (black & white)

- ID 19479


›› Burnaby (British Columbia), coat of arms

- ID 12977


›› Burnaby (British Columbia), flag

- ID 12976


›› Burnett County (Wisconsin), seal

- ID 11721


›› Burns lake (British Columbia), flag

- ID 27602


›› Burnsville (Minnesota), flag

- ID 28413


›› Burshtyn (Ivano-Frankovsk oblast), coat of arms (2003)

- ID 18463


›› Burshtyn (Ivano-Frankovsk oblast), flag (2003)

- ID 20571


›› Bury (Quebec), coat of arms

- ID 32741


›› Cairo (Egypt), flag

- ID 11394


›› Caldas (department in Colombia), flag

- ID 4821


›› Calgary (Canada), coat of arms

- ID 10426


›› Calgary (Canada), flag

- ID 10427


›› Calhoun county (Michigan), seal

- ID 29656


›› Callaway county (Missouri), flag

- ID 29544


›› Calumet county (Wisconsin), flag

- ID 30411


›› Calvas (canton in Ecuador), flag

- ID 6119


›› Calvert county (Maryland), seal

- ID 4759


›› Cambria county (Pennsylvania), seal

- ID 11457


›› Cambridge (Maryland), seal

- ID 6721


›› Camden (Maine), seal

- ID 26428


›› Camden county (New Jersey), flag

- ID 19481


›› Camden county (New Jersey), seal

- ID 19483


›› Camden county (New Jersey), seal (black & white)

- ID 19482


›› Cameron (Missouri), flag

- ID 28414


›› Camp Hill (Pennsylvania), logo

- ID 20431


›› Campbell county (Tennessee), seal

- ID 27137


›› Campeche (Mexico), coat of arms

- ID 14068


›› Canadian Forces 37th Canadian Brigade Group, badge (insignia)

- ID 11661


›› Canadian Forces Bands, branch insignia

- ID 11210


›› Canadian Forces Electronic Warfare Centre (CFEWC), badge (insignia)

- ID 11236


›› Canadian Forces Joint Imagery Centre, badge (insignia)

- ID 11237


›› Canadian Forces Joint Nuclear, Biological, and Chemical Defence Company (JNBCD), badge (insignia)

- ID 11238


›› Canadian Forces Joint Operations Group (CFJOG), badge (insignia)

- ID 11239


›› Canadian Forces Regional Cadet Air Operations (Pacific), badge (insignia)

- ID 15651


›› Canyon County (Idaho), seal

- ID 11722


›› Cape Breton (Nova Scotia), flag

- ID 29682


›› Cape May county (New Jersey), seal

- ID 19485


›› Cape May county (New Jersey), seal (black & white)

- ID 19484


›› Caqueta (department in Colombia), flag

- ID 4822


›› Carl Junction (Missouri), flag

- ID 29211


›› Carlow county (Ireland), coat of arms

- ID 10539


›› Caroline county (Maryland), seal

- ID 4881


›› Carroll county (Maryland), seal

- ID 5210


›› Carrollton (Texas), flag

- ID 6201


›› Casanare (department in Colombia), flag

- ID 4823


›› Catamarca (province in Argentina), coat of arms

- ID 6269


›› Catamayo (canton in Ecuador), flag

- ID 6120


›› Cauca (department in Colombia), flag

- ID 4824


›› Cavan county (Ireland), coat of arms

- ID 10541


›› Ceara (state in Brazil), coat of arms

- ID 10282


›› Ceara (state in Brazil), flag

- ID 10283


›› Cecil county (Maryland), seal

- ID 9068


›› Cedar (Utah), flag

- ID 27603


›› Cedar Park (Texas), flag

- ID 30405


›› Cedar Rapids (Iowa), flag

- ID 32285


›› Cegléd (Hungary), coat of arms

- ID 13603


›› Celica (canton in Ecuador), flag

- ID 6121


›› Celje (Slovenia), coat of arms

- ID 13444


›› Centerville (Utah), flag

- ID 27604


›› Cesar (department in Colombia), flag

- ID 4825


›› Cevallos (canton in Ecuador), flag

- ID 6111


›› Chaco (province in Argentina), coat of arms

- ID 6270


›› Chaco (province in Argentina), flag

- ID 10311


›› Chaguarpamba (canton in Ecuador), flag

- ID 6123


›› Champlin (Minnesota), emblem (logo)

- ID 28415


›› Chandler (Arizona), flag

- ID 27061


›› Chapmanville (West Virginia), flag

- ID 29866


›› Charles City county (Virginia), coat of arms

- ID 12952


›› Charles county (Maryland), seal

- ID 1924


›› Charlottesville (Virginia), seal

- ID 11890


›› Chasov Yar (Chasiv Yar, Donetsk oblast), coat of arms

- ID 18328


›› Chautauqua county (New York), seal (black & white)

- ID 21414


›› Cheatham county (Tennessee), seal

- ID 31060


›› Chemung county (New York), seal (black & white)

- ID 21415


›› Cherokee county (Alabama), seal

- ID 11278


›› Cherokee County (Georgia), seal

- ID 11723


›› Chervonograd (Lvov oblast), coat of arms

- ID 18369


›› Chesterfield (Missouri), flag

- ID 29545


›› Chesterfield county (Virginia), seal

- ID 6442


›› Chicago (Illinois), coat of arms

- ID 4784


›› Chicago (Illinois), flag

- ID 4928


›› Chilliwack (British Columbia), flag

- ID 30372


›› Chingirlau rayon (West Kasakhstan oblast), coat of arms

- ID 31374


›› Chino logo (California), logo

- ID 25147


›› Choco (department in Colombia), flag

- ID 4826


›› Cholpon (Issyk-Kul oblast), coat of arms

- ID 31353


›› Cholpon (Issyk-Kul oblast), flag

- ID 31354


›› Chone canton (Ecuador), flag

- ID 24296


›› Chop (Zakarpatye oblast), coat of arms

- ID 18510


›› Chop (Zakarpatye oblast), flag

- ID 18511


›› Christiansburg (Virginia), seal

- ID 25406


›› Christmas Island (Australia), coat of arms

- ID 4794


›› Christmas Island (Australia), flag

- ID 10519


›› Chubut (province in Argentina), coat of arms

- ID 6271


›› Chubut (province in Argentina), flag

- ID 6722


›› Chula Vista (California), flag

- ID 30378


›› Cincinnati (Ohio), flag

- ID 6224


›› Ciskei (former bantustan in South Africa), coat of arms

- ID 7519


›› Citrus county (Florida), seal

- ID 9070


›› Clare county (Ireland), coat of arms

- ID 10543


›› Clark county (Nevada), seal

- ID 31061


›› Clark county (Washington), seal

- ID 24234


›› Clarksburg (West Virginia), flag

- ID 28416


›› Clay County (Florida), seal

- ID 29754


›› Claypool (Indiana), flag

- ID 29665


›› Clayton (New Jersey), seal

- ID 19486


›› Cleveland county (Oklahoma), flag

- ID 30397


›› Cleveland county (Oklahoma), seal

- ID 30398


›› Clifton (New Jersey), seal

- ID 20608


›› Clifton Park (New York), seal

- ID 24972


›› Clinton (Iowa), flag

- ID 29666


›› Clinton (Missouri), flag

- ID 28417


›› Clinton (North Carolina), flag

- ID 27605


›› Clinton county (New York), seal

- ID 24973


›› Cocos (Keeling) Islands (Australia), flag

- ID 10520


›› Colonie (New York), seal

- ID 21416


›› Colorado Springs (Colorado), flag

- ID 31062


›› Columbia (Missouri), flag

- ID 27081


›› Columbia (Missouri), flag (1988)

- ID 27082


›› Columbus (Indiana), flag

- ID 6714


›› Columbus (Minnesota), flag

- ID 30392


›› Columbus (North Carolina), flag

- ID 29546


›› Columbus (Ohio), flag

- ID 6169


›› Columbus (Ohio), seal

- ID 6168


›› Columbus Flag (Captain's Ensign of Christopher Columbus Ships, 1492)

- ID 11159


›› Confederate States of America, Bonnie Blue Flag (1861)

- ID 8809


›› Contra Costa county (California), seal

- ID 23836


›› Cook county (Illinois), seal

- ID 11279


›› Coopersburg (Pennsylvania), seal

- ID 20432


›› Coral Springs (Florida), flag

- ID 27069


›› Cordoba (department in Colombia), flag

- ID 4827


›› Cordoba (province in Argentina), coat of arms

- ID 6272


›› Cordoba (province in Argentina), flag

- ID 10312


›› Cork (county in Ireland), coat of arms

- ID 13448


›› Corning (New York), seal

- ID 24721


›› Cornwall (Ontario), coat of arms

- ID 11401


›› Cornwall (Ontario), flag

- ID 11402


›› Corona (California), seal

- ID 23092


›› Corpus Cristi (Texas), flag

- ID 6202


›› Corrientes (province in Argentina), coat of arms

- ID 6273


›› Corrientes (province in Argentina), flag

- ID 10233


›› Costa Mesa (California), flag

- ID 6563


›› Costa Mesa (California), seal

- ID 23956


›› Cotacachi canton (Ecuador), flag

- ID 24293


›› Countryside (Kansas), flag

- ID 27606


›› Cranford (New Jersey), seal

- ID 19729


›› Crawford county (Georgia), seal

- ID 25407


›› Creve Coeur (Missouri), flag

- ID 28418


›› Crystal (Minnesota), flag

- ID 27112


›› Cumberland county (New Jersey), flag

- ID 20609


›› Cumberland county (New Jersey), seal

- ID 20612


›› Cumberland county (Pennsylvania), seal

- ID 20433


›› Cumberland county (Pennsylvania), seal (#2)

- ID 20620


›› Cundinamarca (department in Colombia), flag

- ID 4828


›› Cupertino (California), flag

- ID 30379


›› Curacao, coat of arms

- ID 18698


›› Curacao, flag

- ID 1858


›› Curry county (New Mexico), flag

- ID 27090


›› Cuyahoga county (Ohio), seal

- ID 25408


›› Dallas (county in Texas), flag

- ID 6204


›› Dallas (Texas), flag

- ID 6203


›› Danville (Illinois), seal

- ID 12787


›› De Soto (Texas), flag

- ID 6206


›› Debrecen (Hungary), coat of arms

- ID 13462


›› Denison (Texas), flag

- ID 6207


›› Denton (county in Texas), sesquicentennial flag

- ID 6205


›› Denver (Colorado), flag

- ID 4929


›› Denver (Colorado), seal

- ID 6559


›› Des Moines (Iowa), flag

- ID 6216


›› Detroit (Michigan), flag

- ID 10264


›› Dillon county (South Carolina), flag

- ID 6444


›› Dinwiddie County (Virginia), seal

- ID 11724


›› Distrito Federal (Brazil), emblem

- ID 10798


›› Distrito Federal (Brazil), flag

- ID 4799


›› Dnepropetrovsk (Dnipropetrovsk, Dnepropetrovsk oblast), coat of arms (#2)

- ID 18342


›› Dolina (Ivano-Frankovsk oblast), flag

- ID 20572


›› Donegal county (Ireland), coat of arms

- ID 10603


›› Donegal county (Ireland), flag

- ID 10604


›› Dorchester county (Maryland), seal

- ID 1919


›› Douglas county (Minnesota), flag

- ID 28419


›› Dover (Pennsylvania), seal

- ID 20434


›› Drogobych (Drogobich, Lvov oblast), coat of arms

- ID 18357


›› Duarte (California), logo

- ID 25148


›› Dublin (former county in Ireland), coat of arms

- ID 10554


›› Duluth (Minnesota), flag

- ID 28420


›› Dun Laoghaire-Rathdown county (Ireland), coat of arms

- ID 10555


›› Dunaújváros (Hungary), coat of arms

- ID 13604


›› Durant (Oklahoma), flag

- ID 30399


›› Durham (North Carolina), flag

- ID 27085


›› Eagan (Minnesota), flag

- ID 27607


›› East Chicago (Indiana), flag

- ID 13067


›› East Chicago (Indiana), seal

- ID 13066


›› East Orange (New Jersey), seal

- ID 19730


›› Easton (Connecticut), seal

- ID 25409


›› Easton (Pennsylvania), flag

- ID 20435


›› Ebensburg (Pennsylvania), seal

- ID 20514


›› Edison (New Jersey), seal

- ID 19732


›› Edison (New Jersey), seal (black & white)

- ID 19731


›› Edmonton (Alberta), coat of arms

- ID 7786


›› Edwardsville (Illinois), logo

- ID 25410


›› Eger (Hungary), coat of arms

- ID 13463


›› Egindykol rayon (Akmola oblast), coat of arms

- ID 31375


›› Ekibastuz (Pavlodar oblast), coat ofa arms (1971)

- ID 31376


›› El Carmen canton (Ecuador), flag

- ID 24297


›› El dorado (Kansas), flag

- ID 27608


›› El Dorado county (California), seal

- ID 12740


›› Elk River (Minnesota), flag

- ID 6348


›› Enakievo (Enakieve, Donetsk oblast), coat of arms

- ID 18320


›› Enakievo (Enakieve, Donetsk oblast), coat of arms (#2)

- ID 18319


›› Enakievo (Enakieve, Donetsk oblast), flag

- ID 20574


›› Energodar (Yenergodar, Zaporozhye oblast), coat of arms

- ID 18353


›› Entre Rios (province in Argentina), "state" flag

- ID 10250


›› Entre Rios (province in Argentina), coat of arms

- ID 6274


›› Entre Rios (province in Argentina), flag

- ID 8291


›› Ephraim (Utah), flag

- ID 29212


›› Érd (Hungary), coat of arms

- ID 13464


›› Erie (Pennsylvania), flag

- ID 20438


›› Erie (Pennsylvania), seal

- ID 20439


›› Erie county (New York), seal

- ID 26057


›› Erie county (Pennsylvania), flag

- ID 20436


›› Erie county (Pennsylvania), seal

- ID 20437


›› Esil (Akmola oblast), coat of arms

- ID 31457


›› Eskeldi rayon (Almaty oblast), coat of arms

- ID 31458


›› Espirito Santo (state in Brazil), coat of arms

- ID 10799


›› Espirito Santo (state in Brazil), flag

- ID 4800


›› Essex county (New Jersey), flag

- ID 19487


›› Essex county (New Jersey), seal

- ID 19489


›› Essex county (New Jersey), seal (black & white)

- ID 19488


›› Essex county (New York), flag

- ID 24722


›› Essex county (New York), seal

- ID 24723


›› Etna (California), seal

- ID 24950


›› Evesham (New Jersey), seal

- ID 19490


›› Evgenievka (Aksu, Pavlodar oblast), coat of arms

- ID 31377


›› Ewing (New Jersey), seal

- ID 19491


›› Exeter (Berks County, Pennsylvania), seal

- ID 20440


›› Fairfax county (Virginia), seal

- ID 8882


›› Fairfield (Cumberland county, New Jersey), logo

- ID 19492


›› Farinault (Minnesota), coat of arms

- ID 28421


›› Farmington Hills (Michigan), flag

- ID 29657


›› Fauquier county (Virginia), seal (obverse)

- ID 12953


›› Fauquier county (Virginia), seal (reverse)

- ID 12954


›› Federal Way (Washington), flag

- ID 24235


›› Fergana (Uzbekistan), coat of arms (1973)

- ID 27733


›› Fergus falls (Minnesota), flag

- ID 28422


›› Ferguson (Missouri), flag

- ID 29660


›› Festus (Missouri), flag

- ID 29661


›› Fingal (county in Ireland), coat of arms

- ID 10560


›› Firestone (Colorado), flag

- ID 27067


›› Flavio Alfaro canton (Ecuador), flag

- ID 24298


›› Florence county (South Carolina), seal

- ID 11459


›› Folsom (California), flag

- ID 29667


›› Formosa (province in Argentina), coat of arms

- ID 3941


›› Formosa (province in Argentina), flag

- ID 10249


›› Fort Lauderdale (Florida), flag

- ID 31063


›› Fort Pierce (Florida), seal

- ID 25411


›› Fort Worth (Texas), флаг

- ID 6046


›› Fountain Inn (South Carolina), flag

- ID 30401


›› Franklin (Pennsylvania), flag

- ID 20441


›› Franklin county (North Carolina), seal

- ID 9071


›› Franklin county (Pennsylvania), logo

- ID 20515


›› Franklin Lakes (New Jersey), logo

- ID 19733


›› Frederick county (Maryland), seal

- ID 671


›› Frederick county (Maryland), seal (#2)

- ID 27721


›› Freehold (New Jersey), seal (black & white)

- ID 19493


›› Fremont (California), unofficial flag

- ID 6038


›› Fresno (California), flag

- ID 6339


›› Fresno (California), seal

- ID 24951


›› Fresno county (California), seal

- ID 4777


›› Funkstown (Maryland), seal

- ID 27016


›› Fuquay Varina (North Carolina), flag

- ID 28423


›› Gagra (Abkhazia), coat of arms

- ID 32929


›› Galway county (Ireland), coat of arms

- ID 10545


›› Gambella (state in Ethiopia), flag

- ID 4871


›› Garfield county (Colorado), flag

- ID 31074


›› Garnett (Kansas), flag

- ID 27609


›› Garrett county (Maryland), seal

- ID 1934


›› Gauteng province (South Africa), coat of arms (#2)

- ID 6379


›› Gazankulu (former bantustan in South Africa), coat of arms

- ID 7520


›› Genesee county (New York), seal

- ID 12799


›› Gettysburg (Pennsylvania), flag

- ID 20442


›› Gettysburg (Pennsylvania), seal

- ID 20443


›› Gilbert (Arizona), flag

- ID 28424


›› Girón canton (Ecuador), flag

- ID 24289


›› Gladstone (Missouri), flag

- ID 29548


›› Gladstone (Missouri), seal

- ID 29547


›› Glendale (Arizona), flag

- ID 28425


›› Glendale (California), seal

- ID 29755


›› Glendale (Oregon), seal

- ID 26429


›› Glinsk (Sumy oblast), coat of arms

- ID 18459


›› Gloucester (Ontario), coat of arms

- ID 32714


›› Gloucester (Ontario), flag

- ID 32713


›› Gloucester County (New Jersey), flag

- ID 20610


›› Gloucester County (New Jersey), seal

- ID 20611


›› Goias (state in Brazil), flag

- ID 4801


›› Golden (Colorado), flag

- ID 27068


›› Gonzales (Texas), Come and Take It Flag (1835)

- ID 10305


›› Gonzanama (canton in Ecuador), flag

- ID 6124


›› Goodyear (Arizona), flag

- ID 28426


›› Gordon (Nebraska), flag

- ID 27088


›› Gori (Georgia), coat of arms (1843)

- ID 2240


›› Gorodok (Lvov oblast), coat of arms

- ID 18356


›› Goshcha (Rovno oblast), coat of arms

- ID 18439


›› Grand Rapids (Michigan), flag

- ID 6222


›› Grand Traverse (Michigan), flag

- ID 29658


›› Grandview (Missouri), flag

- ID 27610


›› Granville county (North Carolina), flag

- ID 27086


›› Grayson county (Virginia), seal

- ID 12955


›› Greater Sudbury (Ontario), badge

- ID 32715


›› Greater Sudbury (Ontario), coat of arms

- ID 32717


›› Greater Sudbury (Ontario), flag

- ID 32716


›› Greece (New York), seal

- ID 24974


›› Greece (New York), seal (#2)

- ID 24975


›› Greenburgh (New York), seal

- ID 23303


›› Greene County (New York), seal

- ID 24272


›› Greene county (Ohio), flag

- ID 12425


›› Greensburg (Pennsylvania), logo

- ID 20516


›› Greenstone (Ontario), badge

- ID 11404


›› Greenstone (Ontario), coat of arms

- ID 11403


›› Greenstone (Ontario), flag

- ID 11405


›› Greenville (Texas), flag

- ID 6208


›› Grove (Oklahoma), flag

- ID 30400


›› Grundy county (Illinois), seal

- ID 11460


›› Guachapala canton (Ecuador), flag

- ID 24290


›› Guainia (department in Colombia), flag

- ID 4829


›› Guam (U.S.), flag

- ID 558


›› Guaviare (department in Colombia), flag

- ID 4830


›› Gulrypsh rayon (Abkhazia), coat of arms

- ID 32930


›› Gyandzha (Elizavetpol, Azerbaijan), coat of arms (1843)

- ID 816


›› Győr (Hungary), coat of arms

- ID 13465


›› Gyumri (Armenia), coat of arms

- ID 26061


›› Hackensack (New Jersey), seal

- ID 27722


›› Halifax (Nova Scotia), coat of arms

- ID 7783


›› Halifax (Nova Scotia), flag

- ID 7784


›› Hamilton (Ontario), flag

- ID 8073


›› Hamilton county (Florida), seal

- ID 9088


›› Hamilton county (Ohio), seal

- ID 11281


›› Hampden (Pennsylvania), seal

- ID 20621


›› Hanford (California), seal

- ID 12785


›› Harari (state in Ethiopia), flag

- ID 4872


›› Hardin county (Ohio), flag

- ID 29867


›› Harford county (Maryland), seal

- ID 1228


›› Harris county (Texas), seal

- ID 10306


›› Harrisburg (North Carolina), flag

- ID 27731


›› Harrisburg (North Carolina), former flag

- ID 27611


›› Harrison (Ohio), flag

- ID 27113


›› Haysville (Kansas), flag

- ID 27114


›› Hazelwood (Missouri), flag

- ID 28427


›› Helena (Montana), coat of arms

- ID 4888


›› Hempstead (New York), seal

- ID 21417


›› Henrico county (Virginia), seal

- ID 8833


›› Hereford (Pennsylvania), seal

- ID 20444


›› Hermann (Missouri), flag

- ID 28428


›› Highlands county (Florida), seal

- ID 12741


›› Hillsborough (New Jersey), seal

- ID 20614


›› Hinton (West Virginia), flag

- ID 28429


›› Hinton (West Virginia), seal

- ID 28430


›› Hódmezővásárhely (Hungary), coat of arms

- ID 13605


›› Holdenville (Oklahoma), flag

- ID 30396


›› Holland (Michigan), flag

- ID 27115


›› Homer (Alaska), flag

- ID 31064


›› Honolulu (Hawaii), flag

- ID 6175


›› Honolulu (Hawaii), seal

- ID 6174


›› Hopewell (Virginia), seal

- ID 26430


›› Hornell (New York), flag

- ID 24724


›› Houston (Texas), flag

- ID 6060


›› Houston (Texas), seal

- ID 6059


›› Howard county (Maryland), seal

- ID 200


›› Huamboya canton (Ecuador), flag

- ID 24315


›› Hudson county (New Jersey), flag

- ID 19734


›› Hudson county (New Jersey), seal

- ID 19735


›› Hudson`s Hope (British Columbia), flag

- ID 28431


›› Hudson`s Hope (British Columbia), logo

- ID 28432


›› Huila (department in Colombia), flag

- ID 4831


›› Humboldt county (California), seal

- ID 10778


›› Humboldt county (Iowa), flag

- ID 30377


›› Hunterdon county (New Jersey), seal

- ID 19494


›› Hunterdon county (New Jersey), seal (1873, 1976, black & white)

- ID 19495


›› Huntington (New York), seal

- ID 24725


›› Huntington (West Virginia), flag

- ID 29868


›› Huntington Beach (California), flag

- ID 31065


›› Huntington Beach (California), seal

- ID 31146


›› Hutchison (Kansas), flag

- ID 29668


›› Ichnya (Chernigov oblast), coat of arms

- ID 18491


›› Ichnya (Chernigov oblast), flag

- ID 20576


›› Ile rayon (Almaty oblast), emblem

- ID 30933


›› Imperial county (California), flag

- ID 30380


›› Imperial county (California), seal

- ID 8834


›› Independence (Missouri), flag

- ID 28433


›› Indianapolis (Indiana), flag

- ID 5095


›› Inman (South Carolina), flag

- ID 30402


›› International Criminal Police Organization (ICPO, Interpol), emblem

- ID 14697


›› International Criminal Police Organization (ICPO, Interpol), flag

- ID 18869


›› Inyo county (California), seal

- ID 10445


›› Iowa City (Iowa), flag

- ID 32286


›› Iraqi Kurdistan Region Presidency, emblem

- ID 10360


›› Iraqi Kurdistan Regional Government, emblem

- ID 10355


›› Iraqi Kurdistan, flag

- ID 5105


›› Irondequoit (New York), seal

- ID 24726


›› Irpen (Kiev oblast), coat of arms

- ID 20578


›› Irpen (Kiev oblast), coat of arms (#2)

- ID 20577


›› Irvine (California), seal

- ID 20813


›› Irving (Texas), flag

- ID 30406


›› Isatay rayon (Atyrau oblast), coat of arms

- ID 31460


›› Isle of Wight county (Virginia), seal

- ID 13070


›› Islip (New York), seal (black & white)

- ID 24727


›› Issyk-Kul rayon (Issyk-Kul oblast), flag

- ID 31461


›› Jackson (Lebanon County, Pennsylvania), seal

- ID 20445


›› Jackson (Mississippi), flag

- ID 6035


›› Jackson County (North Carolina), flag

- ID 20243


›› Jacksonville (Florida), flag

- ID 6342


›› Jalal-Abad (Jalal-Abad oblast), flag

- ID 31358


›› Jama canton (Ecuador), flag

- ID 24299


›› James City county (Virginia), seal

- ID 12562


›› Jamestown (North Carolina), flag

- ID 29669


›› Jaramijó canton (Ecuador), flag

- ID 24300


›› Jasper (Alabama), seal

- ID 27140


›› Jefferson City (Missouri), flag

- ID 6345


›› Jefferson county (Alabama), seal

- ID 5098


›› Jefferson county (Missouri), seal

- ID 11500


›› Jefferson county (Ohio), flag

- ID 27612


›› Jefferson county (Ohio), seal

- ID 27613


›› Jennings (Missouri), flag

- ID 28434


›› Jersey Village (Texas), seal

- ID 30404


›› Jerusalem (Israel), emblem

- ID 10436


›› Jerusalem (Israel), flag

- ID 10437


›› Jerusalem Kingdom, coat of arms (12nd-13rd century)

- ID 10438


›› Jipijapa canton (Ecuador), flag

- ID 24301


›› Johnston (atoll, U.S.), flag

- ID 2596


›› Johnstown (Pennsylvania), flag

- ID 28435


›› Johnstown (Pennsylvania), seal (black & white)

- ID 20517


›› Juigalpa (Nicaragua), flag

- ID 20244


›› Jujuy (province in Argentina), coat of arms

- ID 6275


›› Juneau (Alaska), flag

- ID 31066


›› Junín canton (Ecuador), flag

- ID 24302


›› Jurupa valley (California), flag

- ID 31073


›› Kachiry (Terenkol) rayon (Pavlodar oblast), emblem

- ID 28346


›› Kachiry rayon (Pavlodar oblast), coat of arms

- ID 26936


›› Kalush (Ivano-Frankovsk oblast), coat of arms

- ID 18465


›› Kalush (Ivano-Frankovsk oblast), flag

- ID 20579


›› Kalush rayon (Ivano-Frankovsk oblast), coat of arms

- ID 18472


›› Kamenets-Podolsky (Khmelnitsky oblast), coat of arms (1995)

- ID 18500


›› Kamenets-Podolsky (Khmelnitsky oblast), flag

- ID 20580


›› Kamenskoe (Dneprodzerzhinsk, Dnepropetrovsk oblast), flag

- ID 20581


›› Kamysty rayon (Kostanay oblast), coat of arms

- ID 31462


›› Kansas City (Missouri), flag

- ID 27083


›› Kapchagai (Almaty oblast), coat of arms

- ID 31166


›› Kapchagai (Almaty oblast), coat of arms (#2)

- ID 31167


›› Kapchagai (Almaty oblast), flag

- ID 31165


›› Kaposvár (Hungary), coat of arms

- ID 13466


›› Kara-Kuldzha rayon (Osh oblast), emblem

- ID 31218


›› Kara-Oi (Issyk-Kul oblast), emblem

- ID 31219


›› Karaganda (Kazakhstan), coat of arms

- ID 9915


›› Karakol (Issyk-Kul oblast), emblem

- ID 31318


›› Karakol (Issyk-Kul oblast), flag

- ID 31319


›› Karatal rayon (Almaty oblast), coat of arms

- ID 32040


›› Kaskelen (Almaty oblast), coat of arms

- ID 31378


›› Kazakhstan Office of Public Prosecutor, emblem

- ID 30832


›› Kazalinsk (Kazakhstan), coat of arms (1909)

- ID 11539


›› Kecskemét (Hungary), coat of arms

- ID 13467


›› Kegen rayon (Almaty oblast), coat of arms

- ID 31379


›› Keles rayon (Turkistan oblast), coat of arms

- ID 31380


›› Kennebec county (Maine), seal

- ID 11501


›› Kenner (Louisiana), flag

- ID 27075


›› Kensigton (New Hampshire), seal

- ID 6538


›› Kent county (Maryland), seal

- ID 5214


›› Kent county (Michigan), flag

- ID 28436


›› Kent county (Michigan), seal

- ID 12813


›› Kentau (Turkistan oblast), coat of arms

- ID 31381


›› Kern County (California), seal

- ID 29756


›› Kerry county (Ireland), coat of arms

- ID 10546


›› Kettering (Ohio), flag

- ID 28437


›› Khmelnik (Khmilnyk, Vinnitsa oblast), coat of arms

- ID 18456


›› Khobdinsky rayon (Aktyubinsk oblast), coat of arms

- ID 30718


›› Khromtau rayon (Aktobe oblast), coat of arms

- ID 31382


›› Khyrov (Khyriv, Lvov oblast), coat of arms

- ID 18368


›› Kildare county (Ireland), coat of arms

- ID 10556


›› Kildare county (Ireland), flag

- ID 10557


›› Kilkenny county (Ireland), coat of arms

- ID 10606


›› Kimberley (British Columbia), badge

- ID 11055


›› Kimberley (British Columbia), coat of arms

- ID 11054


›› Kimberley (British Columbia), flag

- ID 11056


›› King county (Washington), flag

- ID 24236


›› King county (Washington), flag (1987)

- ID 24966


›› Kingston (New York), seal

- ID 12798


›› Kitsap county (Washington), seal

- ID 24237


›› Knox county (Nebraska), flag

- ID 28438


›› Knox county (Ohio), flag

- ID 27614


›› Kokpekti rayon (East Kazakhstan oblast), coat of arms

- ID 31383


›› Koksu rayon (Almaty oblast), coat of arms

- ID 31463


›› Komarno (Lvov oblast), coat of arms

- ID 18360


›› Komsomolsk (Poltava oblast), coat of arms

- ID 18476


›› Konotop (Sumy oblast), coat of arms

- ID 18461


›› Konotop (Sumy oblast), coat of arms (#2)

- ID 18460


›› Konotop (Sumy oblast), flag

- ID 20584


›› Koper (Slovenia), coat of arms

- ID 13440


›› Koper (Slovenia), flag

- ID 13441


›› Korostyshev (Korostishiv, Zhitomir oblast), coat of arms

- ID 18336


›› Korostyshev (Korostishiv, Zhitomir oblast), coat of arms (#2)

- ID 18335


›› Korsun-Shevchenkovsky (Korsun-Shevchenkivskyi, Cherkassy oblast), coat of arms

- ID 18497


›› Korsun-Shevchenkovsky (Korsun-Shevchenkivskyi, Cherkassy oblast), coat of arms (#2)

- ID 18496


›› Kosmach (Ivano-Frankovsk oblast), coat of arms

- ID 18466


›› Kosov rayon (Kosiv, Ivano-Frankovsk oblast), coat of arms (2002)

- ID 18473


›› Kostanaisky rayon (Kostanay oblast), emblem

- ID 30135


›› Kranj (Slovenia), coat of arms

- ID 13445


›› Krasnovodsk (Turkmenbashi, Turkmenistan), soviet coat of arms

- ID 32938


›› Kryzhopol (Krizhopil, Vinnitsa oblast), coat of arms

- ID 18347


›› Kuba (Azerbaijan), coat of arms (1843)

- ID 1562


›› Kurchatov (East Kazakhstan oblast), coat of arms

- ID 30735


›› Kurkol (Aksu, Pavlodar oblast), coat of arms

- ID 31384


›› Kutaisi (Georgia), coat of arms (1843)

- ID 2489


›› Kutaisi (Georgia), coat of arms (1870)

- ID 6155


›› Kutaisi (Georgia), flag

- ID 11392


›› Kutaisi gubernia (Russian empire), coat of arms

- ID 2040


›› Kutztown (Pennsylvania), seal

- ID 20446


›› Kyrgyzstan Internal troops, former badge

- ID 31229


›› Kyrgyzstan Internal troops, former emblem

- ID 31228


›› Kyrgyzstan Office of General Prosecutor, emblem

- ID 31217


›› Kyrgyzstan State Committee for National Security, former emblem

- ID 31215


›› Kyrgyzstan State Committee for National Security, former emblem (#2)

- ID 31317


›› Kyzyl-Kiya (Batken oblast), coat of arms

- ID 31465


›› Kzyl-Orda (Perovsk, Kazakhstan), coat of arms (1909)

- ID 11540


›› La Guajira (department in Colombia), flag

- ID 4832


›› La Pampa (province in Argentina), coat of arms

- ID 6277


›› La Pampa (province in Argentina), flag

- ID 8292


›› La Rioja (province in Argentina), coat of arms

- ID 6276


›› La Rioja (province in Argentina), flag

- ID 10314


›› La Salle (Illinois), flag

- ID 28439


›› Lackawanna county (Pennsylvania), seal

- ID 20447


›› Lacombe (Alberta), badge

- ID 10896


›› Lacombe (Alberta), coat of arms

- ID 10894


›› Lacombe (Alberta), flag

- ID 10895


›› Lafayette (Indiana), flag

- ID 30384


›› Lafayette (Tennessee), seal

- ID 10451


›› Lake County (California), seal

- ID 29757


›› Lake Oswego (Oregon), flag

- ID 28440


›› Lake Oswego (Oregon), seal

- ID 28441


›› Lamoni (Iowa), flag

- ID 29670


›› Lancaster (Pennsylvania), flag

- ID 20518


›› Lancaster (Pennsylvania), seal

- ID 20519


›› Lancaster county (Pennsylvania), seal

- ID 12812


›› Lancaster county (Pennsylvania), seal (black & white)

- ID 19438


›› Lankaran (Azerbaijan), coat of arms

- ID 26062


›› Lankaran (Azerbaijan), coat of arms (1843)

- ID 631


›› Laois county (Ireland), coat of arms

- ID 10607


›› Las Cruces (New Mexico), flag

- ID 27091


›› Las Vegas (Nevada), flag

- ID 10435


›› Las Vegas (Nevada), seal

- ID 10434


›› Lawndale (California), seal

- ID 24952


›› Le Sueur (Minnesota), flag

- ID 28442


›› Leduc (Alberta), badge

- ID 11053


›› Leduc (Alberta), coat of arms

- ID 11051


›› Leduc (Alberta), flag

- ID 11052


›› Lee`s Summit (Missouri), flag

- ID 28443


›› Leitrim county (Ireland), coat of arms

- ID 10558


›› Lewis county (New York), flag

- ID 24728


›› Lewis county (New York), seal

- ID 24729


›› Liberty (South Carolina), flag

- ID 27098


›› Liberty lake (Washington), flag

- ID 27615


›› Lima (New York), flag

- ID 24730


›› Limerick county (Ireland), coat of arms

- ID 10549


›› Limón Indanza canton (Ecuador), flag

- ID 24316


›› Lincoln county (Maine), flag

- ID 27080


›› Lincoln county (Nevada), seal

- ID 27093


›› Linden (New Jersey), seal (black & white)

- ID 19496


›› Lisbon (Ohio), flag

- ID 30395


›› Lithuanian 2nd Territorial Unit Darius and Girėnas Military District, banner

- ID 24320


›› Lithuanian 3rd Territorial Unit of Žemaičiai Military District, banner

- ID 24321


›› Lithuanian Air Force Air Base, banner (back side)

- ID 21701


›› Lithuanian Air Force Air Base, emblem

- ID 21700


›› Lithuanian Air Force Armament and Equipment Repair Depot Service, emblem

- ID 21719


›› Lithuanian Airspace Surveillance and Control Command, banner (back side)

- ID 21743


›› Lithuanian Airspace Surveillance and Control Command, emblem

- ID 21730


›› Lithuanian Airspace Surveillance and Control Command, former emblem

- ID 22355


›› Lithuanian Great Hetman Jonušas Radvila Training Regiment, emblem

- ID 22861


›› Lithuanian Lieutenant General Motiejus Peciulionis Arsenal, banner

- ID 24322


›› Lithuanian Mechanised Infantry Brigade «Iron Wolf», banner

- ID 24332


›› Lithuanian Mechanised Infantry Brigade «Iron Wolf», emblem

- ID 21717


›› Lithuanian Mechanised Infantry Brigade «Iron Wolf», former emblem

- ID 21709


›› Little Egg Harbor (New Jersey), seal

- ID 19497


›› Livingston county (New York), flag

- ID 21418


›› Livingston county (New York), seal (black & white)

- ID 21419


›› Livingston county (New York), vertical banner

- ID 21420


›› Logan county (Ohio), flag

- ID 29869


›› Loja (canton in Ecuador), flag

- ID 6125


›› Long Beach Island (New Jersey), flag

- ID 19736


›› Long Branch (New Jersey), flag

- ID 19498


›› Longford county (Ireland), coat of arms

- ID 10620


›› Longview (Texas), flag

- ID 6209


›› Lord Howe Island (Australia), flag

- ID 20246


›› Los Angeles (California), flag

- ID 6055


›› Los Angeles (California), seal

- ID 6054


›› Los Angeles (county in California), flag

- ID 6057


›› Los Angeles (county in California), seal (1957)

- ID 6039


›› Los Angeles (county in California), seal (2004)

- ID 6056


›› Loudoun county (Virginia), coat of arms

- ID 6790


›› Loudoun county (Virginia), flag

- ID 12816


›› Loudoun county (Virginia), seal

- ID 12815


›› Louisville (Kentucky), flag (till 2003)

- ID 6220


›› Louisville Jefferson County Metro (Kentucky), flag

- ID 6221


›› Louth county (Ireland), coat of arms

- ID 10608


›› Lozovaya (Lozova, Kharkov oblast), coat of arms (2009)

- ID 18312


›› Lubbock (Texas), flag

- ID 6210


›› Lubny (Poltava oblast), coat of arms

- ID 18478


›› Lugansk (Lugansk oblast), coat of arms (#2, 1992)

- ID 18313


›› Lukomye (Poltava oblast), coat of arms

- ID 18479


›› Lutugino (Lutugine, Lugansk oblast), coat of arms

- ID 18314


›› Lycoming county (Pennsylvania), flag

- ID 20622


›› Lycoming county (Pennsylvania), seal

- ID 20448


›› Lynchburg (Virginia), seal (logo)

- ID 12567


›› Maaktaaral rayon (Turkistan oblast), coat of arms

- ID 32042


›› Macara (canton in Ecuador), flag

- ID 6126


›› Macomb county (Michigan), flag

- ID 30391


›› Macon-Bibb county (Georgia), seal

- ID 27142


›› Madawaska (Maine), flag

- ID 28444


›› Madison (Pennsylvania), seal

- ID 20449


›› Madison (Wisconsin), flag

- ID 6226


›› Madison county (Illinois), seal

- ID 12788


›› Madison Heights (Michigan), flag

- ID 29659


›› Magdalena (department in Colombia), flag

- ID 4833


›› Makat rayon (Atyrau oblast), coat of arms

- ID 32043


›› Makeevka (Makiivka, Donetsk oblast), coat of arms

- ID 18346


›› Manchester (New Jersey), seal

- ID 19499


›› Mangistau rayon (Mangystau oblast), coat of arms

- ID 31466


›› Manhattan (Kansas), flag

- ID 28852


›› Manhattan (Kansas), previous flag

- ID 27616


›› Manhattan Beach (California), seal

- ID 12786


›› Mankato (Minnesota), flag

- ID 6349


›› Maranhao (state in Brazil), flag

- ID 4802


›› Maribor (Slovenia), coat of arms

- ID 13446


›› Maricopa county (Arizona), seal

- ID 4925


›› Maricopa county (Maryland), flag

- ID 27077


›› Marinin (Rovno oblast), coat of arms

- ID 18443


›› Marion (Ohio), flag

- ID 27617


›› Marion county (Ohio), flag

- ID 27618


›› Markham (Ontario), flag

- ID 29674


›› Martinique, unofficial flag

- ID 5112


›› Maryland heights (Missouri), flag

- ID 29549


›› Mathews county (Virginia), seal

- ID 12956


›› Mato Grosso (state in Brazil), coat of arms

- ID 10855


›› Mato Grosso (state in Brazil), flag

- ID 4804


›› Mato Grosso do Sul (state in Brazil), flag

- ID 4803


›› Maui county (Hawaii), seal

- ID 11280


›› May rayon (Pavlodar oblast), coat of arms

- ID 31467


›› Mayo (county in Ireland), coat of arms

- ID 10561


›› McDowell County (North Carolina), seal

- ID 6719


›› McLennan (county in Texas), flag

- ID 6215


›› Meadville (Pennsylvania), flag

- ID 20450


›› Meath county (Ireland), coat of arms

- ID 10609


›› Meath county (Mide, Ireland), historical coat of arms

- ID 10597


›› Medicine Hat (Alberta), coat of arms

- ID 30596


›› Melfort (Saskatchewan), coat of arms

- ID 11400


›› Melitopol (Zaporozhye oblast), flag (2003)

- ID 20586


›› Mena (Chernigov oblast), coat of arms

- ID 18492


›› Mendoza (province in Argentina), coat of arms

- ID 6278


›› Mera canton (Ecuador), flag

- ID 24318


›› Mercer county (New Jersey), flag

- ID 19503


›› Mercer county (New Jersey), seal

- ID 19502


›› Mercer county (New Jersey), seal (#2)

- ID 19500


›› Mercer county (New Jersey), seal (black & white)

- ID 19501


›› Merriam (Kansas), flag

- ID 27619


›› Merritt (British Columbia), coat of arms

- ID 11398


›› Merritt (British Columbia), flag

- ID 11399


›› Mesa (Arizona), flag

- ID 27116


›› Meta (department in Colombia), flag

- ID 4834


›› Metairie (Louisiana), flag

- ID 29671


›› Mexicali (Mexico), coat of arms

- ID 11534


›› Miami (Florida), flag

- ID 6219


›› Miami (Florida), seal

- ID 6338


›› Miami Beach (Florida), seal

- ID 7827


›› Middle (New Jersey), seal

- ID 19737


›› Middlesex county (New Jersey), flag

- ID 19504


›› Middlesex county (New Jersey), seal

- ID 19506


›› Middlesex county (New Jersey), seal (black & white)

- ID 19505


›› Middlesex county (Virginia), seal

- ID 7830


›› Middletown (Bucks County, Pennsylvania), seal (black & white)

- ID 20451


›› Middletown (New Jersey), seal (black & white)

- ID 19507


›› Midway Islands (U.S.), flag

- ID 2597


›› Mifflinburg (Pennsylvania), seal

- ID 20452


›› Milford (Nebraska), flag

- ID 27620


›› Milford (New Hampshire), flag

- ID 27621


›› Milton (Georgia), flag

- ID 28445


›› Minas Gerais (state in Brazil), flag

- ID 4805


›› Mingachevir (Azerbaijan), coat of arms

- ID 26221


›› Mingachevir (Azerbaijan), former coat of arms

- ID 26219


›› Minneapolis (Minnesota), flag

- ID 6217


›› Misiones (province in Argentina), coat of arms

- ID 3942


›› Misiones (province in Argentina), flag

- ID 10251


›› Miskolc (Hungary), coat of arms

- ID 13468


›› Mission (Kansas), flag

- ID 27622


›› Mitchell County (North Carolina), seal

- ID 6720


›› Mocha (canton in Ecuador), flag

- ID 6112


›› Monaca (Pennsylvania), seal

- ID 20453


›› Monaghan county (Ireland), coat of arms

- ID 10605


›› Monastyriska (Monastyryska, Ternopol oblast), coat of arms

- ID 18485


›› Monmouth county (New Jersey), seal

- ID 11122


›› Monmouth county (New Jersey), seal (black & white)

- ID 19508


›› Mono county (California), flag

- ID 31067


›› Monroe county (New York), flag

- ID 21421


›› Monroe county (New York), seal (black & white)

- ID 21422


›› Monrovia (California), flag

- ID 6340


›› Monrovia (California), seal

- ID 27143


›› Montecristi canton (Ecuador), flag

- ID 24303


›› Monterey (California), flag

- ID 20814


›› Monterey Park (California), seal

- ID 29758


›› Montgomery (Alabama), flag

- ID 6350


›› Montgomery county (Maryland), flag

- ID 10307


›› Montgomery county (Maryland), seal

- ID 9069


›› Montgomery county (New York), flag

- ID 23308


›› Montgomery county (New York), logo

- ID 23309


›› Montgomery county (New York), seal

- ID 23310


›› Montgomery county (Tennessee), flag

- ID 31068


›› Montpelier (Vermont), flag

- ID 27106


›› Montreal (Quebec), coat of arms

- ID 7788


›› Montreal (Quebec), flag

- ID 7789


›› Montville (New Jersey), seal

- ID 19738


›› Moreno Valley (California), flag

- ID 31069


›› Moreno Valley (California), seal

- ID 24953


›› Morgan Hill (California), flag

- ID 31070


›› Morona canton (Ecuador), flag

- ID 24317


›› Moshny (Cherkassy oblast), coat of arms

- ID 18499


›› Mosinee (Wisconsin), flag

- ID 29870


›› Mostiska (Lvov oblast), coat of arms

- ID 18361


›› Mount Dora (Florida), flag

- ID 27070


›› Mount Holly (New Jersey), seal

- ID 19509


›› Mount Vernon (New York), seal (coat of arms)

- ID 24731


›› Mugalzhar rayon (Aktobe oblast), coat of arms

- ID 31468


›› Multi-National Force - Iraq (MNF-I), distinctive unit insignia

- ID 11423


›› Multi-National Force - Iraq (MNF-I), emblem

- ID 11315


›› Multi-National Force - Iraq (MNF-I), shoulder sleeve insignia

- ID 11422


›› Murska Sobota (Slovenia), coat of arms

- ID 13447


›› Myrtle Beache (South Carolina), flag

- ID 28446


›› Nabón canton (Ecuador), flag

- ID 24291


›› Nadvornaya (Nadvirna, Ivano-Frankovsk oblast), coat of arms

- ID 18467


›› Nagykanizsa (Hungary), coat of arms

- ID 13469


›› Nakhichevan (Azerbaijan), coat of arms (1843)

- ID 2515


›› Nanticoke (Pennsylvania), coat of arms

- ID 24920


›› Nanticoke (Pennsylvania), flag

- ID 20454


›› Napa county (California), seal

- ID 11461


›› Narino (department in Colombia), flag

- ID 4835


›› Naryn (Naryn oblast), emblem

- ID 31223


›› Nassau county (New York), seal

- ID 6558


›› Nauryzbay rayon (Almaty), emblem

- ID 30940


›› Navassa (island, U.S.), flag

- ID 2598


›› Neteshin (Netishyn, Khmelnitsky oblast), coat of arms

- ID 18501


›› Neuquen (province in Argentina), coat of arms

- ID 3943


›› Neuquen (province in Argentina), flag

- ID 10313


›› New Castle (New York), seal

- ID 24732


›› New Castle county (Delaware), seal

- ID 10308


›› New Maryland (New Brunswick), coat of arms

- ID 9606


›› New Maryland (New Brunswick), flag

- ID 9607


›› New Milford (Connecticut), flag

- ID 6352


›› New Orleans (Louisiana), flag

- ID 5093


›› New Rochelle (New York), seal (black & white)

- ID 21424


›› New South Wales (NSW, Australia), coat of arms

- ID 4451


›› New South Wales (NSW, Australia), flag

- ID 4457


›› Newark (New Jersey), seal

- ID 19518


›› Newark (New Jersey), seal (black & white)

- ID 19517


›› Newport Beach (California), seal

- ID 13097


›› Newport News (Virginia), seal

- ID 13072


›› Newton (New Jersey), seal

- ID 19519


›› Noble county (Ohio), flag

- ID 27623


›› Nookat (Osh oblast), emblem

- ID 31224


›› Nookat rayon (Osh oblast), coat of arms

- ID 30560


›› Nookat rayon (Osh oblast), flag

- ID 30559


›› Norfolk (Virginia), flag

- ID 12836


›› Norfolk (Virginia), seal

- ID 12835


›› Norfolk Island (Australia), coat of arms

- ID 4462


›› Norfolk Island (Australia), flag

- ID 921


›› Norte de Santander (department in Colombia), flag

- ID 4836


›› North Bergen (New Jersey), seal (black & white)

- ID 19520


›› North Hempstead (New York), seal

- ID 21425


›› Northern Cyprus, President flag

- ID 5108


›› Northern Mariana Islands (U.S.), flag

- ID 2612


›› Northern Mariana Islands (U.S.), seal

- ID 26065


›› Northern Territory (Australia), coat of arms

- ID 4456


›› Northern Territory (Australia), flag

- ID 924


›› Northglenn (Colorado), flag

- ID 27624


›› Novgorod-Seversky (Novhorod-Siversky, Chernigov oblast), coat of arms

- ID 18493


›› Novo Mesto (Slovenia), coat of arms

- ID 13442


›› Novovolynsk (Novovolinsk, Volyn oblast), coat of arms

- ID 18452


›› Novyi Rozdol (Noviy Rozdil, Lvov oblast), coat of arms

- ID 18362


›› Nukus (Uzbekistan), coat of arms

- ID 23957


›› Nutley (New Jersey), seal

- ID 19521


›› Nyíregyháza (Hungary), coat of arms

- ID 13470


›› Oakland (California), flag

- ID 21426


›› Oakmont (Pennsylvania), flag

- ID 23381


›› Oakmont (Pennsylvania), seal

- ID 20455


›› Ocean City (Maryland), coat of arms

- ID 30389


›› Ocean County (New Jersey), seal

- ID 6718


›› Ocean county (New Jersey), seal (black & white)

- ID 19522


›› Ochamchira (Abkhazia), coat of arms (2022)

- ID 32932


›› Oconee county (Georgia), seal

- ID 25412


›› Oconee county (South Carolina), flag

- ID 27099


›› Oconee county (South Carolina), seal

- ID 11282


›› Odessa (Texas), flag

- ID 30407


›› Offaly county (Ireland), coat of arms

- ID 10619


›› Okaloosa county (Florida), seal

- ID 11502


›› Okeechobee (Florida), seal

- ID 12801


›› Okeechobee County (Florida), seal

- ID 6715


›› Oklahoma City (Oklahoma), flag

- ID 13069


›› Oklahoma City (Oklahoma), seal

- ID 13068


›› Olathe (Kansas), flag

- ID 27625


›› Oley (Pennsylvania), seal

- ID 20456


›› Olmedo canton (Ecuador), flag

- ID 24304


›› Oneida county (New York), flag

- ID 24733


›› Oneida county (New York), seal

- ID 21428


›› Oneida county (New York), seal (black & white)

- ID 21427


›› Onondaga county (New York), flag

- ID 21429


›› Onondaga county (New York), seal (black & white)

- ID 21430


›› Ontario (California), seal

- ID 29759


›› Ontario county (New York), flag

- ID 28447


›› Orange (California), seal

- ID 12739


›› Orange county (California), flag

- ID 30381


›› Orange county (California), seal

- ID 645


›› Orange county (New York), seal

- ID 23065


›› Orangetown (New York), flag

- ID 24976


›› Orangetown (New York), seal

- ID 24977


›› Ordabasy rayon (Turkistan oblast), coat of arms

- ID 32046


›› Ordabasy rayon (Turkistan oblast), former coat of arms

- ID 32047


›› Oregon City (Oregon), seal

- ID 6445


›› Orem (Utah), flag

- ID 27626


›› Orlando (Florida), flag (1980)

- ID 7826


›› Orlando (Florida), flag (2017)

- ID 25320


›› Orlando (Florida), seal

- ID 25319


›› Oromiya (state in Ethiopia), flag

- ID 4873


›› Osh (Osh oblast), coat of arms

- ID 31225


›› Osh (Osh oblast), flag

- ID 31360


›› Ostrog (Rovno oblast), coat of arms

- ID 18444


›› Oswego county (New York), flag

- ID 24734


›› Oswego county (New York), seal (black & white)

- ID 21431


›› Ottawa (Ontario), coat of arms

- ID 4745


›› Ottawa (Ontario), flag

- ID 3920


›› Ottawa County (Michigan), seal

- ID 6717


›› Ottawa county (Ohio), flag

- ID 29672


›› Oyster Bay (New York), seal

- ID 24735


›› Ózd (Hungary), coat of arms

- ID 13606


›› Ozurgety (Georgia), coat of arms (1843)

- ID 2490


›› Paján canton (Ecuador), flag

- ID 24305


›› Palm Beach county (Florida), seal

- ID 11283


›› Palmdale (California), flag

- ID 20815


›› Palmdale (California), seal (logo)

- ID 20816


›› Palmyra (atoll, U.S.), flag

- ID 2599


›› Paltas (canton in Ecuador), flag

- ID 6127


›› Para (state in Brazil), coat of arms

- ID 10791


›› Para (state in Brazil), flag

- ID 4806


›› Paraiba (state in Brazil), flag

- ID 4807


›› Parana (state in Brazil), flag

- ID 6386


›› Park City (Kansas), flag

- ID 27627


›› Pasadena (California), flag

- ID 24954


›› Pasadena (California), seal

- ID 24955


›› Passaic county (New Jersey), flag

- ID 19523


›› Passaic county (New Jersey), seal (black & white)

- ID 19524


›› Patate (canton in Ecuador), flag

- ID 6113


›› Paterson (New Jersey), seal (black & white)

- ID 19525


›› Pavlodar (Kazakhstan), flag

- ID 7448


›› Pavlodar (Pavlodar oblast), coat of arms (1969)

- ID 7861


›› Pavlodar (Pavlodar oblast), coat of arms (2015)

- ID 25016


›› Payne county (Oklahoma), flag

- ID 28448


›› Pécs (Hungary), coat of arms

- ID 13471


›› Pedernales canton (Ecuador), flag

- ID 24306


›› Penbrook (Pennsylvania), logo

- ID 20461


›› Pereyaslav-Khmelnitsky (Kiev oblast), coat of arms

- ID 18340


›› Pernambuco (state in Brazil), flag

- ID 4808


›› Pershotravensk (Dnepropetrovsk oblast), coat of arms

- ID 18349


›› Petaluma (California), seal

- ID 12930


›› Peterborough (Ontario), coat of arms

- ID 9825


›› Peterborough (Ontario), flag

- ID 9545


›› Petersburg (Virginia), seal

- ID 12568


›› Petropavlovsk (Kazakhstan), coat of arms (1842)

- ID 7449


›› Phoenix (Arizona), flag

- ID 6351


›› Piaui (state in Brazil), flag

- ID 4809


›› Pichincha canton (Ecuador), flag

- ID 24307


›› Pickens county (South Carolina), seal

- ID 6443


›› Pierce county (Washington), flag

- ID 24238


›› Pierce county (Washington), former flag

- ID 24967


›› Pike county (Pennsylvania), seal (black & white)

- ID 20462


›› Pindal (canton in Ecuador), flag

- ID 6122


›› Piryatin (Poltava oblast), coat of arms (#2)

- ID 18481


›› Piscataway (New Jersey), seal

- ID 19526


›› Pitsunda (Abkhazia), coat of arms (2014)

- ID 32933


›› Pitt county (North Carolina), flag

- ID 29871


›› Pitt Meadows (British Columbia), coat of arms

- ID 18873


›› Pitt Meadows (British Columbia), flag

- ID 18874


›› Pitt Meadows (British Columbia), logo

- ID 30373


›› Pittsboro (Indiana), flag

- ID 27628


›› Pittsburgh (Pennsylvania), coat of arms

- ID 4488


›› Pittsburgh (Pennsylvania), flag

- ID 4489


›› Pittsburgh (Pennsylvania), seal

- ID 19444


›› Pittsburgh (Pennsylvania), seal (black & white)

- ID 19443


›› Pittsylvania county (Virginia), seal

- ID 12502


›› Plainfield (New Jersey), seal

- ID 20615


›› Plano (Texas), flag

- ID 6212


›› Plaquemines Parish (Louisiana), flag

- ID 30385


›› Platte (Missouri), flag

- ID 29662


›› Platte county (Nebraska), flag

- ID 27089


›› Plumas County (California), seal

- ID 6560


›› Pocatello (Idaho), flag

- ID 27072


›› Pocatello (Idaho), logo

- ID 27071


›› Podgaytsy (Pidhaitsi, Ternopol oblast), coat of arms

- ID 18486


›› Pologi (Zaporozhye oblast), coat of arms

- ID 18352


›› Port Huron (Michigan), flag

- ID 28449


›› Porterville (California), flag

- ID 25145


›› Porterville (California), seal

- ID 25149


›› Portland (Maine), seal

- ID 9991


›› Portland (Oregon), flag

- ID 6047


›› Portoviejo canton (Ecuador), flag

- ID 24308


›› Postojna (Slovenia), coat of arms

- ID 13443


›› Poway (California), logo

- ID 24956


›› Prince George county (Maryland), seal

- ID 5212


›› Prince George county (Virginia), seal

- ID 6789


›› Prince William county (Virginia), seal

- ID 13071


›› Prior Lake (Minnesota), flag

- ID 28450


›› Prior Lake (Minnesota), seal

- ID 28451


›› Priozyorsk (Karaganda oblast), coat of arms

- ID 31386


›› Provo (Utah), flag

- ID 27107


›› Puebla de Zaragoza (Mexico), coat of arms

- ID 14289


›› Pueblo County (Colorado), seal

- ID 31162


›› Puerto López canton (Ecuador), flag

- ID 24309


›› Pustomyty (Pustomiti, Lvov oblast), coat of arms

- ID 18363


›› Putumayo (department in Colombia), flag

- ID 4837


›› Puyango (canton in Ecuador), flag

- ID 6128


›› Quebec (city, Canada), coat of arms

- ID 3718


›› Quebec (city, Canada), flag

- ID 3961


›› Queen Anne county (Maryland), seal

- ID 1232


›› Queen Creek (Arizona), flag

- ID 29550


›› Queens (borough in New York City), flag

- ID 10776


›› Queensland (Australia), coat of arms

- ID 491


›› Queensland (Australia), flag

- ID 4459


›› Quero (canton in Ecuador), flag

- ID 6115


›› Quilanga (canton in Ecuador), flag

- ID 6129


›› Quindio (department in Colombia), flag

- ID 4838


›› Racine county (Wisconsin), flag

- ID 27110


›› Radekhov (Radekhiv, Lvov oblast), coat of arms

- ID 18365


›› Radekhov (Radekhiv, Lvov oblast), flag

- ID 20588


›› Radivilov (Radiviliv, Rovno oblast), coat of arms

- ID 18445


›› Radivilov (Radiviliv, Rovno oblast), flag

- ID 20589


›› Radnor (Pennsylvania), seal (coat of arms)

- ID 20464


›› Rains County (Texas), seal

- ID 11725


›› Raiymbek rayon (Almaty oblast), coat of arms

- ID 31387


›› Raleigh (North Carolina), flag (front side)

- ID 6344


›› Raleigh county (West Virginia), seal

- ID 12814


›› Ramapo (New York), seal

- ID 24736


›› Rancho Mirage (California), flag

- ID 28452


›› Raritan (New Jersey), seal

- ID 19739


›› Rava-Russkaya (Rava-Ruska, Lvov oblast), coat of arms

- ID 18364


›› Redding (California), flag

- ID 27064


›› Redlands (California), seal

- ID 20817


›› Regina (Saskatchewan), coat of arms

- ID 10897


›› Regina (Saskatchewan), flag

- ID 10898


›› Reno (Nevada), flag

- ID 27095


›› Reno (Nevada), flag (1959)

- ID 27094


›› Rensselaer county (New York), flag

- ID 21432


›› Rensselaer county (New York), seal (black & white)

- ID 21433


›› Renton (Washington), seal

- ID 24239


›› Rialto (California), flag

- ID 24475


›› Rialto (California), seal

- ID 24476


›› Richardson (Texas), flag

- ID 6213


›› Richmond (Berks County, Pennsylvania), seal

- ID 20465


›› Richmond (Virginia), flag

- ID 6225


›› Richmond county (Virginia), seal

- ID 6441


›› Ridgefield (Washington), flag

- ID 30409


›› Rio de Janeiro (state in Brazil), coat of arms

- ID 10284


›› Rio de Janeiro (state in Brazil), flag

- ID 10285


›› Rio Grande do Norte (state in Brazil), coat of arms

- ID 6186


›› Rio Grande do Norte (state in Brazil), flag

- ID 6187


›› Rio Grande do Sul (state in Brazil), coat of arms

- ID 10288


›› Rio Grande do Sul (state in Brazil), flag

- ID 10289


›› Rio Negro (province in Argentina), coat of arms

- ID 3944


›› Risaralda (department in Colombia), flag

- ID 4839


›› River Edge (New Jersey), seal

- ID 19740


›› Riverbank (California), logo

- ID 25150


›› Riverside (California), flag

- ID 2354


›› Riverside county (California), seal

- ID 8748


›› Robbinsdale (Minnesota), flag

- ID 28453


›› Rocafuerte canton (Ecuador), flag

- ID 24310


›› Rochester (New York), banner

- ID 21434


›› Rochester (New York), seal

- ID 24978


›› Rock Hill (South Carolina), flag

- ID 30403


›› Rockland county (New York), flag

- ID 21435


›› Rockland county (New York), seal

- ID 24737


›› Rockville (Maryland), flag

- ID 27078


›› Rocky Mount (North Carolina), flag

- ID 29872


›› Rogatin (Ivano-Frankovsk oblast), coat of arms

- ID 18469


›› Rogatin (Ivano-Frankovsk oblast), coat of arms (#2)

- ID 18468


›› Rondonia (state in Brazil), flag

- ID 4810


›› Roraima (state in Brazil), flag

- ID 4811


›› Roscommon (county in Ireland), coat of arms

- ID 10562


›› Rosemount (Minnesota), flag

- ID 28454


›› Ross (Pennsylvania), seal

- ID 20623


›› Roswell (New Mexico), flag

- ID 27092


›› Rovenki (Lugansk oblast), coat of arms

- ID 18315


›› Roy (Utah), flag

- ID 27629


›› Royal Army Veterinary Corps (RAVC), emblem

- ID 30032


›› Royal Australian Air Force (RAAF), crest

- ID 16300


›› Royal Australian Air Force (RAAF), crest (black/white)

- ID 18887


›› Royal Australian Air Force (RAAF), ensign

- ID 16321


›› Royal Australian Air Force (RAAF), roundel

- ID 16322


›› Royal Australian Navy (RAN), crest

- ID 16318


›› Rozhishche (Volyn oblast), coat of arms

- ID 18453


›› Rudnyi (Kostanay oblast), coat of arms

- ID 31469


›› Rye Brook (New York), seal

- ID 24979


›› Ryskulov rayon (Jambyl oblast), coat of arms

- ID 30712


›› Saba (Netherlands Antilles), coat of arms

- ID 24766


›› Saba (Netherlands Antilles), flag

- ID 5110


›› Sacramento (California), flag

- ID 6341


›› Sacramento (California), seal

- ID 4880


›› Sacramento county (California), seal

- ID 5096


›› Saddle Brook (New Jersey), seal

- ID 19527


›› Saint-Cyrille-de-Lessard (Quebec), coat of arms

- ID 9601


›› Saint-Fabien-de-Panet (Quebec), coat of arms

- ID 9994


›› Saint-Flavien (Quebec), coat of arms

- ID 11407


›› Saint-Flavien (Quebec), flag

- ID 11408


›› Sainte-Foy (Quebec), coat of arms

- ID 11409


›› Sainte-Foy (Quebec), flag

- ID 11410


›› Sal (municipality in Cape Verde), coat of arms

- ID 18882


›› Šaľa (Slovakia), large coat of arms

- ID 18881


›› Salem (Oregon), flag

- ID 27097


›› Salem (Virginia), seal

- ID 12569


›› Salgótarján (Hungary), coat of arms

- ID 13607


›› Salisbury (Maryland), flag

- ID 12933


›› Salisbury (Maryland), seal

- ID 12932


›› Sallisaw (Oklahoma), seal

- ID 28455


›› Salt Lake City (Utah), flag

- ID 20818


›› Salt Lake City (Utah), logo

- ID 24598


›› Salt Lake City (Utah), seal

- ID 27017


›› Salt lake county (Utah), flag

- ID 27103


›› Salta (province in Argentina), coat of arms

- ID 3945


›› Salta (province in Argentina), flag

- ID 8293


›› Samarkand (Uzbekistan), coat of arms

- ID 22595


›› Sambor (Sambir, Lvov oblast), coat of arms

- ID 18366


›› San Andres and Providencia (department in Colombia), flag

- ID 4840


›› San Antonio (Texas), coat of arms

- ID 27018


›› San Antonio (Texas), flag

- ID 6211


›› San Antonio (Texas), seal

- ID 27147


›› San Bernardino (California), seal

- ID 8836


›› San Bernardino county (California), flag

- ID 20819


›› San Bernardino county (California), seal

- ID 9089


›› San Carlos (California), seal

- ID 24957


›› San Diego (California), flag

- ID 6037


›› San Diego (California), seal

- ID 4783


›› San Diego (county in California), flag

- ID 6036


›› San Diego county (California), seal

- ID 4922


›› San Fernando canton (Ecuador), flag

- ID 24292


›› San Francisco (California), flag

- ID 6058


›› San Jose (California), flag

- ID 6053


›› San Jose (California), seal

- ID 6052


›› San Juan (province in Argentina), coat of arms

- ID 3946


›› San Juan (province in Argentina), flag (obverse side)

- ID 10252


›› San Luis (province in Argentina), coat of arms

- ID 6279


›› San Luis Obispo (California), flag

- ID 20820


›› San Luis Obispo (California), seal

- ID 11157


›› San Luis Obispo county (California), seal

- ID 10446


›› San Marcos (Texas), seal

- ID 12934


›› San Mateo county (California), seal

- ID 24927


›› San Mateo county (California), seal (#2)

- ID 27148


›› San Pedro de Pelileo (canton in Ecuador), flag

- ID 6116


›› San Ramon (California), seal

- ID 20821


›› San Vicente canton (Ecuador), flag

- ID 24311


›› Santa Ana (California), seal

- ID 26058


›› Santa Ana canton (Ecuador), flag

- ID 24312


›› Santa Barbara (California), flag

- ID 20822


›› Santa Barbara (California), seal

- ID 20823


›› Santa Catarina (state in Brazil), coat of arms

- ID 10286


›› Santa Catarina (state in Brazil), flag

- ID 10287


›› Santa Clara county (California), flag

- ID 30382


›› Santa Clara county (California), seal

- ID 7829


›› Santa Cruz (California), seal

- ID 14510


›› Santa Cruz (province in Argentina), coat of arms

- ID 3947


›› Santa Cruz (province in Argentina), flag

- ID 10315


›› Santa Cruz county (California), flag

- ID 24958


›› Santa Cruz county (California), seal

- ID 18697


›› Santa Cruz de la Sierra (Bolivia), coat of arms

- ID 10412


›› Santa Cruz Police Department (California), badge

- ID 14511


›› Santa Fe (province in Argentina), coat of arms

- ID 3948


›› Santa Fe (province in Argentina), flag

- ID 10316


›› Santander (department in Colombia), flag

- ID 4841


›› Santee (California), seal

- ID 24959


›› Santiago de Pillaro (canton in Ecuador), flag

- ID 6117


›› Santiago del Estero (province in Argentina), coat of arms

- ID 10246


›› Santiago del Estero (province in Argentina), coat of arms (1915)

- ID 3949


›› Santiago del Estero (province in Argentina), flag

- ID 10247


›› Sao Paulo (state in Brazil), coat of arms

- ID 8796


›› Sao Paulo (state in Brazil), flag

- ID 4812


›› Saraguro (canton in Ecuador), flag

- ID 6130


›› Saran (Karaganda oblast), coat of arms

- ID 31470


›› Sarkand rayon (Almaty oblast), coat of arms

- ID 30713


›› Saryagash rayon (Turkistan oblast), emblem

- ID 32048


›› Schenectady (New York), seal (black & white)

- ID 21437


›› Schenectady county (New York), seal

- ID 21436


›› Schuyler county (Missouri), flag

- ID 28456


›› Schuyler county (Missouri), seal

- ID 28457


›› Schuyler county (New York), flag

- ID 24738


›› Schuyler county (New York), seal (black & white)

- ID 24739


›› Seattle (Washington), flag

- ID 5097


›› Seattle (Washington), former seal (black/white)

- ID 24844


›› Seattle (Washington), seal (black/white)

- ID 24968


›› Sedgwick County (Kansas), seal

- ID 6716


›› Sednev (Sedniv, Chernigov oblast), coat of arms

- ID 18494


›› Sedona (Arizona), flag

- ID 28458


›› Selah (Washington), flag

- ID 30410


›› Selma (Alabama), seal

- ID 10449


›› Semei (Semipalatinsk, East Kazakhstan oblast), coat of arms

- ID 31471


›› Semei (Semipalatinsk, East Kazakhstan oblast), coat of arms (2022)

- ID 32942


›› Semipalatinsk (East Kazakhstan oblast), coat of arms (1968)

- ID 31366


›› Serbia, flag (1992)

- ID 1374


›› Sergipe (state in Brazil), flag

- ID 4813


›› Seward (Alaska), flag

- ID 27117


›› Shakhtinsk (Karaganda oblast), coat of arms

- ID 31388


›› Shal Akyn rayon (North Kazakhstan oblast), coat of arms

- ID 31389


›› Shchuchinsk (Akmola oblast), coat of arms

- ID 31390


›› Sheki (Nukha, Azerbaijan), coat of arms (1843)

- ID 1062


›› Shemakha (Azerbaijan), coat of arms (1843)

- ID 1404


›› Shemonaikha rayon (East Kazakhstan oblast), coat of arms

- ID 18567


›› Shirvan (Azerbaijan), coat of arms

- ID 27397


›› Shreveport (Louisiana), flag

- ID 6166


›› Shusha (Nagorny Karabakh), coat of arms

- ID 9382


›› Shusha (Nagorny Karabakh), coat of arms (1843)

- ID 643


›› Shymkent (Chimkent, Kazakhstan), coat of arms (1909)

- ID 11542


›› Sierra Madre (California), flag

- ID 9365


›› Silver Spring (Pennsylvania), seal

- ID 20466


›› Silverton (Oregon), flag

- ID 28459


›› Sint Eustatius (Netherlands Antilles), coat of arms

- ID 24928


›› Sint Eustatius (Netherlands Antilles), flag

- ID 24929


›› Sioux Falls (South Dakota), flag

- ID 27101


›› Slavyansk (Sloviansk, Donetsk oblast), coat of arms

- ID 18323


›› Slavyansk (Sloviansk, Donetsk oblast), flag

- ID 18705


›› Sligo (county in Ireland), coat of arms

- ID 10563


›› Smithville (Texas), flag

- ID 27630


›› Sokiryany (Sokyriany, Chernovtsy oblast), coat of arms

- ID 18506


›› Solano County (California), seal

- ID 11726


›› Soledar (Donetsk oblast), coat of arms

- ID 18324


›› Somali (state in Ethiopia), flag

- ID 4874


›› Somerset county (Maryland), seal

- ID 5213


›› Somerset County (New Jersey), seal (black & white)

- ID 19528


›› Sommerset county (New Jersey), flag

- ID 19529


›› South Africa National Intelligence Agency (NIA), emblem

- ID 18879


›› South African Defence Force (SADF), emblem (1981)

- ID 12257


›› South African Defence Force (SADF), flag (1981)

- ID 12258


›› South African Defence Force (SADF), flag (1994)

- ID 12259


›› South Australia (Australia), coat of arms

- ID 4452


›› South Australia (Australia), flag

- ID 4458


›› South Bend (Indiana), flag

- ID 27073


›› South Bend (Indiana), flag (1965)

- ID 27074


›› South Bend (Indiana), seal

- ID 12426


›› South Dublin county (Ireland), coat of arms

- ID 10559


›› South El Monte (California), seal

- ID 24960


›› South St. Paul (Minnesota), flag

- ID 30393


›› South Tipperary county (Ireland), coat of arms

- ID 10602


›› South Vietnam, coat of arms

- ID 10354


›› South Vietnam, flag (1955)

- ID 10335


›› South Vietnam, flag (1975)

- ID 10336


›› Southampton (New York), seal

- ID 26127


›› Southern Nationals, Nationalities and Peoples Regional State (Ethiopia), flag

- ID 4875


›› Sozoranga (canton in Ecuador), flag

- ID 6132


›› Sparta (New Jersey), seal

- ID 19741


›› Spokane (Washington), flag (1912)

- ID 24240


›› Spokane (Washington), flag (2006)

- ID 24241


›› Spokane county (Washington), flag

- ID 24969


›› Spotsylvania county (Virginia), seal

- ID 7831


›› Spring Hill (Kansas), flag

- ID 27631


›› Springfield (Illinois), flag

- ID 6353


›› Springfield (Missouri), flag

- ID 27084


›› St Bernard Parish (Louisiana), flag

- ID 30386


›› St Lawrence (Pennsylvania), seal (black & white)

- ID 20467


›› St. George (Utah), flag

- ID 27632


›› St. Johns (Arizona), flag

- ID 28460


›› St. Louis (Missouri), flag

- ID 6346


›› St. Louis (Missouri), seal

- ID 6537


›› St. Paul (Minnesota), flag

- ID 6347


›› St. Peters (Missouri), flag

- ID 28461


›› St. Petersburg (Florida), flag

- ID 6343


›› Stanton (California), seal

- ID 20824


›› Stanton (California), seal (#2)

- ID 24961


›› Staryi Sambor (Stariy Sambir, Lvov oblast), coat of arms

- ID 18367


›› Staten Island (borough in New York City), flag

- ID 10777


›› Staten Island (borough in New York City), seal (2016)

- ID 19445


›› Stepan (Rovno oblast), coat of arms

- ID 18448


›› Stepnogorsk (Akmola oblast), coat of arms

- ID 31171


›› Stepnogorsk (Akmola oblast), coat of arms (#2)

- ID 31172


›› Storozhinets (Storozhynets, Chernovtsy oblast), coat of arms

- ID 18507


›› Sucre canton (Ecuador), flag

- ID 24313


›› Suffolk county (New York), seal

- ID 9072


›› Sukhum (Abkhazia), coat of arms (1998)

- ID 32943


›› Sullivan county (New York), flag

- ID 24980


›› Sullivan county (New York), seal

- ID 24981


›› Summit (New Jersey), seal

- ID 19530


›› Sumqayıt (Azerbaijan), coat of arms

- ID 28864


›› Sun City West (Arizona), flag

- ID 29551


›› Sunnyvale (California), flag

- ID 31071


›› Sunnyvale (Texas), flag

- ID 27118


›› Sunnyvale (Texas), flag

- ID 30408


›› Sunset Hills (Missouri), flag

- ID 30394


›› Superior (Arizona), flag

- ID 29552


›› Superior (Colorado), flag

- ID 27633


›› Surprise (Arizona), flag

- ID 29213


›› Sussex (New Jersey), seal

- ID 19531


›› Sussex county (New Jersey), flag

- ID 19742


›› Sussex county (New Jersey), seal

- ID 12800


›› Sutter county (California), seal

- ID 24962


›› Sverdlovsk (Lugansk oblast), coat of arms

- ID 18316


›› Sweetwater (Texas), flag

- ID 27634


›› Syracuse (New York), logo (black & white)

- ID 21438


›› Syracuse (Utah), flag

- ID 27104


›› Szekszárd (Hungary), coat of arms

- ID 13608


›› Taber (Alberta), coat of arms

- ID 18876


›› Taber (Alberta), flag

- ID 18877


›› Tacoma (Washington), seal

- ID 27724


›› Taiynship rayon (North Kazakhstan oblast), coat of arms

- ID 32049


›› Tajikistan Customs, flag

- ID 3122


›› Takoma Park (Maryland), seal

- ID 10448


›› Talbot (Maryland), seal

- ID 9263


›› Tampa (Florida), flag

- ID 10358


›› Tampa (Florida), seal

- ID 10357


›› Taraz (Aulieata, Kazakhstan), coat of arms (1909)

- ID 11538


›› Taraz (Jambyl oblast), coat of arms

- ID 30806


›› Tasmania (Australia), coat of arms

- ID 4453


›› Tasmania (Australia), flag

- ID 4460


›› Taylor (Michigan), flag

- ID 28462


›› Tazewell county (Illinois), seal

- ID 12504


›› Tazewell county (Virginia), seal

- ID 12503


›› Tbilisi (Tiflis, Georgia), coat of arms (1843)

- ID 584


›› Teaneck (New Jersey), seal (black & white)

- ID 20616


›› Tekeli (Almaty oblast), coat of arms

- ID 31391


›› Telavi (Georgia), coat of arms (1843)

- ID 1056


›› Temirtau (Karaganda oblast), coat of arms

- ID 32050


›› Temirtau (Karaganda oblast), former coat of arms

- ID 30807


›› Tempe (Arizona), flag

- ID 28463


›› Terebovlya (Terebovlia, Ternopol oblast), coat of arms

- ID 18487


›› Terekti rayon (West Kazakhstan oblast), coat of arms

- ID 30721


›› Terrel (Texas), flag

- ID 6214


›› Teton county (Wyoming), flag

- ID 27119


›› Thunder Bay (Ontario), flag

- ID 29675


›› Thurston county (Washington), logo

- ID 24970


›› Tierra del Fuego (province in Argentina), coat of arms

- ID 3950


›› Tierra del Fuego (province in Argentina), flag

- ID 4788


›› Tigray (state in Ethiopia), flag

- ID 4876


›› Tijuana (Mexico), coat of arms

- ID 14070


›› Tipperary county (Ireland), coat of arms

- ID 10601


›› Tirana (Albania), coat of arms

- ID 3284


›› Tisaleo (canton in Ecuador), flag

- ID 6118


›› Tisdale (Saskatchewan), logo

- ID 30375


›› Tlumach (Ivano-Frankovsk oblast), coat of arms

- ID 18470


›› Tocantins (state in Brazil), flag

- ID 4814


›› Tokmak (Chuy oblast), coat of arms

- ID 31363


›› Tokmak (Chuy oblast), flag

- ID 31364


›› Toktogul rayon (Jalal-Abad oblast), emblem

- ID 29974


›› Toktogul rayon (Jalal-Abad oblast), flag

- ID 30810


›› Toledo (Ohio), flag

- ID 10263


›› Toledo (Ohio), seal

- ID 10262


›› Tolima (department in Colombia), flag

- ID 4842


›› Toms River (New Jersey), flag

- ID 19532


›› Toms River (New Jersey), seal

- ID 19533


›› Ton rayon (Issyk-Kul oblast), coat of arms

- ID 31365


›› Torez (Donetsk oblast), coat of arms

- ID 18325


›› Torez (Donetsk oblast), flag

- ID 20590


›› Toronto (Ontario), coat of arms

- ID 4214


›› Toronto (Ontario), flag

- ID 3921


›› Tosagua canton (Ecuador), flag

- ID 24314


›› Tredyffrin (Pennsylvania), seal

- ID 20468


›› Trois Rivieres (Quebec), coat of arms

- ID 29677


›› Trois rivieres (Quebec), flag

- ID 29678


›› Troy (New York), seal (black & white)

- ID 21439


›› Truro (Nova Scotia), coat of arms

- ID 7785


›› Truro (Nova Scotia), flag

- ID 29683


›› Tselinograd rayon (Akmola oblast), coat of arms

- ID 30722


›› Tskhinval (South Ossetia), coat of arms

- ID 32934


›› Tucson (Arizona), seal

- ID 7832


›› Tucuman (province in Argentina), coat of arms

- ID 3951


›› Tucuman (province in Argentina), flag

- ID 10317


›› Tulare county (California), seal

- ID 27150


›› Tulsa (Oklahoma), emblem

- ID 28464


›› Tulsa (Oklahoma), flag

- ID 27120


›› Tulsa county (Oklahoma), flag

- ID 28465


›› Tupkaragan rayon (Mangystau oblast), coat of arms

- ID 31392


›› Turkistan (Kazakhstan), coat of arms (1909)

- ID 11541


›› Turtkul (Petro-Aleksandrovsk, Uzbekistan), coat of arms (1909)

- ID 11537


›› Tuvalu, flag (1995)

- ID 5061


›› Tuxtla Gutiérrez (Mexico), coat of arms

- ID 14069


›› Tysmenitsa (Tysmenytsia, Ivano-Frankovsk oblast), coat of arms

- ID 18471


›› Tysmenitsa (Tysmenytsia, Ivano-Frankovsk oblast), flag

- ID 20591


›› U.S. 11th Air Force, emblem

- ID 11149


›› U.S. 12th Air Force, emblem

- ID 12688


›› U.S. 12th Air Force, plaque (patch)

- ID 12689


›› U.S. 1st Air Force, emblem

- ID 12690


›› U.S. 1st Air Force, plaque (patch)

- ID 12691


›› U.S. 2nd Air Force, emblem

- ID 12701


›› U.S. 2nd Air Force, plaque (patch)

- ID 12702


›› U.S. 7th Air Force, emblem

- ID 11148


›› U.S. Air Defense Command, obsolete emblem

- ID 11150


›› U.S. Air Force Continental US NORAD Region and Air Forces Northern (CONR-AFNORTH), emblem

- ID 12692


›› U.S. Air Force Continental US NORAD Region and Air Forces Northern (CONR-AFNORTH), seal

- ID 12693


›› U.S. Air Force Intelligence, Surveillance and Reconnaissance (ISR) Agency, emblem

- ID 11089


›› U.S. Air Force Materiel Command (AFMC), emblem

- ID 11352


›› U.S. Air Force Medical Service (AFMS), seal

- ID 12685


›› U.S. Air Force Reserve Command (AFRC), emblem

- ID 6427


›› U.S. Air Force Security Forces (AFSC), badge

- ID 11370


›› U.S. Air Force Space Command (AFSPC), emblem

- ID 11356


›› U.S. Air Force Special Operations Command (AFSOC), emblem

- ID 11353


›› U.S. Air Force Tactical Air Command (TAC), emblem

- ID 12686


›› U.S. Air Force, enlisted rank insignia

- ID 14273


›› U.S. Air Force, officer rank insignia

- ID 14272


›› U.S. Air Forces in Europe (USAFE), emblem

- ID 11354


›› U.S. Air Forces Southern Command (AFSOUTH), emblem

- ID 12687


›› U.S. Air Intelligence Agency, obsolete emblem

- ID 11108


›› U.S. Air Mobility Command (AMC), emblem

- ID 11357


›› U.S. Air National Guard, emblem

- ID 6426


›› U.S. Air National Guard, seal

- ID 11080


›› U.S. Army 103rd Sustainment Command, distinctive unit insignia

- ID 14433


›› U.S. Army 103rd Sustainment Command, shoulder sleeve insignia

- ID 14434


›› U.S. Army 11th Transportation Command, shoulder sleeve insignia

- ID 12602


›› U.S. Army 124th Regional Support Command, distinctive unit insignia

- ID 14419


›› U.S. Army 124th Regional Support Command, shoulder sleeve insignia

- ID 14420


›› U.S. Army 135th Sustainment Command, distinctive unit insignia

- ID 14435


›› U.S. Army 135th Sustainment Command, shoulder sleeve insignia

- ID 14436


›› U.S. Army 13th Sustainment Command, distinctive unit insignia

- ID 14437


›› U.S. Army 13th Sustainment Command, shoulder sleeve insignia

- ID 14438


›› U.S. Army 143rd Sustainment Command, distinctive unit insignia

- ID 14439


›› U.S. Army 143rd Sustainment Command, shoulder sleeve insignia

- ID 14440


›› U.S. Army 167th Sustainment Command, distinctive unit insignia

- ID 14441


›› U.S. Army 167th Sustainment Command, shoulder sleeve insignia

- ID 14442


›› U.S. Army 18th Airborne Corps (Sky Dragons), distinctive unit insignia

- ID 12667


›› U.S. Army 18th Airborne Corps (Sky Dragons), shoulder sleeve insignia

- ID 12666


›› U.S. Army 19th Sustainment Command, distinctive unit insignia

- ID 14443


›› U.S. Army 19th Sustainment Command, shoulder sleeve insignia

- ID 14444


›› U.S. Army 1st Special Forces, regimental insignia

- ID 11143


›› U.S. Army 1st Sustainment Command, distinctive unit insignia

- ID 14445


›› U.S. Army 1st Sustainment Command, shoulder sleeve insignia

- ID 14446


›› U.S. Army 21st Sustainment Command, distinctive unit insignia

- ID 14447


›› U.S. Army 21st Sustainment Command, shoulder sleeve insignia

- ID 14448


›› U.S. Army 310th Sustainment Command, distinctive unit insignia

- ID 14449


›› U.S. Army 310th Sustainment Command, shoulder sleeve insignia

- ID 14450


›› U.S. Army 311th Sustainment Command, distinctive unit insignia

- ID 14451


›› U.S. Army 311th Sustainment Command, shoulder sleeve insignia

- ID 14452


›› U.S. Army 316th Sustainment Command, distinctive unit insignia

- ID 14453


›› U.S. Army 316th Sustainment Command, shoulder sleeve insignia

- ID 14454


›› U.S. Army 364th Sustainment Command, distinctive unit insignia

- ID 14429


›› U.S. Army 364th Sustainment Command, shoulder sleeve insignia

- ID 14430


›› U.S. Army 377th Sustainment Command, distinctive unit insignia

- ID 14455


›› U.S. Army 377th Sustainment Command, shoulder sleeve insignia

- ID 14456


›› U.S. Army 3rd Sustainment Command, distinctive unit insignia

- ID 14431


›› U.S. Army 3rd Sustainment Command, shoulder sleeve insignia

- ID 14432


›› U.S. Army 3rd Transportation Command, distinctive unit insignia

- ID 12599


›› U.S. Army 3rd Transportation Command, shoulder sleeve insignia

- ID 12600


›› U.S. Army 4rd Transportation Command, distinctive unit insignia

- ID 12604


›› U.S. Army 4th Sustainment Command, distinctive unit insignia

- ID 14457


›› U.S. Army 4th Sustainment Command, shoulder sleeve insignia

- ID 14458


›› U.S. Army 4th Transportation Command, shoulder sleeve insignia

- ID 12603


›› U.S. Army 5th Transportation Command, shoulder sleeve insignia

- ID 12601


›› U.S. Army 63rd Regional Support Command, distinctive unit insignia

- ID 14421


›› U.S. Army 63rd Regional Support Command, shoulder sleeve insignia

- ID 14422


›› U.S. Army 81st Regional Support Command, distinctive unit insignia

- ID 14423


›› U.S. Army 81st Regional Support Command, shoulder sleeve insignia

- ID 14424


›› U.S. Army 88th Regional Support Command, distinctive unit insignia

- ID 14425


›› U.S. Army 88th Regional Support Command, shoulder sleeve insignia

- ID 14426


›› U.S. Army 8th Sustainment Command, distinctive unit insignia

- ID 14459


›› U.S. Army 8th Sustainment Command, shoulder sleeve insignia

- ID 14460


›› U.S. Army 99th Regional Support Command, distinctive unit insignia

- ID 14427


›› U.S. Army 99th Regional Support Command, shoulder sleeve insignia

- ID 14428


›› U.S. Army Acquisition Corps, collar insignia

- ID 11300


›› U.S. Army Acquisition Corps, emblem (seal)

- ID 11299


›› U.S. Army Acquisition Corps, regimental insignia

- ID 11301


›› U.S. Army Acquisition Support Center, distinctive unit insignia (left)

- ID 11302


›› U.S. Army Acquisition Support Center, shoulder sleeve insignia

- ID 11347


›› U.S. Army Airborne Command, obsolete shoulder sleeve insignia

- ID 12677


›› U.S. Army Bands, branch insignia

- ID 11062


›› U.S. Army Bands, branch plaque

- ID 7110


›› U.S. Army Cavalry, obsolete branch plaque

- ID 7106


›› U.S. Army Central (3rd U.S. Army), distinctive unit insignia

- ID 12627


›› U.S. Army Central (3rd U.S. Army), shoulder sleeve insignia

- ID 12626


›› U.S. Army Civil Affairs & Psychological Operations Command (Airborne) (USACAPOC(A)), distinctive unit insignia

- ID 12614


›› U.S. Army Civil Affairs & Psychological Operations Command (Airborne) (USACAPOC(A)), shoulder sleeve insignia

- ID 12613


›› U.S. Army Cyber Command (ARCYBER), shoulder sleeve insignia

- ID 14241


›› U.S. Army Dental Command, distinctive unit insignia

- ID 12606


›› U.S. Army Dental Corps, branch insignia

- ID 11074


›› U.S. Army Dental Corps, branch plaque

- ID 7019


›› U.S. Army Forces Korea, emblem

- ID 12640


›› U.S. Army Inspector General, branch insignia

- ID 11069


›› U.S. Army Inspector General, branch plaque

- ID 7112


›› U.S. Army Intelligence and Security Command (INSCOM), distinctive unit insignia

- ID 11310


›› U.S. Army Intelligence and Security Command (INSCOM), emblem

- ID 11087


›› U.S. Army Intelligence and Security Command (INSCOM), shoulder sleeve insignia

- ID 11088


›› U.S. Army Japan, distinctive unit insignia

- ID 12635


›› U.S. Army Japan, shoulder sleeve insignia

- ID 12634


›› U.S. Army Medical Command (MEDCOM), distinctive unit insignia

- ID 11345


›› U.S. Army Medical Command (MEDCOM), shoulder sleeve insignia

- ID 11344


›› U.S. Army Medical Corps, regimental coat of arms (1986)

- ID 11343


›› U.S. Army Medical Corps, regimental insignia (1986)

- ID 11342


›› U.S. Army Medical Research and Materiel Command (MRMC), distinctive unit insignia

- ID 11421


›› U.S. Army Medical Service Corps, branch insignia

- ID 11072


›› U.S. Army Medical Service Corps, branch plaque

- ID 7017


›› U.S. Army Medical Specialist Corps, branch insignia

- ID 11073


›› U.S. Army Medical Specialist Corps, branch plaque

- ID 7016


›› U.S. Army North (5th U.S. Army), distinctive unit insignia

- ID 12632


›› U.S. Army North (5th U.S. Army), shoulder sleeve insignia

- ID 12633


›› U.S. Army Nurse Corps, branch insignia

- ID 11075


›› U.S. Army Nurse Corps, branch plaque

- ID 7018


›› U.S. Army Pacific, distinctive unit insignia

- ID 12636


›› U.S. Army Pacific, shoulder sleeve insignia

- ID 12637


›› U.S. Army Reserve Medical Command, distinctive unit insignia

- ID 12608


›› U.S. Army Reserve Medical Command, shoulder sleeve insignia

- ID 12609


›› U.S. Army South, distinctive unit insignia

- ID 12628


›› U.S. Army South, shoulder sleeve insignia

- ID 12629


›› U.S. Army Space and Missile Defense Command (SMDC), distinctive unit insignia

- ID 12655


›› U.S. Army Space and Missile Defense Command (SMDC), shoulder sleeve insignia

- ID 12656


›› U.S. Army Training and Doctrine Command (TRADOC), distinctive unit insignia

- ID 11334


›› U.S. Army Training and Doctrine Command (TRADOC), shoulder sleeve insignia

- ID 11333


›› U.S. Army Veterinary Command, distinctive unit insignia

- ID 11346


›› U.S. Army Veterinary Corps, branch insignia

- ID 11076


›› U.S. Army Veterinary Corps, branch plaque

- ID 7015


›› U.S. Army Vietnam, former shoulder sleeve insignia

- ID 12641


›› U.S. Army, enlisted rank insignia

- ID 14271


›› U.S. Army, officer and warrant officer rank insignia

- ID 14270


›› U.S. Central Command, Operation Enduring Freedom (OEF) Patch

- ID 11318


›› U.S. Central Security Service (CSS), seal

- ID 11085


›› U.S. Coast Guard Intelligence (CGI), emblem

- ID 11369


›› U.S. Coast Guard, enlisted rank insignia

- ID 14269


›› U.S. Coast Guard, officer rank insignia (admirals)

- ID 14267


›› U.S. Coast Guard, officer rank insignia (ensign to captain)

- ID 14266


›› U.S. Coast Guard, warrant officer rank insignia

- ID 14268


›› U.S. Combined Forces Command-Afghanistan, distinctive unit insignia

- ID 11317


›› U.S. Combined Forces Command-Afghanistan, shoulder sleeve insignia

- ID 11316


›› U.S. Commander Naval Air Forces (CNAF), insignia (emblem)

- ID 12145


›› U.S. Defense Information Systems Agency (DISA), seal

- ID 11147


›› U.S. Department of the Army, seal of the Senior Executive Service

- ID 10261


›› U.S. European Command, shoulder sleeve insignia

- ID 14238


›› U.S. I Marine Expeditionary Force (1st MEF), emblem

- ID 11742


›› U.S. II Marine Expeditionary Force (2nd MEF), emblem

- ID 11741


›› U.S. III Marine Expeditionary Force (3rd MEF), emblem

- ID 11743


›› U.S. Intelligence Community (IC), seal

- ID 14208


›› U.S. Joint Special Operations Command (JSOC), emblem

- ID 11311


›› U.S. Marine Corps Force Reconnaissance, branch insignia

- ID 12162


›› U.S. Marine Corps Forces Special Operations Command (MARSOC), emblem

- ID 11371


›› U.S. Marine Corps, enlisted rank insignia

- ID 14275


›› U.S. Marine Corps, officer and warrant officer rank insignia

- ID 14274


›› U.S. Marshals Service (USMS), seal

- ID 14209


›› U.S. Marshals Service (USMS), star badge

- ID 14210


›› U.S. Military Intelligence Readiness Command (MIRC), distinctive unit insignia

- ID 11313


›› U.S. Military Intelligence Readiness Command (MIRC), shoulder sleeve insignia

- ID 11312


›› U.S. Missile Defense Agency (MDA), emblem

- ID 11116


›› U.S. National Geospatial-Intelligence Agency (NGA), seal

- ID 14211


›› U.S. National Reconnaissance Office (NRO), seal

- ID 14212


›› U.S. Naval Air Force Atlantic Fleet, insignia (emblem)

- ID 12146


›› U.S. Naval Air Force Pacific Fleet, insignia (emblem)

- ID 12147


›› U.S. Naval Construction Force (CBs, SeaBees), emblem

- ID 14199


›› U.S. Naval Construction Force (CBs, SeaBees), logo

- ID 14200


›› U.S. Naval Forces Central Command, Commander emblem

- ID 11740


›› U.S. Naval Forces Europe & Africa, emblem

- ID 14513


›› U.S. Naval Forces Europe, emblem of Commander in Chief

- ID 12156


›› U.S. Naval Network Warfare Command (NETWARCOM), seal

- ID 14239


›› U.S. Naval Security Group Command (NAVSECGRU), obsolete insignia

- ID 11086


›› U.S. Navy Chaplain Corps, insignia (embem)

- ID 12155


›› U.S. Navy Commander, Submarine Force Atlantic (COMSUBLANT), emblem

- ID 14519


›› U.S. Navy Commander, Submarine Force, U.S. Pacific Fleet (COMSUBPAC), emblem

- ID 14518


›› U.S. Navy Office of Naval Intelligence (ONI), Director seal

- ID 14197


›› U.S. Navy, enlisted rank insignia

- ID 14265


›› U.S. Navy, officer rank insignia (admirals)

- ID 14263


›› U.S. Navy, officer rank insignia (up to captain)

- ID 14262


›› U.S. Navy, warrant officer rank insignia

- ID 14264


›› U.S. Office of the Director of National Intelligence (DNI), seal

- ID 14207


›› U.S. Pacific Air Forces (PACAF), emblem

- ID 11358


›› U.S. Public Health Service (PHS), flag

- ID 14236


›› U.S. Public Health Service (PHS), seal

- ID 14235


›› U.S. Social Security Administration (SSA), seal

- ID 11727


›› U.S. Space Command (SPACECOM), obsolete emblem

- ID 11326


›› U.S. Strategic Air Command, obsolete emblem

- ID 11151


›› U.S. Washington Headquarters Services, seal

- ID 6437


›› Uigursky rayon (Almaty oblast), coat of arms

- ID 30724


›› Union (Kentucky), flag

- ID 29673


›› Union (New Jersey), seal

- ID 20617


›› Union City (California), seal

- ID 24963


›› Upper Aarlington (Ohio), flag

- ID 28466


›› Upper Merion (Pennsylvania), seal

- ID 20520


›› Upper Miramichi (New Brunswick), logo

- ID 30374


›› Uspen rayon (Pavlodar oblast), coat of arms

- ID 31472


›› Ust-Kamenogorsk (Kazakhstan), coat of arms

- ID 1391


›› Utah county (Utah), seal

- ID 27635


›› Utica (New York), seal (black & white)

- ID 21440


›› Valle (department in Colombia), flag

- ID 4843


›› Vance county (North Carolina), flag

- ID 27087


›› Vance county (North Carolina), seal

- ID 11503


›› Vancouver (British Columbia), badge

- ID 10430


›› Vancouver (British Columbia), coat of arms

- ID 10429


›› Vancouver (British Columbia), flag

- ID 10431


›› Vancouver (Washington), flag

- ID 24971


›› Varash (Kuznetsovsk, Rovno oblast), coat of arms

- ID 18442


›› Varash (Kuznetsovsk, Rovno oblast), flag

- ID 20593


›› Vaughan (Ontario), flag

- ID 29676


›› Vaupes (department in Colombia), flag

- ID 4844


›› Veinticuatro de Mayo canton (Ecuador),

- ID 24294


›› Velikie Berezhtsy (Velyki Berezhtsi, Ternopol oblast), coat of arms

- ID 18484


›› Velikie Mezhirichi (Veliki Mezhirichi, Rovno oblast), coat of arms

- ID 18436


›› Venda (former bantustan in South Africa), coat of arms

- ID 6471


›› Verkhov (Verkhiv, Rovno oblast), coat of arms

- ID 18437


›› Vermilion Parish (Louisiana), flag

- ID 30387


›› Vermillion county (Indiana), seal

- ID 13096


›› Vichanda (department in Colombia), flag

- ID 4845


›› Victoria (Australia), coat of arms

- ID 4454


›› Victoria (Australia), flag

- ID 4461


›› Victoria (British Columbia), coat of arms

- ID 32730


›› Victoriaville (Quebec), flag

- ID 29679


›› Vidalia (Louisiana), flag

- ID 27076


›› Vineland (New Jersey), flag

- ID 20618


›› Vineland (New Jersey), seal

- ID 19743


›› Vinniki (Lvov oblast), coat of arms

- ID 18355


›› Vinton county (Ohio), flag

- ID 29873


›› Virgin Islands (USA), flag

- ID 2601


›› Vladimir-Volynsky rayon (Volodymyr-Volinskyi, Volyn oblast), coat of arms

- ID 18450


›› Vladimir-Volynsky rayon (Volodymyr-Volinskyi, Volyn oblast), flag

- ID 20594


›› Vladimirets (Volodimirets, Rovno oblast), coat of arms

- ID 18438


›› Vorokhta (Ivano-Frankovsk oblast), coat of arms

- ID 18464


›› Wake (island, U.S.), flag

- ID 2600


›› Wall (New Jersey), seal

- ID 19744


›› Walnut Grove (Georgia), flag

- ID 30383


›› Warren county (New Jersey), flag

- ID 19745


›› Warren county (New Jersey), seal

- ID 19746


›› Washigton county (Maryland), seal

- ID 4760


›› Washington (Maine), flag

- ID 30390


›› Washington (Pennsylvania), seal (black & white)

- ID 20469


›› Washington county (Alabama), flag

- ID 28467


›› Washington county (New York), logo

- ID 24740


›› Washington county (Virginia), seal

- ID 12563


›› Washoe county (Nevada), seal

- ID 10309


›› Waterford county (Ireland), coat of arms

- ID 10610


›› Watson Lake (Yukon Territory), flag

- ID 30376


›› Watsonville (California), seal

- ID 27019


›› Wayne (New Jersey), seal

- ID 19537


›› Waynesboro (Pennsylvania), seal

- ID 20521


›› Wellington County (Ontario), coat of arms

- ID 32719


›› Wentzville (Missouri), flag

- ID 29553


›› West Allis (Wisconsin), flag

- ID 28468


›› West Baton Rouge Parish (Louisiana), flag

- ID 30388


›› West Chester (Pennsylvania), seal

- ID 20522


›› West Covina (California), logo

- ID 24964


›› West Hollywood (California), flag

- ID 27065


›› West Hollywood (California), flag (1986)

- ID 27066


›› West Saint Paul (Minnesota), flag

- ID 28469


›› West Union (West Virginia), seal

- ID 8835


›› West Valley (Utah), seal

- ID 31072


›› Western Australia (Australia), coat of arms

- ID 4455


›› Western Australia (Australia), flag

- ID 927


›› Westfield (Indiana), flag

- ID 27636


›› Westmeath county (Ireland), coat of arms

- ID 10611


›› Westmoreland county (Pennsylvania), flag

- ID 24932


›› Wexford county (Ireland), coat of arms

- ID 10612


›› Wheeling WV (West Virginia), flag

- ID 27121


›› White Plains (New York), logo (seal)

- ID 24741


›› Whitehorse (Yukon), coat of arms

- ID 8075


›› Whitemarsh (Pennsylvania), seal

- ID 20470


›› Wichita (Kansas), flag

- ID 5094


›› Wicklow county (Ireland), coat of arms

- ID 10550


›› Wicklow county (Ireland), flag

- ID 10551


›› Wilkes-Barre (Pennsylvania), seal

- ID 20523


›› Williamsburg county (South Carolina), seal

- ID 12544


›› Williamson county (Tennessee), seal

- ID 12545


›› Wilmot (Ontario), coat of arms

- ID 9993


›› Windsor (Ontario), coat of arms

- ID 7787


›› Winnipeg (Manitoba), coat of arms

- ID 10432


›› Winnipeg (Manitoba), coat of arms (#2)

- ID 32739


›› Winnipeg (Manitoba), flag

- ID 10433


›› Winona (Minnesota), flag

- ID 28470


›› Winslow (New Jersey), seal

- ID 20619


›› Wood Buffalo (Alberta), flag

- ID 30371


›› Wood county (Ohio), flag

- ID 27637


›› Woodbridge (New Jersey), seal

- ID 19747


›› Worchester county (Maryland), seal

- ID 1226


›› Yakima (Washington), seal

- ID 20826


›› Yakima county (Washington), logo

- ID 24242


›› Yantzaza canton (Ecuador), flag

- ID 24319


›› Yasinovataya (Donetsk oblast), coat of arms (1997)

- ID 18329


›› Yavorov (Yavoriv, Lvov oblast), coat of arms

- ID 18370


›› Yolo county (California), seal

- ID 27151


›› Yonkers (New York), seal (black & white)

- ID 21441


›› Yorba Linda (California), seal

- ID 10444


›› York county (Virginia), seal

- ID 12428


›› Yorktown (New York), flag

- ID 21442


›› Yugoslavia, coat of arms (1963)

- ID 644


›› Yuma county (Arizona), flag

- ID 28471


›› Zakataly (Azerbaijan), coat of arms (1843)

- ID 302


›› Zapotillo (canton in Ecuador), flag

- ID 6131


›› Zdolbunov (Zdolbuniv, Rovno oblast), coat of arms

- ID 18441


›› Zenkov (Zinkiv, Poltava oblast), coat of arms

- ID 18474


›› Zenkov (Zinkiv, Poltava oblast), flag

- ID 20596


›› Zhalagash rayon (Kyzylorda oblast), coat of arms

- ID 30143


›› Zhanaarka rayon (Karaganda oblast), coat of arms

- ID 31473


›› Zhanaozen (Mangystau oblast), coat of arms

- ID 31393


›› Zharmin rayon (East Kazakhstan oblast), coat of arms

- ID 31394


›› Zheltye Vody (Zhovti Vodi, Dnepropetrovsk oblast), coat of arms

- ID 18344


›› Zheltye Vody (Zhovti Vodi, Dnepropetrovsk oblast), coat of arms (#2)

- ID 18343


›› Zheskazgan (Karaganda oblast), coat of arms (1980)

- ID 31456


›› Zhetisy rayon (Almaty), coat of arms

- ID 31316


›› Zhezkazgan (Karaganda oblast), coat of arms

- ID 31474


›› Zhidachov (Zhidachiv, Lvov oblast), coat of arms

- ID 18358


›› Zhitomir (Zhitomir oblast), coat of arms (#2)

- ID 18332


›› Zhualy rayon (Jambyl oblast), coat of arms

- ID 31475


›› Zhumabaev rayon (North Kazakhstan oblast), coat of arms

- ID 31476


›› Zhuravno (Lvov oblast), coat of arms

- ID 18359


›› Znamenka (Znamianka, Kirovograd oblast), coat of arms

- ID 18489


›› Znamenka (Znamianka, Kirovograd oblast), flag

- ID 20597


›› Zolotonosha (Cherkassy oblast), coat of arms

- ID 18495


›› Zolotonosha (Cherkassy oblast), flag

- ID 20598


›› Zyryanovsk (East Kazakhstan oblast), coat of arms (1965)

- ID 18565


›› Adelaide (Australia), coat of arms

- ID 4463


›› Adjuntas (Puerto Rico), coat of arms

- ID 10565


›› Adjuntas (Puerto Rico), flag

- ID 10566


›› Afghanistan, flag (1992)

- ID 325


›› Aguada (Puerto Rico), coat of arms

- ID 10581


›› Aguada (Puerto Rico), flag

- ID 10582


›› Aguadilla (Puerto Rico), coat of arms

- ID 10571


›› Aguadilla (Puerto Rico), flag

- ID 10572


›› Aguas Buenas (Puerto Rico), coat of arms

- ID 10626


›› Aguas Buenas (Puerto Rico), flag

- ID 10573


›› Aibonito (Puerto Rico), coat of arms

- ID 10583


›› Aibonito (Puerto Rico), flag

- ID 10584


›› Aichi (prefecture in Japan), flag

- ID 2524


›› Akhtyrka (Okhtyrka, Sumy oblast), coat of arms (#2)

- ID 18457


›› Akita (prefecture in Japan), flag

- ID 2525


›› Akmolinsk oblast (Russian empire), coat of arms

- ID 3595


›› Alchevsk (Lugansk oblast), coat of arms (#2)

- ID 18311


›› Anasco (Puerto Rico), coat of arms

- ID 10567


›› Anasco (Puerto Rico), flag

- ID 10568


›› Aomori (prefecture in Japan), flag

- ID 2526


›› Arecibo (Puerto Rico), coat of arms

- ID 10585


›› Arecibo (Puerto Rico), flag

- ID 10586


›› Arges (judet in Romania), coat of arms

- ID 9916


›› Arklow (Ireland), coat of arms

- ID 10509


›› Arroyo (Puerto Rico), coat of arms

- ID 10587


›› Arroyo (Puerto Rico), flag

- ID 10588


›› Artyomovsk (Artemivsk, Donetsk oblast), coat of arms (#3)

- ID 18318


›› Artyomovsk (Bakhmut, Donetsk oblast), flag (#2)

- ID 20567


›› Ashfield (New South Wales, Australia), coat of arms

- ID 9512


›› Athlone (Ireland), coat of arms

- ID 10510


›› Auckland (New Zealand), coat of arms

- ID 8165


›› Australian Aboriginal flag

- ID 1375


›› Balbriggan (Ireland), coat of arms

- ID 10523


›› Ballina (Mayo county, Ireland), coat of arms

- ID 10511


›› Ballyshannon (Ireland), coat of arms

- ID 10524


›› Barceloneta (Puerto Rico), coat of arms

- ID 10590


›› Barceloneta (Puerto Rico), flag

- ID 10591


›› Barranquitas (Puerto Rico), coat of arms

- ID 10599


›› Barranquitas (Puerto Rico), flag

- ID 10589


›› Bayamon (Puerto Rico), coat of arms

- ID 10575


›› Bayamon (Puerto Rico), flag

- ID 10576


›› Beaudesert (Australia), coat of arms

- ID 9513


›› Beaufort West (South Africa), coat of arms

- ID 7516


›› Belem (Brazil), coat of arms

- ID 10779


›› Belo Horizonte (Brazil), coat of arms

- ID 10796


›› Beograd (Serbia), coat of arms of Old Town

- ID 6792


›› Berdichev (Berdichiv, Zhitomirs oblast), coat of arms (#2)

- ID 18330


›› Birr (Ireland), coat of arms

- ID 10839


›› Botosani (judet in Romania), coat of arms

- ID 9917


›› Brisbane (Australia), coat of arms

- ID 4468


›› British 8th King`s Royal Irish Hussars, emblem (badge)

- ID 30154


›› British Air Training Corps (ATC), emblem

- ID 30031


›› British Army Catering Corps (ACC), badge

- ID 30030


›› British Army Coldstream Guards, badge

- ID 24770


›› British Army Household Cavalry, badge

- ID 25819


›› British Army Irish Guards, badge

- ID 24801


›› British Army London Regiment, badge

- ID 24803


›› British Army Mercian Regiment, badge

- ID 24772


›› British Army Parachute Regiment (Paras), badge

- ID 24773


›› British Army Princess of Wales`s Royal Regiment (PWRR), badge

- ID 24804


›› British Army Royal Anglian Regiment, badge

- ID 24806


›› British Army Royal Gurkha Rifles (RGR), badge

- ID 24808


›› British Army Royal Irish Regiment, badge

- ID 24811


›› British Army Royal Irish Regiment, flag

- ID 24809


›› British Army Scots Guards, badge

- ID 24810


›› British Army Welsh Guards, badge

- ID 25334


›› British Army Yorkshire Regiment, badge

- ID 25335


›› British Duke of Lancaster`s Regiment (LANCS), badge

- ID 14661


›› British Royal Corps of Transport (RCT), emblem (badge)

- ID 30155


›› British Royal Electrical and Mechanical Engineers (REME), emblem (badge)

- ID 30156


›› British Royal Pioneer Corps, emblem (badge)

- ID 30157


›› Brtish Army Royal Gibraltar Regiment, badge

- ID 24807


›› Bundoran (Ireland), coat of arms

- ID 10525


›› Cabo Rojo (municipality in Puerto Rico), coat of arms

- ID 10627


›› Cabo Rojo (Puerto Rico), flag

- ID 10574


›› Caguas (Puerto Rico), coat of arms

- ID 10673


›› Caguas (Puerto Rico), flag

- ID 10674


›› Cali (Santiago de Cali, Colombia), coat of arms

- ID 11693


›› Cali (Santiago de Cali, Colombia), flag

- ID 11697


›› Campinas (Brazil), coat of arms

- ID 10854


›› Camuy (Puerto Rico), coat of arms

- ID 10569


›› Camuy (Puerto Rico), flag

- ID 10570


›› Canadian Navy, Fleet Commander flag

- ID 11229


›› Canadian Navy, semi-official Admiral flag

- ID 11225


›› Canadian Navy, semi-official Commodore flag

- ID 11228


›› Canadian Navy, semi-official Rear Admiral flag

- ID 11227


›› Canadian Navy, semi-official Vice Admiral flag

- ID 11226


›› Canadian Parachute Centre, former badge (insignia)

- ID 11669


›› Canovanas (Puerto Rico), coat of arms

- ID 10592


›› Canovanas (Puerto Rico), flag

- ID 10593


›› Canovanas (Puerto Rico), former flag

- ID 10732


›› Cape Town (South Africa), flag (1997)

- ID 6468


›› Cape Town (South Africa), flag (2003)

- ID 21456


›› Cape Town (South Africa), flag (2004)

- ID 21458


›› Cape Town (South Africa), flag (2014)

- ID 21457


›› Carlow (Ireland), coat of arms

- ID 10540


›› Carolina (Puerto Rico), coat of arms

- ID 10577


›› Carolina (Puerto Rico), flag

- ID 10578


›› Cashel (Ireland), coat of arms

- ID 10512


›› Castlebar (Ireland), coat of arms

- ID 10513


›› Castlebar (Ireland), flag

- ID 10553


›› Catano (Puerto Rico), coat of arms

- ID 10579


›› Catano (Puerto Rico), flag

- ID 10580


›› Cavan (Ireland), coat of arms

- ID 10542


›› Cayey (Puerto Rico), coat of arms

- ID 10691


›› Cayey (Puerto Rico), flag

- ID 10692


›› Cayey (Puerto Rico), seal

- ID 10693


›› Ceiba (Puerto Rico), coat of arms

- ID 10681


›› Ceiba (Puerto Rico), flag

- ID 10682


›› Chiba (Tiba, prefecture in Japan), flag

- ID 2527


›› Christchurch (New Zealand), coat of arms

- ID 10805


›› Ciales (Puerto Rico), coat of arms

- ID 10628


›› Ciales (Puerto Rico), flag

- ID 10629


›› Cidra (Puerto Rico), coat of arms

- ID 10630


›› Cidra (Puerto Rico), flag

- ID 10631


›› Clonmel (Ireland), coat of arms

- ID 10600


›› Coamo (Puerto Rico), coat of arms

- ID 10632


›› Coamo (Puerto Rico), flag

- ID 10633


›› Cobh (Ireland), coat of arms

- ID 10526


›› Comerio (Puerto Rico), coat of arms

- ID 10683


›› Comerio (Puerto Rico), flag

- ID 10684


›› Cork (Ireland), coat of arms

- ID 10401


›› Corozal (Puerto Rico), coat of arms

- ID 10685


›› Corozal (Puerto Rico), flag

- ID 10686


›› Covasna (judet in Romania), coat of arms

- ID 9918


›› Culebra (Puerto Rico), coat of arms

- ID 10687


›› Culebra (Puerto Rico), flag

- ID 10688


›› Curitiba (Brazil), coat of arms

- ID 10780


›› Curitiba (Brazil), flag

- ID 10781


›› Dalby (Australia), coat of arms

- ID 9570


›› Darwin (Australia), coat of arms

- ID 9731


›› Despatch (South Africa), coat of arms

- ID 7129


›› Dolj (judet in Romania), coat of arms

- ID 9919


›› Donegal (Ireland), coat of arms

- ID 10514


›› Dorado (Puerto Rico), coat of arms

- ID 10689


›› Dorado (Puerto Rico), flag

- ID 10690


›› Drogheda (Ireland), coat of arms

- ID 10614


›› Dubno (Rovno oblast), coat of arms (#2)

- ID 18440


›› Dubno (Rovno oblast), flag (#2)

- ID 20573


›› Dundalk (Ireland), coat of arms

- ID 10840


›› Dunedin (New Zealand), coat of arms

- ID 10982


›› Duque_de_Caxias (Brazil), coat of arms

- ID 10792


›› Duque_de_Caxias (Brazil), flag

- ID 10793


›› East London (South Africa), coat of arms

- ID 6385


›› Ehime (prefecture in Japan), emblem

- ID 29091


›› Ehime (prefecture in Japan), flag

- ID 2528


›› Ennis (Ireland), coat of arms

- ID 10544


›› Fajardo (Puerto Rico), coat of arms

- ID 10634


›› Fajardo (Puerto Rico), flag

- ID 10635


›› Fermoy (Ireland), coat of arms

- ID 10515


›› Florida (Puerto Rico), coat of arms

- ID 10677


›› Florida (Puerto Rico), flag

- ID 10678


›› Fortaleza (Brazil), coat of arms

- ID 10782


›› Fortaleza (Brazil), flag

- ID 10783


›› French Indochina, flag

- ID 10338


›› French Indochina, flag of protectorates Tonkin, Annam and Cochinchina

- ID 10337


›› Fukui (Hukui, prefecture in Japan), flag

- ID 2529


›› Fukuoka (prefecture in Japan), flag

- ID 2530


›› Fukushima (prefecture in Japan), flag

- ID 2531


›› Galati (judet in Romania), coat of arms

- ID 9920


›› Galway (Ireland), coat of arms

- ID 10402


›› Gifu (Gihu, prefecture in Japan), flag

- ID 2532


›› Grahamstown (South Africa), coat of arms

- ID 7484


›› Grahamstown (South Africa), flag

- ID 7485


›› Grand Duke Algirdas Mechanized Infantry Battalion, former emblem

- ID 21710


›› Greystones (Ireland), coat of arms

- ID 10527


›› Guadeloupe, region flag

- ID 19225


›› Guadeloupe, unofficial coat of arms

- ID 19224


›› Guadeloupe, unofficial flag

- ID 4916


›› Guanica (Puerto Rico), coat of arms

- ID 10636


›› Guanica (Puerto Rico), flag

- ID 10637


›› Guarulhos (Brazil), coat of arms

- ID 10852


›› Guarulhos (Brazil), flag

- ID 10853


›› Guatemala, civil flag

- ID 1814


›› Guayama (Puerto Rico), coat of arms

- ID 10679


›› Guayama (Puerto Rico), flag

- ID 10680


›› Guayanilla (Puerto Rico), coat of arms

- ID 10638


›› Guayanilla (Puerto Rico), flag

- ID 10639


›› Guaynabo (Puerto Rico), coat of arms

- ID 10694


›› Guaynabo (Puerto Rico), flag

- ID 10695


›› Gunma (prefecture in Japan), flag

- ID 2533


›› Gurabo (Puerto Rico), coat of arms

- ID 10696


›› Gurabo (Puerto Rico), flag

- ID 10697


›› Haiti, civil flag

- ID 4921


›› Hamilton (New Zealand), coat of arms

- ID 10422


›› Hamilton (Ontario), coat of arms

- ID 8072


›› Harbin (China), emblem

- ID 7481


›› Harbin (China), proposed flag

- ID 7482


›› Hatillo (Puerto Rico), coat of arms

- ID 10640


›› Hatillo (Puerto Rico), flag

- ID 10641


›› Hefei (China), emblem

- ID 11885


›› Hiroshima (prefecture in Japan), flag

- ID 2534


›› Hobart (Australia), coat of arms

- ID 9777


›› Hokkaidō (prefecture in Japan), flag

- ID 2535


›› Hormigueros (Puerto Rico), coat of arms

- ID 10698


›› Hormigueros (Puerto Rico), flag

- ID 10699


›› Humacao (Puerto Rico), coat of arms

- ID 10700


›› Humacao (Puerto Rico), flag

- ID 10701


›› Hyogo (prefecture in Japan), flag

- ID 2536


›› Ibaraki (Ibaragi, prefecture in Japan), flag

- ID 2537


›› Ibaraki (Ibaragi, prefecture in Japan), former flag

- ID 2554


›› Ibhayi (former apartheid municipality in South Africa), coat of arms

- ID 9544


›› Iraq, flag (1959)

- ID 1258


›› Iraq, flag (1963)

- ID 1257


›› Iraq, IGS proposed flag (2004)

- ID 4741


›› Isabela (Puerto Rico), coat of arms

- ID 10642


›› Isabela (Puerto Rico), flag

- ID 10643


›› Ishikava (prefecture in Japan), flag

- ID 2538


›› Iwate (prefecture in Japan), flag

- ID 2539


›› Jayuya (Puerto Rico), coat of arms

- ID 10702


›› Jayuya (Puerto Rico), flag

- ID 10703


›› Johannesburg (RSA), coat of arms

- ID 20789


›› Johannesburg (RSA), flag

- ID 20790


›› Johore (state in Malaysia), flag

- ID 5142


›› Joinville (Brazil), coat of arms

- ID 10842


›› Joinville (Brazil), flag

- ID 10843


›› Juana Diaz (Puerto Rico), coat of arms

- ID 10704


›› Juana Diaz (Puerto Rico), flag

- ID 10705


›› Juncos (Puerto Rico), coat of arms

- ID 10706


›› Juncos (Puerto Rico), flag

- ID 10707


›› Kagawa (prefecture in Japan), flag

- ID 2540


›› Kagawa (prefecture in Japan), former flag

- ID 2553


›› Kagoshima (prefecture in Japan), flag

- ID 2541


›› Kanagawa (prefecture in Japan), flag

- ID 2542


›› Kedah (state in Malaysia), flag

- ID 5143


›› Kelantan (state in Malaysia), flag

- ID 5144


›› Kerch (Crimes), flag (#2)

- ID 20582


›› Khartsyzsk (Donetsk oblast), coat of arms (#2)

- ID 18326


›› Khartsyzsk (Donetsk oblast), coat of arms (#3)

- ID 18337


›› Khartsyzsk (Donetsk oblast), flag (#2)

- ID 18327


›› Khmelnitsky (Khmelnytskyi, Khmelnitsky oblast), coat of arms (#2)

- ID 18502


›› Kiev (Kyiv), small coat of arms (#2)

- ID 18334


›› Kilkenny (Ireland), coat of arms

- ID 10615


›› Killarney (Ireland), coat of arms

- ID 10548


›› Kilrush (Ireland), coat of arms

- ID 10521


›› King`s Own Scotish Borderers, badge (emblem)

- ID 30593


›› Kobelyaki (Poltava oblast), coat of arms (#2)

- ID 18475


›› Kobelyaki (Poltava oblast), flag (#2)

- ID 20583


›› Kochi (Koti, prefecture in Japan), flag

- ID 2543


›› Kramatorsk (Donetsk oblast), coat of arms (#2)

- ID 18321


›› Kramatorsk (Donetsk oblast), flag (#2)

- ID 20585


›› Kremenchug (Kremenchuk, Poltava oblast), coat of arms (#2)

- ID 18477


›› Krivoy Rog (Kryvyi Rih, Dnepropetrovsk oblast), coat of arms (#2)

- ID 18345


›› Kuala Lumpur (federal territory in Malaysia), flag

- ID 5156


›› Kumamoto (prefecture in Japan), flag

- ID 2544


›› Kyoto (prefecture in Japan), flag

- ID 2545


›› Labuan (Federal Territory in Malaysia), flag

- ID 5145


›› Lajas (Puerto Rico), coat of arms

- ID 10644


›› Lajas (Puerto Rico), flag

- ID 10645


›› Lares (Puerto Rico), coat of arms

- ID 10708


›› Lares (Puerto Rico), flag

- ID 10709


›› Las Marias (Puerto Rico), coat of arms

- ID 10710


›› Las Marias (Puerto Rico), flag

- ID 10711


›› Las Piedras (Puerto Rico), coat of arms

- ID 10646


›› Las Piedras (Puerto Rico), flag

- ID 10647


›› Limerick (Ireland), coat of arms

- ID 10403


›› Lismore (Ireland), coat of arms

- ID 10522


›› Lithanian King Mindaugas Mechanised Infantry Battalion, emblem

- ID 23816


›› Lithanian King Mindaugas Mechanised Infantry Battalion, former emblem

- ID 21712


›› Lithuanian Air Force Air Defense Battalion, banner

- ID 23821


›› Lithuanian Air Force Air Defense Battalion, emblem

- ID 21704


›› Lithuanian Air Force Air Defense Battalion, emblem (2004)

- ID 23819


›› Lithuanian Air Force Air Defense Battalion, former embem

- ID 23820


›› Lithuanian Armed Forces Division General Stasys Raštikis School, banner

- ID 24337


›› Lithuanian Armed Forces Division General Stasys Raštikis School, emblem

- ID 21738


›› Lithuanian Combat Divers Service, emblem

- ID 22858


›› Lithuanian Duke Vaidotas Mechanized Infantry Battalion, emblem

- ID 21703


›› Lithuanian Duke Vaidotas Mechanized Infantry Battalion, former emblem

- ID 21702


›› Lithuanian General Adolfas Ramanauskas Warfare Training Center, banner

- ID 23826


›› Lithuanian General Adolfas Ramanauskas Warfare Training Center, emblem

- ID 21727


›› Lithuanian Grand Duchess Birutė Mechanized Uhlan Battalion, emblem

- ID 23815


›› Lithuanian Grand Duchess Birutė Mechanized Uhlan Battalion, former emblem

- ID 22856


›› Lithuanian Grand Duke Butigeidis Motorized Dragoon Battalion, emblem

- ID 22855


›› Lithuanian Grand Duke Gediminas Staff Battalion, emblem

- ID 21720


›› Lithuanian Grand Duke Kęstutis Mechanized Infantry Battalion, former emlem

- ID 21716


›› Lithuanian Grand Duke Vytenis General Support Battalion, emblem

- ID 21708


›› Lithuanian Grand Duke Vytenis General Support Battalion, former emblem

- ID 24329


›› Lithuanian Juozas Vitkus Engineer Battalion, banner

- ID 22854


›› Lithuanian Juozas Vitkus Engineer Battalion, emblem

- ID 22853


›› Lithuanian Land Force Juozas Lukša Training Center (LF JLTC), emblem

- ID 24334


›› Lithuanian Military Engineer School, emblem

- ID 23827


›› Lithuanian Special Operations Force Training and Combat Support Center, emblem

- ID 22353


›› Lithuanian Special Operations Force Unit, emblem

- ID 23822


›› Lithuanian Special Purpose Service, emblem

- ID 22859


›› Lithuanian Vytautas the Great Jaeger Battalion, banner

- ID 24324


›› Lithuanian Vytautas the Great Jaeger Battalion, emblem

- ID 24323


›› Lithuianian General Romualdas Giedraitis Artillery Battalion, emblem

- ID 21699


›› Loiza (Puerto Rico), coat of arms

- ID 10648


›› Loiza (Puerto Rico), flag

- ID 10649


›› Longford (Ireland), historical coat of arms

- ID 10621


›› Loughrea (Ireland), coat of arms

- ID 10517


›› Luquillo (Puerto Rico), coat of arms

- ID 10714


›› Luquillo (Puerto Rico), flag

- ID 10715


›› Macae (Brazil), coat of arms

- ID 10784


›› Malaya Viska (Mala Vyska, Kirovograd oblast), coat of arms (#2)

- ID 18490


›› Manati (Puerto Rico), coat of arms

- ID 10718


›› Manati (Puerto Rico), flag

- ID 10719


›› Manaus (Brazil), coat of arms

- ID 10981


›› Maricao (Puerto Rico), coat of arms

- ID 10716


›› Maricao (Puerto Rico), flag

- ID 10717


›› Mariupol (Donetsk oblast), coat of arms (#2, 1989)

- ID 18322


›› Maroondah (Australia), coat of arms

- ID 9989


›› Maunabo (Puerto Rico), coat of arms

- ID 10712


›› Maunabo (Puerto Rico), flag

- ID 10713


›› Mayaguez (Puerto Rico), coat of arms

- ID 10650


›› Mayaguez (Puerto Rico), flag

- ID 10651


›› Medellín (Colombia), coat of arms

- ID 11692


›› Medellín (Colombia), flag

- ID 11698


›› Medvedevka (Medvedivka, Cherkassy oblast), coat of arms (#2)

- ID 18498


›› Melaka (Malacca, state in Malaysia), flag

- ID 5146


›› Melbourne (Australia), coat of arms

- ID 10424


›› Melbourne (Australia), flag

- ID 10425


›› Melitopol (Zaporozhye oblast), coat of arms (#2)

- ID 18351


›› Mie (prefecture in Japan), flag

- ID 2546


›› Military Institution of the Kazakhstan National Security Committee, emblem

- ID 26821


›› Mirgorod (Poltava oblast), coat of arms (#2)

- ID 18480


›› Miyagi (prefecture in Japan), flag

- ID 2547


›› Miyazaki (prefecture in Japan), flag

- ID 2548


›› Moca (Puerto Rico), coat of arms

- ID 10720


›› Moca (Puerto Rico), flag

- ID 10721


›› Monaghan (Ireland), coat of arms

- ID 10516


›› Morovis (Puerto Rico), coat of arms

- ID 10722


›› Morovis (Puerto Rico), flag

- ID 10723


›› Multi-National Corps-Iraq (MNC-I), distinctive unit insignia

- ID 11759


›› Multi-National Corps-Iraq (MNC-I), emblem

- ID 11757


›› Multi-National Corps-Iraq (MNC-I), shoulder sleeve insignia

- ID 11758


›› Mumbai (Bombay, India), coat of arms (19th century)

- ID 11017


›› Mures (judet in Romania), coat of arms

- ID 9921


›› N'Djamena (Chad), coat of arms

- ID 10477


›› Naas (Ireland), seal (coat of arms)

- ID 10616


›› Nagano (prefecture in Japan), flag

- ID 2549


›› Nagasaki (prefecture in Japan), flag

- ID 2550


›› Nagasaki (prefecture in Japan), flag (variant 2)

- ID 2551


›› Nagasaki (prefecture in Japan), former flag

- ID 2555


›› Naguabo (Puerto Rico), coat of arms

- ID 10724


›› Naguabo (Puerto Rico), flag

- ID 10725


›› Nara (prefecture in Japan), flag

- ID 2552


›› Naranjito (Puerto Rico), coat of arms

- ID 10652


›› Naranjito (Puerto Rico), flag

- ID 10653


›› Ndzuwani - Anjouan (Comoros), flag

- ID 4915


›› Negeri Sembilan (state in Malaysia), flag

- ID 5147


›› Nevis (St. Kitts and Nevis), flag

- ID 5068


›› Ngazidja - Grand Comore (Comoros), flag

- ID 4914


›› Niigata (prefecture in Japan), flag

- ID 2589


›› Niteroi (Brazil), coat of arms

- ID 10333


›› Niteroi (Brazil), flag

- ID 10334


›› Oita (prefecture in Japan), flag

- ID 2590


›› Okayama (prefecture in Japan), flag

- ID 2591


›› Okinawa (prefecture in Japan), flag

- ID 2592


›› Orocovis (Puerto Rico), coat of arms

- ID 10654


›› Orocovis (Puerto Rico), flag

- ID 10655


›› Osaka (prefecture in Japan), flag

- ID 2593


›› Pahang (state in Malaysia), flag

- ID 5148


›› Paranagua (Brazil), coat of arms

- ID 10785


›› Paranagua (Brazil), flag

- ID 10786


›› Parramatta (New South Wales), emblem

- ID 30039


›› Patillas (Puerto Rico), coat of arms

- ID 10656


›› Patillas (Puerto Rico), flag

- ID 10657


›› Pavlograd (Dnepropetrovsk oblast), coat of arms (#2)

- ID 18348


›› Penang (Pinang, state in Malaysia), flag

- ID 5151


›› Penuelas (Puerto Rico), coat of arms

- ID 10726


›› Penuelas (Puerto Rico), flag

- ID 10727


›› Perak (state in Malaysia), flag

- ID 5149


›› Perlis (state in Malaysia), flag

- ID 5150


›› Perth (Australia), coat of arms

- ID 10423


›› Peruvian Army Communication (Signal) Forces, emblem

- ID 21462


›› Peruvian Army Engineer Forces, emblem

- ID 21464


›› Peruvian Army Infantry Forces, emblem

- ID 21463


›› Peruvian Army Legal Service, emblem

- ID 21466


›› Peruvian Army Medical Service, emblem

- ID 21467


›› Peruvian Army Military Ammunition Service, emblem

- ID 21460


›› Peruvian Army Quartermaster Service, emblem

- ID 21465


›› Peruvian Army Veterinary Service, emblem

- ID 21468


›› Pery Army Armor (Cavalry) Forces, emblem

- ID 21461


›› Pietermaritzburg (South Africa), coat of arms

- ID 6469


›› Piryatin (Poltava oblast), coat of arms

- ID 18482


›› Pitt Meadows (British Columbia), badge

- ID 18875


›› Pittsburgh (Pennsylvania), river ensign

- ID 20463


›› Ponce (Puerto Rico), coat of arms

- ID 10658


›› Ponce (Puerto Rico), flag

- ID 10659


›› Portlaoise (Ireland), coat of arms

- ID 10518


›› Porto Alegre (Brazil), coat of arms

- ID 10797


›› Pretoria (South Africa), coat of arms

- ID 5203


›› Quebradillas (Puerto Rico), coat of arms

- ID 10730


›› Quebradillas (Puerto Rico), flag

- ID 10731


›› Rathmines and Rathgar Urban District (Ireland), flag

- ID 10528


›› Rincon (Puerto Rico), coat of arms

- ID 10728


›› Rincon (Puerto Rico), flag

- ID 10729


›› Rio de Janeiro City (Brazil), coat of arms

- ID 6184


›› Rio de Janeiro City (Brazil), flag

- ID 6185


›› Rio Grande (Puerto Rico), coat of arms

- ID 10660


›› Rio Grande (Puerto Rico), flag

- ID 10661


›› Rio Piedras (San Juan, Puerto Rico), coat of arms

- ID 10753


›› Rio Piedras (San Juan, Puerto Rico), flag

- ID 10754


›› Rosario (Argentina), coat of arms

- ID 10319


›› Rovno (Rivne, Rovno oblast), coat of arms (#2)

- ID 18446


›› Royal Air Force Music Services, badge

- ID 24805


›› Royal Australian Navy Fleet Command, emblem

- ID 29166


›› Royal Canadian Ordnance Corps (RCOC), emblem (badge)

- ID 30153


›› Sabah (state in Malaysia), flag

- ID 5152


›› Sabana Grande (Puerto Rico), coat of arms

- ID 10733


›› Sabana Grande (Puerto Rico), coat of arms

- ID 10734


›› Saga (prefecture in Japan), emblem

- ID 29096


›› Saga (prefecture in Japan), flag

- ID 2594


›› Saitama (prefecture in Japan), flag

- ID 2595


›› Salangor (state in Malaysia), flag

- ID 5154


›› Salinas (Puerto Rico), coat of arms

- ID 10735


›› Salinas (Puerto Rico), flag

- ID 10736


›› Salvador (Brazil), coat of arms

- ID 10787


›› Salvador (Brazil), flag

- ID 10788


›› San German (Puerto Rico), coat of arms

- ID 10662


›› San German (Puerto Rico), flag

- ID 10663


›› San Lorenzo (Puerto Rico), coat of arms

- ID 10737


›› San Lorenzo (Puerto Rico), flag

- ID 10738


›› San Sebastian (Puerto Rico), coat of arms

- ID 10739


›› San Sebastian (Puerto Rico), flag

- ID 10740


›› Santa Isabel (Puerto Rico), coat of arms

- ID 10741


›› Santa Isabel (Puerto Rico), flag

- ID 10742


›› Santos (Brazil), coat of arms

- ID 10789


›› Sao Goncalo (Brazil), coat of arms

- ID 10794


›› Sao Goncalo (Brazil), flag

- ID 10795


›› Sao Paulo City (Brazil), coat of arms

- ID 8793


›› Sao Paulo City (Brazil), flag

- ID 8794


›› Sarawak (state in Malaysia), flag

- ID 5153


›› Semipalatinsk oblast (Russian empire), coat of arms

- ID 4067


›› Semirechye oblast (Russian empire), coat of arms

- ID 4069


›› Shannon (Ireland), coat of arms

- ID 10617


›› Shiga (prefecture in Japan), flag

- ID 2620


›› Shimane (prefecture in Japan), flag

- ID 2621


›› Shizuoka (prefecture in Japan), flag

- ID 2622


›› Sligo (Ireland), coat of arms

- ID 10564


›› South Africa Military intelligence division, flag

- ID 18880


›› South African Air Force (SAAF), emblem

- ID 12262


›› South African Air Force (SAAF), flag

- ID 12264


›› South African Air Force (SAAF), roundel

- ID 12263


›› South African Army, emblem (2003)

- ID 12260


›› South African Army, flag (2003)

- ID 12261


›› South African Military Health Service (SAMHS), emblem

- ID 12267


›› South African Military Health Service (SAMHS), flag

- ID 12268


›› South African Navy (SAN), badge

- ID 12265


›› South African Navy (SAN), ensign

- ID 12266


›› Suceava (judet in Romania), coat of arms

- ID 9922


›› Sydney (Australia), coat of arms

- ID 930


›› Taipei (Taiwan), flag

- ID 3299


›› Thabazimbi Local Municipality (South Africa), coat of arms

- ID 18564


›› Toa Alta (Puerto Rico), coat of arms

- ID 10743


›› Toa Alta (Puerto Rico), flag

- ID 10744


›› Toa Baja (Puerto Rico), coat of arms

- ID 10745


›› Toa Baja (Puerto Rico), flag

- ID 10746


›› Tochigi (Totigi, prefecture in Japan), flag

- ID 2623


›› Tokushima (prefecture in Japan), flag

- ID 2624


›› Tokyo (prefecture in Japan), flag

- ID 2625


›› Tottori (prefecture in Japan), flag

- ID 2627


›› Toyama (prefecture in Japan), flag

- ID 2626


›› Tralee (Ireland), coat of arms

- ID 10547


›› Tramore (Ireland), coat of arms

- ID 10192


›› Trengganu (Terengganu, state in Malaysia), flag

- ID 5155


›› Trujillo Alto (Puerto Rico), coat of arms

- ID 10747


›› Trujillo Alto (Puerto Rico), flag

- ID 10748


›› Trujillo Alto (Puerto Rico), former coat of arms

- ID 10749


›› Trujillo Alto (Puerto Rico), former flag

- ID 10750


›› Tshwane Metropolitan Council (South Africa), flag

- ID 6472


›› Tullamore (Ireland), coat of arms

- ID 10618


›› Turabo (Caguas, Puerto Rico), coat of arms

- ID 10675


›› Turabo (Caguas, Puerto Rico), flag

- ID 10676


›› Turgay oblast (Russian empire), coat of arms

- ID 4068


›› U.S. 1st Marine Aircraft Wing (1st MAW), emblem

- ID 11744


›› U.S. 1st Marine Division, emblem

- ID 11372


›› U.S. 2nd Marine Aircraft Wing (2nd MAW), emblem

- ID 11746


›› U.S. 2nd Marine Division, emblem

- ID 11374


›› U.S. 2nd Marine Logistics Group (2nd MLG), emblem

- ID 11748


›› U.S. 3rd Marine Aircraft Wing (3rd MAW), emblem

- ID 11745


›› U.S. 3rd Marine Division, emblem

- ID 11752


›› U.S. 3rd Marine Logistics Group (3rd MLG), emblem

- ID 11749


›› U.S. 4th Marine Aircraft Wing (4th MAW), emblem

- ID 11747


›› U.S. 4th Marine Division, emblem

- ID 11751


›› U.S. 4th Marine Logistics Group (4th MLG), emblem

- ID 11750


›› U.S. Air Force 104th Fighter Wing, emblem

- ID 14395


›› U.S. Air Force 119th Fighter Wing, emblem

- ID 12700


›› U.S. Air Force 17th Training Wing (17th TW), emblem

- ID 12704


›› U.S. Air Force 37th Training Wing (37th TW), emblem

- ID 12705


›› U.S. Air Force 381st Training Group (381st TRG), emblem

- ID 12708


›› U.S. Air Force 480th Intelligence Wing, emblem

- ID 11102


›› U.S. Air Force 55th Wing, emblem

- ID 14394


›› U.S. Air Force 57th Wing, emblem

- ID 11115


›› U.S. Air Force 70th Mission Support Group, emblem

- ID 11101


›› U.S. Air Force 70th Operations Group, emblem

- ID 11103


›› U.S. Air Force 81st Training Wing (81st TW), emblem

- ID 12706


›› U.S. Air Force 82nd Training Wing (82nd TW), emblem

- ID 12707


›› U.S. Air Force 8th Air Division (Airborne Early Warning and Control, 8th AD), emblem

- ID 12680


›› U.S. Air Force Eastern Air Defense Sector (EADS), emblem

- ID 12694


›› U.S. Air Force Information Operations Center, emblem

- ID 11105


›› U.S. Air Force Technical Applications Center (AFTAC), emblem

- ID 11106


›› U.S. Air Force Western Air Defense Sector (WADS), emblem

- ID 12695


›› U.S. Alcohol and Tobacco Tax and Trade Bureau (TTB), seal

- ID 14153


›› U.S. Armed Forces, insignia of Aide to President of the United States

- ID 7097


›› U.S. Armed Forces, insignia of Aide to Vice President of the United States

- ID 7098


›› U.S. Army 101st Airborne Division, combat service identification badge

- ID 12672


›› U.S. Army 101st Airborne Division, distinctive unit insignia

- ID 12674


›› U.S. Army 101st Airborne Division, shoulder sleeve insignia

- ID 12673


›› U.S. Army 1st Information Operations Command (1st IOC), distinctive unit insignia

- ID 14094


›› U.S. Army 1st Information Operations Command (1st IOC), shoulder sleeve insignia

- ID 14095


›› U.S. Army 2nd Psychological Operations Group (2nd POG), distinctive unit insignia

- ID 14145


›› U.S. Army 2nd Transportation Group, distinctive unit insignia

- ID 12594


›› U.S. Army 32nd Transportation Group, distinctive unit insignia

- ID 12595


›› U.S. Army 37th Transportation Group, distinctive unit insignia

- ID 12596


›› U.S. Army 37th Transportation Group, shoulder sleeve insignia

- ID 12597


›› U.S. Army 4th Psychological Operations Group (4th POG), distinctive unit insignia

- ID 14146


›› U.S. Army 71st Ordnance Group, distinctive unit insignia

- ID 12607


›› U.S. Army 7nd Psychological Operations Group (7th POG), distinctive unit insignia

- ID 14147


›› U.S. Army 82nd Airborne Division, combat service identification badge

- ID 12671


›› U.S. Army 82nd Airborne Division, distinctive unit insignia

- ID 12669


›› U.S. Army 82nd Airborne Division, shoulder sleeve insignia

- ID 12670


›› U.S. Army Berlin, shoulder sleeve insignia

- ID 12638


›› U.S. Army European Civil Affairs Division, shoulder sleeve insignia

- ID 12612


›› U.S. Army, insignia of Aide to Chief of Army Staff

- ID 7099


›› U.S. Army, insignia of Aide to General of the Army

- ID 7095


›› U.S. Army, insignia of Aide to Secretary of the Army

- ID 7100


›› U.S. Army, insignia of Aide to Under Secretary of the Army

- ID 7105


›› U.S. Army, insignia of Aide to Vice Chief of Army Staff

- ID 7101


›› U.S. Bureau of Industry and Security (BIS), seal

- ID 14155


›› U.S. Coalition Forces Land Component Command (CFLCC), Operation Enduring Freedom (OEF) Emblem

- ID 11319


›› U.S. Coalition Forces Land Component Command (CFLCC), Operation Iraqi Freedom Emblem

- ID 11321


›› U.S. Coalition Forces Land Component Command (CFLCC), «Patton`s Own!» Emblem

- ID 11320


›› U.S. Combined Joint Special Operations Task Force-Arabian Peninsula (CJSOTF-AP), emblem

- ID 11314


›› U.S. Court of Appeals for the Eighth Circuit, seal

- ID 14157


›› U.S. Department of Defense, insignia of Aide to Secretary of Defense

- ID 7096


›› U.S. Department of the Army Police, emblem (badge)

- ID 11760


›› U.S. Federal Energy Regulatory Commission (FERC), seal

- ID 14156


›› U.S. International Trade Administration (ITA), seal

- ID 14158


›› U.S. Joint Chiefs of Staff, insignia of Aide to Chairman

- ID 7102


›› U.S. Joint Chiefs of Staff, insignia of Aide to Vice Chairman

- ID 7103


›› U.S. Marine Corps Military Police Corrections, officer badge

- ID 11737


›› U.S. Marine Corps Military Police, officer badge

- ID 11736


›› U.S. Military Sealift Command (MSC), emblem

- ID 11738


›› U.S. National Air and Space Intelligence Center (NASIC), emblem

- ID 11107


›› U.S. Naval Base Guantanamo Bay, emblem

- ID 11719


›› U.S. Navy Corrections, officer badge

- ID 11733


›› U.S. Navy Expeditionary Strike Group Three, insignia (emblem)

- ID 12151


›› U.S. Navy Guard, badge

- ID 11734


›› U.S. Navy Master-at-Arms, badge

- ID 11735


›› U.S. Navy Police, officer badge

- ID 11731


›› U.S. Navy Security, officer badge

- ID 11732


›› Ukrainka (Kiev oblast), coat of arms (#2)

- ID 18341


›› Ural oblast (Russian empire), coat of arms

- ID 4517


›› Utuado (Puerto Rico), coat of arms

- ID 10751


›› Utuado (Puerto Rico), flag

- ID 10752


›› Uzhgorod (Uzhhorod, Zakarpatye oblast), coat of arms (#2)

- ID 18509


›› Vega Alta (Puerto Rico), coat of arms

- ID 10755


›› Vega Alta (Puerto Rico), flag

- ID 10756


›› Vega Baja (Puerto Rico), coat of arms

- ID 10757


›› Vega Baja (Puerto Rico), flag

- ID 10758


›› Vieques (Puerto Rico), coat of arms

- ID 10759


›› Vieques (Puerto Rico), flag

- ID 10760


›› Villalba (Puerto Rico), coat of arms

- ID 10667


›› Villalba (Puerto Rico), flag

- ID 10668


›› Vinnitsa (Vinnytsia, Vinnitsa oblast), coat of arms (#2)

- ID 18455


›› Vitoria (Brazil), coat of arms

- ID 10790


›› Vlasovka (Vlasivka, Kirovograd oblast), coat of arms (#2)

- ID 18488


›› Volksrust (South Africa), coat of arms

- ID 9990


›› Wagga Wagga (Australia), coat of arms

- ID 9571


›› Wakayama (prefecture in Japan), flag

- ID 2628


›› Waterford (Ireland), historical coat of arms

- ID 10598


›› West Torrens (Australia), coat of arms

- ID 9514


›› Western District (South Africa), coat of arms

- ID 6470


›› Wexford (Ireland), coat of arms

- ID 10613


›› Wicklow (Ireland), coat of arms

- ID 10552


›› Yabucoa (Puerto Rico), coat of arms

- ID 10669


›› Yabucoa (Puerto Rico), flag

- ID 10670


›› Yamagata (prefecture in Japan), flag

- ID 2629


›› Yamaguchi (Yamaguti, prefecture in Japan), flag

- ID 2630


›› Yamanashi (prefecture in Japan), flag

- ID 2631


›› Yauco (Puerto Rico), coat of arms

- ID 10671


›› Yauco (Puerto Rico), flag

- ID 10672


›› Yevpatoria (Krym), coat of arms (1997, #2)

- ID 18331


›› Yevpatoria (Krym), flag (1997, #2)

- ID 20575


›› Yuzhny (Yuzhne, Odessa oblast), coat of arms (#2)

- ID 18505


›› Zhitomir (Zhitomir oblast), coat of arms (#3)

- ID 18333


›› Abashiri (Japan), flag

- ID 2645


›› Abidjan (Cote d'Ivoire), historical (colonial) coat of arms

- ID 10943


›› Adachi ku (Tokyo), flag

- ID 2363


›› Aki (Japan), flag

- ID 28496


›› Akita (city, Japan), flag

- ID 2635


›› Anamizu (Japan), flag

- ID 28498


›› Anan (Japan), flag

- ID 28497


›› Antananarivo (Madagascar), flag

- ID 6150


›› Aogashima island (Japan), flag

- ID 2388


›› Aomori (city, Japan), flag

- ID 2636


›› Arakawa ku (Tokyo), flag

- ID 2364


›› Artsakh (Nagorny Karabakh), emblem of Ministry of Social Safety

- ID 7541


›› Asahikawa (Japan), flag

- ID 2646


›› Asaka (Japan), flag

- ID 8373


›› Assyria (Assyrian Universal Alliance), flag

- ID 2902


›› Australia Maritime Trade Operations, emblem

- ID 29645


›› Australia, Eureka Flag (1854)

- ID 11390


›› Australian Naval Headquarters Tasmania (NHQ-TAS), emblem

- ID 29958


›› Australian Navy Aviation Group, emblem

- ID 29935


›› Australian Navy Cadets, emblem

- ID 29936


›› Australian Navy Chaplains, emblem

- ID 29937


›› Australian Navy Headquarters – South Queensland (NHQ-SOUTH QLD), emblem

- ID 29942


›› Australian Navy Surface Combatants Force Element Group (COMAUSNAVSURFGRP), emblem

- ID 29938


›› Australian Navy Systems Command, emblem

- ID 29643


›› Australian Training Authority Maritime Warfare (TAMW), emblem

- ID 29962


›› Bajura (Puerto Rico), coat of arms

- ID 28871


›› Bajura (Puerto Rico), flag

- ID 28870


›› Beppu (Japan), flag

- ID 28499


›› Boqueron (Puerto Rico), coat of arms

- ID 28872


›› Boqueron (Puerto Rico), flag

- ID 28873


›› Brazzaville (Congo), historical (colonial) coat of arms

- ID 10944


›› Britannia Royal Naval College (BRNC, Dartmouth), emblem

- ID 25324


›› British Navy Fleet Commander, emblem (crest)

- ID 25325


›› British Navy, emblem (naval crest) before 1919

- ID 25327


›› British Royal Air Force Regiment (RAF Regt), emblem

- ID 25328


›› British Royal Navy Commodore Amphibious Warfare (COMAW), emblem (crest)

- ID 13051


›› British Royal Navy Historic Flight (RNHF), emblem (crest)

- ID 13050


›› British Royal Navy Submarine Service, badge

- ID 29874


›› British Royal Navy Submarine Service, emblem

- ID 29875


›› Bunkyō ku (Tokyo), flag

- ID 2365


›› Cabo Rojo (Puerto Rico), coat of arms

- ID 28874


›› Canadian Forces Base Comox, badge (insignia)

- ID 11222


›› Canadian Forces Joint Support Group, badge (insignia)

- ID 11240


›› Canadian Forces Naval Base Esquimalt, badge (insignia)

- ID 11630


›› Canadian Forces Naval Communications Department, badge (crest)

- ID 11649


›› Canadian Land Force Atlantic Area Training Centre, badge (insignia)

- ID 11650


›› Canadian Land Force Quebec Area Training Centre, badge (insignia)

- ID 11651


›› Canadian Land Force Western Area Training Centre, badge (insignia)

- ID 11652


›› Canadian Navy 4th Maritime Operations Group, badge (insignia)

- ID 11233


›› Canadian Navy 5th Maritime Operations Group, badge (insignia)

- ID 11234


›› Canadian Navy HMCS Algonquin (DDG 283), destroyer badge (crest)

- ID 11586


›› Canadian Navy HMCS Athabaskan (DDG 282), destroyer badge (crest)

- ID 11585


›› Canadian Navy HMCS Brandon (MM 710), patrol vessel badge (crest)

- ID 11576


›› Canadian Navy HMCS Calgary (FFH-335), frigate badge (crest)

- ID 3960


›› Canadian Navy HMCS Charlottetown (FFH 339), frigate badge (crest)

- ID 11582


›› Canadian Navy HMCS Fredericton (FFH 337), frigate badge (crest)

- ID 20562


›› Canadian Navy HMCS Halifax (FFH-335), frigate badge (crest)

- ID 14352


›› Canadian Navy HMCS Huron (DDG 281), destroyer badge (crest)

- ID 11587


›› Canadian Navy HMCS Iroquois (DDG 280), destroyer badge (crest)

- ID 11568


›› Canadian Navy HMCS Kingston (MM 700), patrol vessel badge (crest)

- ID 11573


›› Canadian Navy HMCS Moncton (MM 708), patrol vessel badge (crest)

- ID 11571


›› Canadian Navy HMCS Montreal (FFH 336), frigate badge (crest)

- ID 11577


›› Canadian Navy HMCS Nanaimo (MM 702), patrol vessel badge (crest)

- ID 11569


›› Canadian Navy HMCS Ottawa (FFH 341), frigate badge (crest)

- ID 11579


›› Canadian Navy HMCS Regina (FFH 334), frigate badge (crest)

- ID 11578


›› Canadian Navy HMCS Saskatoon (MM 709), patrol vessel badge (crest)

- ID 11575


›› Canadian Navy HMCS Shawinigan (MM 704), patrol vessel badge (crest)

- ID 11572


›› Canadian Navy HMCS St. John`s (FFH 340), frigate badge (crest)

- ID 11583


›› Canadian Navy HMCS Vancouver (FFH 331), frigate badge (crest)

- ID 11581


›› Canadian Navy HMCS Venture, badge (crest)

- ID 20242


›› Canadian Navy HMCS Ville de Quebec (FFH 332), frigate badge (crest)

- ID 11584


›› Canadian Navy HMCS Whitehorse (MM 705), patrol vessel badge (crest)

- ID 11570


›› Canadian Navy HMCS Winnipeg (FFH 338), frigate badge (crest)

- ID 11580


›› Canadian Navy HMCS Yellowknife (MM 706), patrol vessel badge (crest)

- ID 11574


›› Chigasaki (Japan), flag

- ID 28500


›› Chikuhoku (Japan), flag

- ID 28501


›› Chiyoda ku (Tokyo), flag

- ID 2366


›› Chuo ku (Tokyo), flag

- ID 2367


›› Edogawa ku (Tokyo), flag

- ID 2368


›› Eiheiji (Japan), flag

- ID 28502


›› El Combate (Puerto Rico), coat of arms

- ID 28876


›› El Combate (Puerto Rico), flag

- ID 28877


›› Enan (Japan), flag

- ID 2632


›› Fujioka (Japan), flag

- ID 2644


›› Fukuchiyama (Japan), flag

- ID 2661


›› Gamagori (Japan), flag

- ID 28503


›› Gero (Japan), flag

- ID 28504


›› Gifu (Japan), flag

- ID 28505


›› Gose (Japan), flag

- ID 28506


›› Gotenba (Japan), flag

- ID 2673


›› Guanajibo (Puerto Rico), coat of arms

- ID 28878


›› Guanajibo (Puerto Rico), flag

- ID 28879


›› Gujō (Japan), flag

- ID 28507


›› H.M. Australian Naval Garden Island Dockyard, emblem

- ID 29957


›› Hakui (Japan), flag

- ID 28508


›› Hakusan (Japan), flag

- ID 28509


›› Handa (Japan), flag

- ID 28510


›› Hanyu (Japan), flag

- ID 8989


›› Hase (Japan), flag

- ID 28511


›› Hashimoto (Japan), flag

- ID 2678


›› Hasuda (Japan), flag

- ID 8990


›› Hatogaya (Japan), flag

- ID 8991


›› Hayashima (Japan), flag

- ID 28512


›› Higashikagawa (Japan), flag

- ID 28513


›› Higashimatsushima (Japan), flag

- ID 28514


›› Higashiura (Japan), flag

- ID 28515


›› Hikari (Japan), flag

- ID 2681


›› Hikone (Japan), flag

- ID 28516


›› Himi (Japan), flag

- ID 28517


›› Hiratsuka (Japan), flag

- ID 28518


›› Hirosaki (Japan), flag

- ID 2637


›› HMAS Basilisk, emblem

- ID 29403


›› HMAS Cerberus, emblem

- ID 29719


›› HMAS Nirimba, emblem

- ID 29723


›› Hodatsushimizu (Japan), flag

- ID 28519


›› Ibuki (Japan), flag

- ID 28520


›› Ichihara (Japan), flag

- ID 2638


›› Ichinomiya (Japan), flag

- ID 28521


›› Ichinoseki (Japan), flag

- ID 28522


›› Iida (Japan), flag

- ID 28523


›› Imabari (Japan), flag

- ID 28524


›› Imizu (Japan), flag

- ID 28525


›› Ina (Japan), flag

- ID 2666


›› Ino (Japan), flag

- ID 28824


›› Iruma (Japan), flag

- ID 2671


›› Ishinomaki (Japan), flag

- ID 28526


›› Itabashi ku (Tokyo), flag

- ID 2369


›› Ito (Japan), flag

- ID 2674


›› Iwanuma (Japan), flag

- ID 28527


›› Iyo (Japan), flag

- ID 29092


›› Joyuda (Puerto Rico), coat of arms

- ID 28880


›› Joyuda (Puerto Rico), flag

- ID 28881


›› Kagoshima (city, Japan), flag

- ID 2657


›› Kahoku (Japan), flag

- ID 28528


›› Kakuda (Japan), flag

- ID 28529


›› Kami (Japan), flag

- ID 28530


›› Kaminoyama (Japan), flag

- ID 2679


›› Karakuwa (Japan), flag

- ID 28531


›› Karatsu (Japan), flag

- ID 2670


›› Kasukabe (Japan), flag

- ID 8374


›› Katsushika ku (Tokyo), flag

- ID 2370


›› Katsuyama (Japan), flag

- ID 2640


›› Kavakita (Japan), flag

- ID 28532


›› Kawasaki (Japan), flag

- ID 28533


›› Kinshasa (Democratic Republic of the Congo), coat of arms

- ID 10458


›› Kinshasa (Democratic Republic of the Congo), flag

- ID 7127


›› Kita ku (Tokyo), flag

- ID 2371


›› Kitagawa (Japan), flag

- ID 28534


›› Kitami (Japan), flag

- ID 2648


›› Kobe (Japan), flag

- ID 2652


›› Koga (Japan), flag

- ID 2647


›› Kokubu (Japan), flag

- ID 2656


›› Komagane (Japan), flag

- ID 2665


›› Komatsu (Japan), flag

- ID 28535


›› Konan (Japan), flag

- ID 28536


›› Koti (Japan), flag

- ID 28537


›› Kounosu (Japan), flag

- ID 8375


›› Koutou ku (Tokyo), flag

- ID 2372


›› Kōzushima island (Japan), flag

- ID 2389


›› Kumamoto (city, Japan), flag

- ID 2659


›› Labrador (Canada), unofficial coat of arms

- ID 10356


›› Labrador (Canada), unofficial flag

- ID 10327


›› Llanos Costa (Puerto Rico), coat of arms

- ID 28882


›› Llanos Costa (Puerto Rico), flag

- ID 28883


›› Llanos Tuna (Puerto Rico), coat of arms

- ID 28884


›› Llanos Tuna (Puerto Rico), flag

- ID 28885


›› Marumori (Japan), flag

- ID 28538


›› Matsushima (Japan), flag

- ID 28539


›› Matsuyama (Japan), flag

- ID 29093


›› Meguro ku (Tokyo), flag

- ID 2373


›› Memuro (Japan), flag

- ID 28540


›› Miakeshima island (Japan), flag

- ID 2390


›› Miki (Japan), flag

- ID 2653


›› Mikurashima island (Japan), flag

- ID 2391


›› Minato ku (Tokyo), flag

- ID 2374


›› Miradero (Puerto Rico), coat of arms

- ID 28886


›› Miradero (Puerto Rico), flag

- ID 28875


›› Misawa (Japan), flag

- ID 28541


›› Miyazaki (city, Japan), flag

- ID 2663


›› Monte Grande (Puerto Rico), coat of arms

- ID 28887


›› Monte Grande (Puerto Rico), flag

- ID 28888


›› Murata (Japan), flag

- ID 28542


›› Muroto (Japan), flag

- ID 28543


›› Nabari (Japan), flag

- ID 2662


›› Nagano (Japan), flag

- ID 2664


›› Nagano (Japan), flag

- ID 28558


›› Nagoya (Japan), coat of arms

- ID 28559


›› Nahari (Japan), flag

- ID 28560


›› Nairobi (Kenya), flag

- ID 7128


›› Nakano ku (Tokyo), flag

- ID 2375


›› Nakanoto (Japan), flag

- ID 28561


›› Nakatosa (Japan), flag

- ID 28825


›› Nakatsugawa (Japan), flag

- ID 2643


›› Nanao (Japan), flag

- ID 28562


›› Nankoku (Japan), flag

- ID 28563


›› Narashino (Japan), flag

- ID 2639


›› Natori (Japan), flag

- ID 28564


›› Naval Communications Area Master Station Australia (NAVCAMSAUS), emblem

- ID 29588


›› Nayoro (Japan), flag

- ID 2649


›› Nerima ku (Tokyo), flag

- ID 2376


›› Newfoundland (Canada), unofficial flag

- ID 11406


›› Neyagawa (Japan), flag

- ID 2669


›› Niihama (Japan), flag

- ID 29094


›› Niishima island (Japan), flag

- ID 2392


›› Nishinomiya (Japan), flag

- ID 2654


›› Niyodogawa (Japan), flag

- ID 28826


›› Nomi (Japan), flag

- ID 28565


›› Nonoiti (Japan), flag

- ID 28566


›› Noto (Japan), flag

- ID 28567


›› Nunatsiavut (Labrador), flag

- ID 10326


›› Obama (Japan), flag

- ID 29204


›› Ogasawara islands (Japan), flag

- ID 2393


›› Ogawara (Japan), flag

- ID 28568


›› Ohira (Japan), flag

- ID 28569


›› Ohta ku (Tokyo), flag

- ID 2377


›› Ojiya (Japan), flag

- ID 28570


›› Okagawa (Japan), flag

- ID 8376


›› Omaezaki (Japan), flag

- ID 28571


›› Onagawa (Japan), flag

- ID 28572


›› Ōno (Japan), flag

- ID 29205


›› Onoyjo (Japan), flag

- ID 2642


›› Osaka (Japan), flag

- ID 28573


›› Osaki (Japan), flag

- ID 28574


›› Oshima island (Japan), flag

- ID 2394


›› Otaki (Japan), flag

- ID 8992


›› Otawara (Japan), flag

- ID 2675


›› Oti (Japan), flag

- ID 28827


›› Ōtoyo (Japan), flag

- ID 28828


›› Ōzu (Japan), flag

- ID 29095


›› Pedernales (Puerto Rico), coat of arms

- ID 28889


›› Pedernales (Puerto Rico), flag

- ID 28890


›› Praia (Cape Verde), coat of arms

- ID 10407


›› Puerto Real (Puerto Rico), coat of arms

- ID 28891


›› Puerto Real (Puerto Rico), flag

- ID 28892


›› Rifu (Japan), flag

- ID 28575


›› Royal Australian Navy Environmental Medicine Unit (EMU), emblem

- ID 29939


›› Royal Australian Navy Fleet Intermediate Maintenance Activity (FIMA), emblem

- ID 29956


›› Royal Australian Navy Health Services, emblem

- ID 29410


›› Royal Australian Navy Reserve, emblem

- ID 29959


›› Royal Australian Navy School of Survivability and Ship Safety, emblem

- ID 29943


›› Royal Australian Navy STS Young Endeavor, emblem

- ID 29944


›› Royal Australian Navy Submarine and Underwater Medicine Unit (SUMU), emblem

- ID 29961


›› Royal Australian Navy Submarine Service, emblem

- ID 30033


›› Royal Navy Special Boat Service (SBS), emblem

- ID 29167


›› Sabae (Japan), flag

- ID 29206


›› Sagamihara (Japan), flag

- ID 2658


›› Saijō (Japan), flag

- ID 29097


›› Saitama (Japan), flag

- ID 8377


›› Sakado (Japan), flag

- ID 8378


›› Sakae (Japan), flag

- ID 8993


›› Sakai (Japan), flag

- ID 28576


›› Sakai (Japan), flag

- ID 29207


›› Sakawa (Japan), flag

- ID 28829


›› Santiago de los Treinta Caballeros (Dominican Republic), historical coat of arms

- ID 11694


›› Satte (Japan), flag

- ID 8379


›› Seiyo (Japan), flag

- ID 29098


›› Sendai (Japan), flag

- ID 28577


›› Senior Naval Officer Northern Australia (SNONA), emblem

- ID 29960


›› Setagaya ku (Tokyo), flag

- ID 2378


›› Shibata (Japan), flag

- ID 28578


›› Shibayama (Japan), flag

- ID 8994


›› Shibuya ku (Tokyo), flag

- ID 2379


›› Shichigahama (Japan), flag

- ID 28579


›› Shichikashuku (Japan), flag

- ID 28580


›› Shiki (Japan), flag

- ID 8380


›› Shikima (Japan), flag

- ID 28581


›› Shikokuchūō (Japan), flag

- ID 29099


›› Shinagawa ku (Tokyo), flag

- ID 2380


›› Shinjuku ku (Tokyo), flag

- ID 2381


›› Shinnanyou (Japan), flag

- ID 2682


›› Shiogama (Japan), flag

- ID 28582


›› Shiroishi (Japan), flag

- ID 28583


›› Shizuoka (city, Japan), flag

- ID 2672


›› Shoubara (Japan), flag

- ID 2651


›› Sika (Japan), flag

- ID 28584


›› Simanto (Japan), flag

- ID 28585


›› Souka (Japan), flag

- ID 8381


›› South African Joint Operations Division (CJ Ops), emblem

- ID 12269


›› South African Joint Operations Division (CJ Ops), flag

- ID 12270


›› South African Joint Support Division, emblem

- ID 12271


›› South African Joint Support Division, flag

- ID 12272


›› South African National Intelligence Service, flag (1987)

- ID 12275


›› South African Police (SAP), badge (pre 1994)

- ID 14277


›› South African Police (SAP), flag (1983)

- ID 14278


›› South African Police Service (SAPS), emblem

- ID 12273


›› South African Police Service (SAPS), flag

- ID 12274


›› Sudzu (Japan), flag

- ID 28586


›› Suginami ku (Tokyo), flag

- ID 2382


›› Sukumo (Japan), flag

- ID 28587


›› Sumida ku (Tokyo), flag

- ID 2383


›› Sumoto (Japan), flag

- ID 2655


›› Susaki (Japan), flag

- ID 28588


›› Tagajo (Japan), flag

- ID 28589


›› Taitou ku (Tokyo), flag

- ID 2384


›› Takefu (Japan), flag

- ID 2641


›› Tano (Japan), flag

- ID 28830


›› Texas, Dimmit's Goliad Flag (1824)

- ID 11385


›› Toda (Japan), flag

- ID 8995


›› Tokushima (Japan), flag

- ID 29100


›› Tomiya (Japan), flag

- ID 28590


›› Tonami (Japan), flag

- ID 2677


›› Tōon (Japan), flag

- ID 29208


›› Torres Strait Islanders (Australia), flag

- ID 4789


›› Tosa (Japan), flag

- ID 28591


›› Tosashimizu (Japan), flag

- ID 28592


›› Toshima island (Japan), flag

- ID 2395


›› Toshima ku (Tokyo), flag

- ID 2385


›› Toukai (Japan), flag

- ID 2633


›› Toyama (Japan), flag

- ID 28593


›› Tōyō (Japan), flag

- ID 28831


›› Toyota (Japan), flag

- ID 2634


›› Tsubata (Japan), flag

- ID 28594


›› Tsuruga (Japan), flag

- ID 29209


›› U.S. 2nd Marine Expeditionary Brigade (2nd MEB), emblem

- ID 12157


›› U.S. Air Force 101st Logistics Squadron, emblem

- ID 14396


›› U.S. Air Force 11th Force Support Squadron, emblem

- ID 14412


›› U.S. Air Force 127th Communications Squadron, emblem

- ID 14369


›› U.S. Air Force 128th Logistics Readiness Squadron, emblem

- ID 14398


›› U.S. Air Force 176th Logistics Readiness Squadron, emblem

- ID 14399


›› U.S. Air Force 17th Special Operations Squadron, emblem

- ID 14362


›› U.S. Air Force 184th Logistics Squadron, emblem

- ID 14397


›› U.S. Air Force 19th Communications Squadron, emblem

- ID 14370


›› U.S. Air Force 22nd Intelligence Squadron, emblem

- ID 11094


›› U.S. Air Force 239th Combat Communications Squadron, emblem

- ID 14372


›› U.S. Air Force 29th Intelligence Squadron, emblem

- ID 11091


›› U.S. Air Force 315th Mission Support Squadron, emblem

- ID 14415


›› U.S. Air Force 31st Intelligence Squadron (Desert Knights), emblem

- ID 11092


›› U.S. Air Force 325th Communications Squadron, emblem

- ID 14371


›› U.S. Air Force 32nd Intelligence Squadron, emblem

- ID 11093


›› U.S. Air Force 349th Mission Support Squadron, emblem

- ID 14416


›› U.S. Air Force 352nd Special Operations Support Squadron, emblem

- ID 14366


›› U.S. Air Force 353rd Special Operations Maintenance Squadron, emblem

- ID 14368


›› U.S. Air Force 353rd Special Operations Support Squadron, emblem

- ID 14367


›› U.S. Air Force 376th Expeditionary Force Support Squadron, emblem

- ID 14417


›› U.S. Air Force 376th Expeditionary Logistics Readiness Squadron, emblem

- ID 14400


›› U.S. Air Force 423rd Communications Squadron, emblem

- ID 14373


›› U.S. Air Force 432nd Attack Squadron, emblem

- ID 14388


›› U.S. Air Force 436th Logistics Readiness Squadron, emblem

- ID 14401


›› U.S. Air Force 43rd Logistics Support Squadron, emblem

- ID 14409


›› U.S. Air Force 446th Logistics Support Squadron, emblem

- ID 14410


›› U.S. Air Force 461st Support Squadron, emblem

- ID 14418


›› U.S. Air Force 485th Intelligence Squadron, emblem

- ID 11095


›› U.S. Air Force 502nd Air Operations Squadron, emblem

- ID 14389


›› U.S. Air Force 502nd Communications Squadron, emblem

- ID 14374


›› U.S. Air Force 502nd Logistics Readiness Squadron, emblem

- ID 14402


›› U.S. Air Force 505th Operations Squadron, emblem

- ID 14390


›› U.S. Air Force 514th Logistics Readiness Squadron, emblem

- ID 14403


›› U.S. Air Force 51st Communications Squadron, emblem

- ID 14375


›› U.S. Air Force 522nd Special Operations Squadron, emblem

- ID 14365


›› U.S. Air Force 52nd Combat Communications Squadron, emblem

- ID 14376


›› U.S. Air Force 56th Communications Squadron, emblem

- ID 14377


›› U.S. Air Force 59th Readiness Squadron, emblem

- ID 14391


›› U.S. Air Force 5th Special Operations Squadron, emblem

- ID 14363


›› U.S. Air Force 608th Air Communications Squadron, emblem

- ID 14380


›› U.S. Air Force 633rd Force Support Squadron, emblem

- ID 14413


›› U.S. Air Force 655th Air Expeditionary Squadron, emblem

- ID 14392


›› U.S. Air Force 690th Alteration and Installation Squadron, emblem

- ID 11099


›› U.S. Air Force 6th Special Operations Squadron, emblem

- ID 14364


›› U.S. Air Force 70th Communications Squadron, emblem

- ID 11098


›› U.S. Air Force 70th Intelligence Support Squadron (Silver Knights), emblem

- ID 11097


›› U.S. Air Force 70th Mission Support Squadron, emblem

- ID 11100


›› U.S. Air Force 773rd Logistics Readiness Squadron, emblem

- ID 14404


›› U.S. Air Force 786th Communications Squadron, emblem

- ID 14381


›› U.S. Air Force 789th Communications Squadron, emblem

- ID 14382


›› U.S. Air Force 78th Communications Squadron, emblem

- ID 14378


›› U.S. Air Force 866th Air Expeditionary Squadron, emblem

- ID 14393


›› U.S. Air Force 87th Force Support Squadron, emblem

- ID 14414


›› U.S. Air Force 902nd Logistics Readiness Squadron, emblem

- ID 14405


›› U.S. Air Force 916th Logistics Readiness Squadron, emblem

- ID 14406


›› U.S. Air Force 916th Logistics Support Squadron, emblem

- ID 14411


›› U.S. Air Force 917th Logistics Readiness Squadron, emblem

- ID 14407


›› U.S. Air Force 92nd Logistics Readiness Squadron, emblem

- ID 14408


›› U.S. Air Force 93rd Bomb Squadron, emblem

- ID 14386


›› U.S. Air Force 94th Intelligence Squadron (Cougars), emblem

- ID 11096


›› U.S. Air Force 95th Communications Squadron, emblem

- ID 14379


›› U.S. Air Force Academy (USAFA), emblem

- ID 13395


›› U.S. Air Force Ballistic Missiles Analysis Squadron, emblem

- ID 14387


›› U.S. Air Force Information Operations Battlelab (Dark Warriors), emblem

- ID 11104


›› U.S. Air Force Rescue Coordination Center (AFRCC), emblem

- ID 12696


›› U.S. Air Forces National Security Emergency Preparedness Directorate (AFNSEP), emblem

- ID 12697


›› U.S. Armed Forces, insignia of Aide to Brigadier General

- ID 7091


›› U.S. Armed Forces, insignia of Aide to General

- ID 7094


›› U.S. Armed Forces, insignia of Aide to Lietenant General

- ID 7093


›› U.S. Armed Forces, insignia of Aide to Major General

- ID 7092


›› U.S. Army 10th Cavalry Regiment, distinctive unit insignia (left/right)

- ID 12168


›› U.S. Army 12th Cavalry Regiment, coat of arms

- ID 12191


›› U.S. Army 12th Cavalry Regiment, distinctive unit insignia

- ID 12190


›› U.S. Army 13th Cavalry Regiment, distinctive unit insignia

- ID 12192


›› U.S. Army 14th Cavalry Regiment, distinctive unit insignia

- ID 12193


›› U.S. Army 158th Cavalry Regiment, coat of arms

- ID 12174


›› U.S. Army 158th Cavalry Regiment, distinctive unit insignia

- ID 12173


›› U.S. Army 15th Cavalry Regiment, coat of arms

- ID 12195


›› U.S. Army 15th Cavalry Regiment, distinctive unit insignia

- ID 12194


›› U.S. Army 16th Cavalry Regiment, coat of arms

- ID 12197


›› U.S. Army 16th Cavalry Regiment, distinctive unit insignia

- ID 12196


›› U.S. Army 172nd Cavalry Regiment, coat of arms

- ID 12170


›› U.S. Army 172nd Cavalry Regiment, distinctive unit insignia

- ID 12169


›› U.S. Army 175th Medical Brigade, distinctive unit insignia

- ID 14251


›› U.S. Army 175th Medical Brigade, shoulder sleeve insignia

- ID 14250


›› U.S. Army 18th Cavalry Regiment, coat of arms

- ID 12172


›› U.S. Army 18th Cavalry Regiment, distinctive unit insignia

- ID 12171


›› U.S. Army 1st Cavalry Regiment, coat of arms

- ID 12167


›› U.S. Army 1st Cavalry Regiment, distinctive unit insignia

- ID 12166


›› U.S. Army 1st Medical Brigade, distinctive unit insignia

- ID 14244


›› U.S. Army 1st Medical Brigade, shoulder sleeve insignia

- ID 14245


›› U.S. Army 1st Space Brigade, distinctive unit insignia

- ID 12658


›› U.S. Army 1st Space Brigade, shoulder sleeve insignia

- ID 12657


›› U.S. Army 1st Transportation Agency, distinctive unit insignia

- ID 12593


›› U.S. Army 213th Medical Brigade, distinctive unit insignia

- ID 14252


›› U.S. Army 213th Medical Brigade, shoulder sleeve insignia

- ID 14253


›› U.S. Army 299th Cavalry Regiment, coat of arms

- ID 12176


›› U.S. Army 299th Cavalry Regiment, distinctive unit insignia

- ID 12175


›› U.S. Army 2nd Cavalry Regiment, distinctive unit insignia

- ID 12182


›› U.S. Army 2nd Cavalry Regiment, shoulder sleeve insignia

- ID 12181


›› U.S. Army 2nd Medical Brigade, distinctive unit insignia

- ID 14247


›› U.S. Army 2nd Medical Brigade, shoulder sleeve insignia

- ID 14246


›› U.S. Army 300th Military Intelligence Brigade, distinctive unit insignia

- ID 11110


›› U.S. Army 300th Military Intelligence Brigade, shoulder sleeve insignia

- ID 11109


›› U.S. Army 304th Civil Affairs Brigade, distinctive unit insignia

- ID 14482


›› U.S. Army 304th Civil Affairs Brigade, shoulder sleeve insignia

- ID 14483


›› U.S. Army 308th Civil Affairs Brigade, distinctive unit insignia

- ID 14484


›› U.S. Army 308th Civil Affairs Brigade, shoulder sleeve insignia

- ID 14485


›› U.S. Army 316th Cavalry Brigade, distinctive unit insignia

- ID 12179


›› U.S. Army 316th Cavalry Brigade, shoulder sleeve insignia

- ID 12180


›› U.S. Army 321st Civil Affairs Brigade, distinctive unit insignia

- ID 14486


›› U.S. Army 321st Civil Affairs Brigade, shoulder sleeve insignia

- ID 14487


›› U.S. Army 322nd Civil Affairs Brigade, distinctive unit insignia

- ID 14488


›› U.S. Army 322nd Civil Affairs Brigade, shoulder sleeve insignia

- ID 14489


›› U.S. Army 32nd Medical Brigade, distinctive unit insignia

- ID 14248


›› U.S. Army 32nd Medical Brigade, shoulder sleeve insignia

- ID 14249


›› U.S. Army 354th Civil Affairs Brigade, distinctive unit insignia

- ID 14490


›› U.S. Army 354th Civil Affairs Brigade, shoulder sleeve insignia

- ID 14491


›› U.S. Army 358th Civil Affairs Brigade, distinctive unit insignia

- ID 14492


›› U.S. Army 358th Civil Affairs Brigade, shoulder sleeve insignia

- ID 14493


›› U.S. Army 360th Civil Affairs Brigade, distinctive unit insignia

- ID 14494


›› U.S. Army 360th Civil Affairs Brigade, shoulder sleeve insignia

- ID 14495


›› U.S. Army 361st Civil Affairs Brigade, distinctive unit insignia

- ID 14496


›› U.S. Army 361st Civil Affairs Brigade, shoulder sleeve insignia

- ID 14497


›› U.S. Army 364th Civil Affairs Brigade, distinctive unit insignia

- ID 14498


›› U.S. Army 364th Civil Affairs Brigade, shoulder sleeve insignia

- ID 14499


›› U.S. Army 426th Medical Brigade, distinctive unit insignia

- ID 14255


›› U.S. Army 426th Medical Brigade, shoulder sleeve insignia

- ID 14254


›› U.S. Army 4th Cavalry Brigade, distinctive unit insignia

- ID 12185


›› U.S. Army 4th Cavalry Regiment, coat of arms

- ID 12184


›› U.S. Army 4th Cavalry Regiment, distinctive unit insignia

- ID 12183


›› U.S. Army 501st Military Intelligence Brigade, distinctive unit insignia

- ID 11112


›› U.S. Army 501st Military Intelligence Brigade, shoulder sleeve insignia

- ID 11111


›› U.S. Army 560th Battlefield Surveillance Brigade (560th BfSB), combat service identification badge

- ID 14107


›› U.S. Army 560th Battlefield Surveillance Brigade (560th BfSB), distinctive unit insignia

- ID 14108


›› U.S. Army 560th Battlefield Surveillance Brigade (560th BfSB), shoulder sleeve insignia

- ID 14106


›› U.S. Army 5th Cavalry Regiment, coat of arms

- ID 12187


›› U.S. Army 5th Cavalry Regiment, distinctive unit insignia

- ID 12186


›› U.S. Army 5th Medical Brigade, distinctive unit insignia

- ID 14256


›› U.S. Army 5th Medical Brigade, shoulder sleeve insignia

- ID 14257


›› U.S. Army 704th Military Intelligence Brigade, distinctive unit insignia

- ID 11114


›› U.S. Army 704th Military Intelligence Brigade, shoulder sleeve insignia

- ID 11113


›› U.S. Army 71st Airborne Brigade, distinctive unit insignia

- ID 12668


›› U.S. Army 71st Battlefield Surveillance Brigade (71st BfSB), distinctive unit insignia

- ID 14104


›› U.S. Army 71st Battlefield Surveillance Brigade (71st BfSB), shoulder sleeve insignia

- ID 14105


›› U.S. Army 73rd Cavalry Regiment, coat of arms

- ID 12178


›› U.S. Army 73rd Cavalry Regiment, distinctive unit insignia

- ID 12177


›› U.S. Army 75th Ranger Regiment (Airborne), coat of arms

- ID 14109


›› U.S. Army 75th Ranger Regiment (Airborne), combat service identification badge

- ID 14112


›› U.S. Army 75th Ranger Regiment (Airborne), distinctive unit insignia

- ID 14110


›› U.S. Army 75th Ranger Regiment (Airborne), shoulder sleeve insignia

- ID 14111


›› U.S. Army 804th Medical Brigade, distinctive unit insignia

- ID 14243


›› U.S. Army 804th Medical Brigade, shoulder sleeve insignia

- ID 14242


›› U.S. Army 818th Medical Brigade, distinctive unit insignia

- ID 14260


›› U.S. Army 818th Medical Brigade, shoulder sleeve insignia

- ID 14261


›› U.S. Army 8th Cavalry Regiment, coat of arms

- ID 12189


›› U.S. Army 8th Cavalry Regiment, distinctive unit insignia (left/right)

- ID 12188


›› U.S. Army 8th Medical Brigade, distinctive unit insignia

- ID 14259


›› U.S. Army 8th Medical Brigade, shoulder sleeve insignia

- ID 14258


›› U.S. Army 8th Transportation Brigade, distinctive unit insignia

- ID 12598


›› U.S. Army 95th Civil Affairs Brigade, distinctive unit insignia

- ID 14500


›› U.S. Army 95th Civil Affairs Brigade, shoulder sleeve insignia

- ID 14501


›› U.S. Army Hawaii Military Police Brigade, distinctive unit insignia

- ID 11762


›› U.S. Army Hawaii Military Police Brigade, shoulder sleeve insignia

- ID 11761


›› U.S. Army Ranger Battalions (Airborne), obsolete shoulder sleeve insignia

- ID 14113


›› U.S. Army Rangers (Airborne), tab

- ID 14114


›› U.S. Army Reserve Careers Division (ARCD), shoulder sleeve insignia

- ID 14237


›› U.S. Coast Guard Academy (USCGA), seal

- ID 13396


›› U.S. Merchant Marine Academy (USMMA), seal

- ID 13073


›› U.S. Military Academy (USMA), coat of arms

- ID 12654


›› U.S. Military Academy (USMA), distinctive unit insignia

- ID 12652


›› U.S. Military Academy (USMA), shoulder sleeve insignia

- ID 12653


›› U.S. Military Sealift Fleet Support Command (MSFSC), insignia (emblem)

- ID 12149


›› U.S. Naval Academy (USNA), insignia

- ID 13397


›› U.S. Navy Amphibious Squadron One, insignia (emblem)

- ID 12150


›› U.S. Navy Commander, Submarine Squadron 1 (COMSUBRON One), emblem

- ID 14521


›› U.S. Navy Commander, Submarine Squadron 11 (COMSUBRON Eleven), emblem

- ID 14523


›› U.S. Navy Commander, Submarine Squadron 15 (COMSUBRON Fifteen), emblem

- ID 14524


›› U.S. Navy Commander, Submarine Squadron 7 (COMSUBRON Seven), emblem

- ID 14522


›› U.S. Navy, Officer badge

- ID 12154


›› Umaji (Japan), flag

- ID 28832


›› Utinada (Japan), flag

- ID 28595


›› Vadzima (Japan), flag

- ID 28596


›› Valencia (Venezuela), coat of arms

- ID 11695


›› Valencia (Venezuela), flag

- ID 11696


›› Vanadzor (Armenia), coat of arms

- ID 6724


›› Watari (Japan), flag

- ID 28597


›› Women`s Royal Australian Naval Service (WRANS), emblem

- ID 29726


›› Yaita (Japan), flag

- ID 2676


›› Yamaga (Japan), flag

- ID 2660


›› Yamagata (city, Japan), flag

- ID 2680


›› Yamaguchi (city, Japan), flag

- ID 2683


›› Yamamoto (Japan), flag

- ID 28598


›› Yamatokouriyama (Japan), flag

- ID 2667


›› Yamatotakada (Japan), flag

- ID 2668


›› Yaotsu (Japan), flag

- ID 28599


›› Yasuda (Japan), flag

- ID 28833


›› Yubari (Japan), flag

- ID 2650


›› Zanzibar, flag (2005)

- ID 10947


›› Zao (Japan), flag

- ID 28600


›› 39th Canadian Brigade Group, emblem

- ID 31144


›› 39th Canadian Brigade Group, sleave insignia

- ID 31145


›› 70th Russian Special Fire Prevention Unit (Baikonur), emblem for banner

- ID 22157


›› Agency of Kazakhstan for Civil Service and Anti-Corruption Affairs, former emblem

- ID 30716


›› Ainu (Japan), national flag

- ID 2386


›› Alberta Emergency Medical Services (AEMS), badge

- ID 32740


›› Almaty Regional Communications Service, emblem

- ID 31170


›› Ashanti people (Ghana), flag

- ID 10350


›› Australian Army Aviation (AAAvn), badge

- ID 16289


›› Australian Army Band Corps (AABC), badge

- ID 16290


›› Australian Army Cadets (AAC), badge

- ID 16291


›› Australian Army Catering Corps (AACC), badge

- ID 16292


›› Australian Army Intelligence Corps (AAIC), badge

- ID 16293


›› Australian Army Legal Corps (AALC), badge

- ID 16294


›› Australian Army Psychology Corps (AA Psych Corps), badge

- ID 16295


›› Australian Army Public Relations Service (AAPRS), badge

- ID 16296


›› Baikonur (Kazakhstan), medal for loyalty to the community

- ID 32935


›› Baikonur (Kazakhstan), medal to 65th anniversary of the first artificial Earth satellite

- ID 32936


›› Berlin, coat of arms (#2)

- ID 18512


›› Berlin, flag (#2)

- ID 18513


›› Bochum (North Rhine-Westphalia), coat of arms (#2)

- ID 18514


›› Brandon Police Service (Manitoba), badge

- ID 32735


›› Bremen, coat of arms (#2)

- ID 18515


›› British 12th Armoured Infantry Brigade, sleeve insignia

- ID 24353


›› British 16th Air Assault Brigade (ABB), sleeve insignia (1999)

- ID 24354


›› British 16th Air Assault Brigade (ABB), sleeve insignia (2015)

- ID 24355


›› British 1st Armoured Infantry Brigade, sleeve insignia

- ID 18692


›› British 1st Squadron RAF Regiment, badge

- ID 32376


›› British 20th Armoured Infantry Brigade (The Iron Fist), sleeve insignia

- ID 24356


›› British 26th Squadron RAF Regiment, badge

- ID 32352


›› British 27th Squadron RAF Regiment, badge

- ID 32353


›› British 2nd Battalion of The Royal Regiment of Scotland (2 SCOTS, Royal Highland Fusiliers), badge

- ID 24361


›› British 2nd Squadron RAF Regiment, badge

- ID 32354


›› British 34th Squadron RAF Regiment, badge

- ID 32355


›› British 37ер Squadron RAF Regiment, badge

- ID 32377


›› British 3rd Squadron RAF Regiment, badge

- ID 32356


›› British 4th Infantry Brigade and Headquarters North East (The Black Rats), sleeve insignia

- ID 24357


›› British 51st Squadron RAF Regiment, badge

- ID 25817


›› British 63rd Squadron RAF Regiment, badge

- ID 32357


›› British 7th Infantry Brigade and Headquarters East, sleeve insignia

- ID 24358


›› British Army Devonshire and Dorset Regiment, badge

- ID 25321


›› British Army Green Howards, badge

- ID 25820


›› British Army Grenadier Guards, emblem

- ID 27126


›› British Army Headquarters London District (LONDIST), emblem (badge)

- ID 24359


›› British Army Kent and Sharpshooters Yeomanry, badge

- ID 27131


›› British Army London District (LONDIST), sleeve insignia

- ID 24360


›› British Army Royal Irish Rangers, badge

- ID 25322


›› British Army Royal Regiment of Scotland, badge

- ID 25323


›› British ATC 124th Hereford City Squadron, badge

- ID 25818


›› British ATC Merseyside Wing, badge

- ID 30631


›› British Columbia Sheriff Service, badge

- ID 32474


›› British Columbia Sheriff Service, coat of arms

- ID 32475


›› British Navy HMS Agamemnon (S124), emblem (crest)

- ID 25094


›› British Navy HMS Ajax (S125), emblem (crest)

- ID 25095


›› British Navy HMS Albion (L14), landing platform dock emblem (crest)

- ID 13007


›› British Navy HMS Ambush (S120), emblem (crest)

- ID 25096


›› British Navy HMS Anglesey (P277), emblem (crest) of offshore patrol vessel

- ID 15022


›› British Navy HMS Anson (S123), emblem (crest)

- ID 25097


›› British Navy HMS Archer (P264), emblem (crest)

- ID 25098


›› British Navy HMS Argyll (F231), frigate emblem (crest)

- ID 12999


›› British Navy HMS Ark Royal (R07), aircraft carrier emblem (crest)

- ID 12978


›› British Navy HMS Artful (S121), emblem (crest)

- ID 25099


›› British Navy HMS Astute (S119), submarine emblem (crest)

- ID 13099


›› British Navy HMS Atherstone (M38), mine countermeasures vessel emblem (crest)

- ID 13025


›› British Navy HMS Audacious (S122), emblem (crest)

- ID 25084


›› British Navy HMS Bangor (M109), mine countermeasures vessel emblem (crest)

- ID 13032


›› British Navy HMS Birmingham (D86), destroyer emblem (crest)

- ID 15023


›› British Navy HMS Biter (P270), fast patrol boat emblem (crest)

- ID 13042


›› British Navy HMS Blake (C99), emblem

- ID 27127


›› British Navy HMS Blazer (P279), emblem (crest)

- ID 25085


›› British Navy HMS Blyth (M111), mine countermeasures vessel emblem (crest)

- ID 13034


›› British Navy HMS Bridport (M105), emblem (crest) of mine counter measures vessel

- ID 15024


›› British Navy HMS Bristol (D23), emblem (crest)

- ID 25100


›› British Navy HMS Brocklesby (M33), mine countermeasures vessel emblem (crest)

- ID 13022


›› British Navy HMS Bulwark (L15), landing platform dock emblem (crest)

- ID 13008


›› British Navy HMS Campbeltown (F86), frigate emblem (crest)

- ID 12995


›› British Navy HMS Cardiff (D108), destroyer emblem (crest)

- ID 15025


›› British Navy HMS Cattistock (M31), mine countermeasures vessel emblem (crest)

- ID 13021


›› British Navy HMS Charger (P292), emblem (crest)

- ID 25101


›› British Navy HMS Chatham (F87), frigate emblem (crest)

- ID 12996


›› British Navy HMS Chiddingfold (M37), mine countermeasures vessel emblem (crest)

- ID 13024


›› British Navy HMS Clyde (P257), emblem (crest)

- ID 25086


›› British Navy HMS Cornwall (F99), frigate emblem (crest)

- ID 12997


›› British Navy HMS Coventry (D118), destroyer emblem (crest)

- ID 15026


›› British Navy HMS Cumberland (F85), frigate emblem (crest)

- ID 12994


›› British Navy HMS Daring (D32), destroyer emblem (crest)

- ID 12981


›› British Navy HMS Dasher (P280), fast patrol boat emblem (crest)

- ID 13045


›› British Navy HMS Dauntless (D33), destroyer emblem (crest)

- ID 12982


›› British Navy HMS Diamond (D34), destroyer emblem (crest)

- ID 13100


›› British Navy HMS Dragon (D35), destroyer emblem (crest)

- ID 13101


›› British Navy HMS Duncan (D37), emblem

- ID 25812


›› British Navy HMS Echo (H87), emblem (crest)

- ID 25087


›› British Navy HMS Edinburgh (D97), destroyer emblem (crest)

- ID 12986


›› British Navy HMS Endurance (A171), Antarctic patrol ship emblem (crest)

- ID 13036


›› British Navy HMS Enterprise (H88) emblem

- ID 25263


›› British Navy HMS Example (P165), fast patrol boat emblem (crest)

- ID 13041


›› British Navy HMS Exeter (D89), destroyer emblem (crest)

- ID 15027


›› British Navy HMS Exploit (P167), emblem (crest)

- ID 25088


›› British Navy HMS Explorer (P164), fast patrol boat emblem (crest)

- ID 13040


›› British Navy HMS Express (P163), fast patrol boat emblem (crest)

- ID 13039


›› British Navy HMS Forth (P222), crest

- ID 27729


›› British Navy HMS Glasgow (D88), destroyer emblem (crest)

- ID 15028


›› British Navy HMS Gloucester (D96), destroyer emblem (crest)

- ID 12985


›› British Navy HMS Grimsby (M108), mine countermeasures vessel emblem (crest)

- ID 13031


›› British Navy HMS HMS Defender (D36), emblem

- ID 25331


›› British Navy HMS Hurworth (M39), mine countermeasures vessel emblem (crest)

- ID 13026


›› British Navy HMS Illustrious (R06), aircraft carrier emblem (crest)

- ID 12980


›› British Navy HMS Invincible (R05), aircraft carrier emblem (crest)

- ID 12979


›› British Navy HMS Iron Duke (F234), frigate emblem (crest)

- ID 13000


›› British Navy HMS Kent (F78), frigate emblem (crest)

- ID 12989


›› British Navy HMS Lancaster (F229), frigate emblem (crest)

- ID 12998


›› British Navy HMS Ledbury (M30), mine countermeasures vessel emblem (crest)

- ID 13020


›› British Navy HMS Leeds Castle, crest

- ID 29555


›› British Navy HMS Liverpool (D92), destroyer emblem (crest)

- ID 12983


›› British Navy HMS Manchester (D95), destroyer emblem (crest)

- ID 12984


›› British Navy HMS Mersey (P287), emblem

- ID 25264


›› British Navy HMS Middleton (M34), mine countermeasures vessel emblem (crest)

- ID 13023


›› British Navy HMS Monmouth (F235), frigate emblem (crest)

- ID 13001


›› British Navy HMS Monmouth (F235), frigate emblem (crest, #2)

- ID 32379


›› British Navy HMS Montrose (F236), frigate emblem (crest)

- ID 13002


›› British Navy HMS Newcastle (D87), destroyer emblem (crest)

- ID 15029


›› British Navy HMS Northumberland (F238), frigate emblem (crest)

- ID 13004


›› British Navy HMS Nottingham (D91), destroyer emblem (crest)

- ID 12988


›› British Navy HMS Ocean (L12), amphibious assault ship emblem (crest)

- ID 13006


›› British Navy HMS Pembroke (M107), mine countermeasures vessel emblem (crest)

- ID 13030


›› British Navy HMS Penzance (M106), mine countermeasures vessel emblem (crest)

- ID 13029


›› British Navy HMS Portland (F79), frigate emblem (crest)

- ID 12990


›› British Navy HMS Prince of Wales (R09), aircraft carrier crest

- ID 20787


›› British Navy HMS Protector (A173), emblem

- ID 25326


›› British Navy HMS Puncher (P291), fast patrol boat emblem (crest)

- ID 13047


›› British Navy HMS Pursuer (P273), fast patrol boat emblem (crest)

- ID 13044


›› British Navy HMS Queen Elizabeth (R08), aircraft carrier crest

- ID 20788


›› British Navy HMS Quorn (M41), mine countermeasures vessel emblem (crest)

- ID 13027


›› British Navy HMS Raider (P275), emblem

- ID 25813


›› British Navy HMS Ramsey (G60), destroyer emblem (crest)

- ID 13033


›› British Navy HMS Ramsey (M110), minehunter emblem (crest)

- ID 24965


›› British Navy HMS Ramsey (M110), minehunter emblem (crest, #2)

- ID 25814


›› British Navy HMS Ranger (P293), fast patrol boat emblem (crest)

- ID 13048


›› British Navy HMS Richmond (F239), frigate emblem (crest)

- ID 13005


›› British Navy HMS Sceptre (S104), submarine emblem (crest)

- ID 13019


›› British Navy HMS Scimitar (P284), fast patrol boat emblem (crest)

- ID 13046


›› British Navy HMS Scott (H131), ocean survey vessel emblem (crest)

- ID 13037


›› British Navy HMS Scylla (F71), crest

- ID 27730


›› British Navy HMS Sheffield (D80), destroyer emblem (crest)

- ID 14928


›› British Navy HMS Shoreham (M112), mine countermeasures vessel emblem (crest)

- ID 13035


›› British Navy HMS Smiter (P272), fast patrol boat emblem (crest)

- ID 13043


›› British Navy HMS Somerset (F82), frigate emblem (crest)

- ID 12992


›› British Navy HMS Southampton (D90), destroyer emblem (crest)

- ID 15030


›› British Navy HMS St. Albans (F83), frigate emblem (crest)

- ID 12993


›› British Navy HMS Sutherland (F81), frigate emblem (crest)

- ID 12991


›› British Navy HMS Talent (S92), submarine emblem (crest)

- ID 13017


›› British Navy HMS Tireless (S88), submarine emblem (crest)

- ID 13014


›› British Navy HMS Torbay (S90), submarine emblem (crest)

- ID 13015


›› British Navy HMS Tracker (P274), emblem (crest)

- ID 25102


›› British Navy HMS Trafalgar (S107), emblem (crest)

- ID 29972


›› British Navy HMS Trenchant (S91), submarine emblem (crest)

- ID 13016


›› British Navy HMS Triumph (N18), emblem (crest)

- ID 13018


›› British Navy HMS Trumpeter (P294), fast patrol boat emblem (crest)

- ID 13049


›› British Navy HMS Turbulent (S87), submarine emblem (crest)

- ID 13013


›› British Navy HMS Tyne (P281), patrol vessel emblem (crest)

- ID 13038


›› British Navy HMS Vanguard (S28), submarine emblem (crest)

- ID 13009


›› British Navy HMS Vengeance (S31), submarine emblem (crest)

- ID 13012


›› British Navy HMS Victorious (S29), submarine emblem (crest)

- ID 13010


›› British Navy HMS Vigilant (S30), submarine emblem (crest)

- ID 13011


›› British Navy HMS Walney (M104), mine countermeasures vessel emblem (crest)

- ID 13028


›› British Navy HMS Westminster (F237), frigate emblem (crest)

- ID 13003


›› British Navy HMS York (D98), destroyer emblem (crest)

- ID 12987


›› British Navy HMSML Gleaner (H86), emblem

- ID 25332


›› British Navy Submarine Escape Training Tank (SETT), emblem

- ID 32381


›› British RAF 1st Squadron, emblem

- ID 30594


›› British RAF Station Lossiemouth, badge (emblem)

- ID 30640


›› British RAF Station Shawbury, emblem

- ID 30641


›› Canada Border Services Agency, badge

- ID 32476


›› Canada Border Services Agency, coat of arms

- ID 32477


›› Canada School of Public Service, coat of arms

- ID 32744


›› Canada, Naval Ensign (#2)

- ID 11175


›› Canadian 8th Air Communications and Control Squadron, badge

- ID 32375


›› Canadian Air Force 14th Airfield Engineering Squadron, badge (insignia)

- ID 11666


›› Canadian Air Force 4th Airfield Engineering Squadron, badge (insignia)

- ID 11667


›› Canadian Airborne Regiment, former emblem

- ID 11664


›› Canadian Airborne Regiment, former flag

- ID 11665


›› Canadian Department of Citizenship and Immigration, badges of the Citizenship Judges

- ID 32748


›› Canadian Department of Fisheries and Oceans (Fisheries Management), badge

- ID 32750


›› Canadian Department of Fisheries and Oceans (Fisheries Management), flag

- ID 32751


›› Canadian Department of Veterans Affairs (DVA), Minister of Veterans Affairs Commendation

- ID 11671


›› Canadian Fleet Diving Unit (Pacific), badge (insignia)

- ID 11230


›› Canadian Fleet Maintenance Facility Cape Breton, badge (insignia)

- ID 11231


›› Canadian Fleet Maintenance Facility Cape Scott, badge (insignia)

- ID 11232


›› Canadian Food Inspection Agency, badge

- ID 32745


›› Canadian Forces 12e Régiment blindé du Canada, regimental badge (insignia)

- ID 11596


›› Canadian Forces 12th Manitoba Dragoons, regimental badge (insignia)

- ID 11601


›› Canadian Forces 14th Canadian Hussars, regimental badge (insignia)

- ID 11592


›› Canadian Forces 19th Alberta Dragoons, regimental badge (insignia)

- ID 11597


›› Canadian Forces 1st Area Support Group, badge

- ID 32503


›› Canadian Forces 1st Canadian Air Division, badge

- ID 32504


›› Canadian Forces 1st Field Ambulance Edmonton Clinic, badge (insignia)

- ID 11657


›› Canadian Forces 1st Hussars, regimental badge (insignia)

- ID 11591


›› Canadian Forces 1st Wing, Badge

- ID 32505


›› Canadian Forces 21st Electronic Warfare Regiment, badge

- ID 30678


›› Canadian Forces 2nd Area Support Group, badge

- ID 32506


›› Canadian Forces 2nd Canadian Air Division, badge

- ID 32507


›› Canadian Forces 2nd Canadian Division Support Group, badge

- ID 32508


›› Canadian Forces 2nd Canadian Division Support Group, formation patch

- ID 32509


›› Canadian Forces 2nd Tactical Aviation Wing, badge

- ID 32510


›› Canadian Forces 31st Service Battalion, badge

- ID 30679


›› Canadian Forces 32nd Service Battalion, badge

- ID 30680


›› Canadian Forces 32nd Signal Regiment, badge

- ID 30681


›› Canadian Forces 33rd Signal Regiment, badge

- ID 30682


›› Canadian Forces 33th Service Battalion, badge

- ID 30683


›› Canadian Forces 34th Signal Regiment, badge

- ID 30684


›› Canadian Forces 35th (Sydney) Service Battalion, badge

- ID 30685


›› Canadian Forces 35th Signal Regiment, badge

- ID 30686


›› Canadian Forces 36th Canadian Brigade Group, badge

- ID 32511


›› Canadian Forces 36th Service Battalion, badge

- ID 30669


›› Canadian Forces 36th Signal Regiment, badge

- ID 30687


›› Canadian Forces 37th Service Battalion, badge

- ID 30670


›› Canadian Forces 37th Signal Regiment, badge

- ID 30688


›› Canadian Forces 38th Service Battalion, badge

- ID 30671


›› Canadian Forces 38th Signal Regiment, emblem

- ID 31158


›› Canadian Forces 39th Service Battalion, badge

- ID 30689


›› Canadian Forces 3rd Canadian Division Support Group, badge

- ID 32512


›› Canadian Forces 3rd Canadian Division Support Group, formation patch

- ID 32513


›› Canadian Forces 3rd Canadian Support Unit, badge

- ID 32514


›› Canadian Forces 41st Service Battalion, badge

- ID 30672


›› Canadian Forces 41st Signal Regiment, badge

- ID 30673


›› Canadian Forces 4th Canadian Division Support Group, badge

- ID 32515


›› Canadian Forces 4th Canadian Division Support Group, formation patch

- ID 32516


›› Canadian Forces 4th Princess Louise Dragoon Guards, regimental badge (insignia)

- ID 11605


›› Canadian Forces 737th Communication Squadron (Saskatoon), badge (insignia)

- ID 15658


›› Canadian Forces 76th Communication Regiment, emblem

- ID 31159


›› Canadian Forces 77th Communication Regiment, badge

- ID 30674


›› Canadian Forces 79th Communication Regiment, badge

- ID 30675


›› Canadian Forces 8th Canadian Hussars (Princess Louise`s), regimental badge (insignia)

- ID 11593


›› Canadian Forces Aerospace Engineering Test Establishment (AETE), badge (insignia)

- ID 15645


›› Canadian Forces Air Cadet Summer Training Centre (Penhold), badge (insignia)

- ID 15663


›› Canadian Forces Air Squadron VU 32 (Utility), badge (insignia)

- ID 15664


›› Canadian Forces Ammunition Depot (Rocky Point), badge (insignia)

- ID 15659


›› Canadian Forces Area Support Unit Northern Ontario, badge (insignia)

- ID 11220


›› Canadian Forces Argonaut Army Cadet Summer Training Centre, badge (insignia)

- ID 15665


›› Canadian Forces Argyll and Sutherland Highlanders, badge (insignia)

- ID 15646


›› Canadian Forces Cadet Instructors Cadre, emblem

- ID 27877


›› Canadian Forces Canadian Defence Academy, badge (insignia)

- ID 11629


›› Canadian Forces Cap-Chat Army Cadet Summer Training Centre, badge (insignia)

- ID 15667


›› Canadian Forces CFB Valcartier, badge (insignia)

- ID 15666


›› Canadian Forces Cold Lake Air Cadet Summer Training Centre, badge (insignia)

- ID 15647


›› Canadian Forces Connaught National Army Cadet Summer Training Centre, badge (insignia)

- ID 15668


›› Canadian Forces Contingency Capability Centre, badge (insignia)

- ID 15660


›› Canadian Forces Department of Applied Military Science (AMS), emblem

- ID 15669


›› Canadian Forces Greenwood Air Cadet Summer Training Centre, badge (insignia)

- ID 15648


›› Canadian Forces Hastings and Prince Edward Regiment, badge

- ID 30676


›› Canadian Forces HMCS Edmonton (MM 703), coastal defence vessel crest

- ID 15649


›› Canadian Forces Irish Fusiliers of Canada (The Vancouver Regiment), badge

- ID 30677


›› Canadian Forces Joint Signal Regiment, badge (insignia)

- ID 11658


›› Canadian Forces Land Force Trials and Evaluation Unit, badge (insignia)

- ID 15661


›› Canadian Forces Le Régiment de Joliette, regimental badge (insignia)

- ID 11619


›› Canadian Forces Maritime Air Group, badge (insignia)

- ID 11235


›› Canadian Forces Naval Engineering School, badge (insignia)

- ID 11670


›› Canadian Forces Naval Operations School (CFNOS), badge (insignia)

- ID 15650


›› Canadian Forces Naval Radio Station (NRS) Inuvik, badge (insignia)

- ID 11223


›› Canadian Forces Operations Support Centre (Pacific), badge (insignia)

- ID 15670


›› Canadian Forces Regional Cadet Support Unit (Atlantic), badge (insignia)

- ID 15652


›› Canadian Forces Regional Cadet Support Unit (Eastern) (RCSU(E)), badge (insignia)

- ID 11653


›› Canadian Forces Regional Cadet Support Unit (Northern) (RCSU(N)), badge (insignia)

- ID 11654


›› Canadian Forces Regional Cadet Support Unit (Pacific) (RCSU(P)), badge (insignia)

- ID 14512


›› Canadian Forces Regional Cadet Support Unit (Prairie) (RCSU(PRA)), badge (insignia)

- ID 11655


›› Canadian Forces Religious Order (Chaplain), badge (insignia)

- ID 15671


›› Canadian Forces Royal Canadian Dragoons, badge (insignia)

- ID 15653


›› Canadian Forces Royal Canadian Regiment, badge (insignia)

- ID 15654


›› Canadian Forces Royal Newfoundland Regiment, badge

- ID 25815


›› Canadian Forces School of Administration and Logistics (CFSAL), badge (insignia)

- ID 15655


›› Canadian Forces School of Communications and Electronics (CFSCE), badge (insignia)

- ID 15656


›› Canadian Forces Scottish (Princess Mary`s) Regiment, badge

- ID 30690


›› Canadian Forces Search and Rescue, badge (insignia)

- ID 15662


›› Canadian Forces Station Alert, badge (insignia)

- ID 11224


›› Canadian Forces The British Columbia Dragoons (BCD), regimental badge (insignia)

- ID 11598


›› Canadian Forces The British Columbia Regiment (Duke of Connaught`s Own), regimental badge (insignia)

- ID 11599


›› Canadian Forces The Fort Garry Horse, regimental badge (insignia)

- ID 11600


›› Canadian Forces The Governor General`s Horse Guards, regimental badge (insignia)

- ID 11668


›› Canadian Forces The Halifax Rifles, regimental badge (insignia)

- ID 11610


›› Canadian Forces The King`s Own Calgary Regiment (KOCR), regimental badge (insignia)

- ID 11606


›› Canadian Forces The North Saskatchewan Regiment (N Sask R), regimental badge (insignia)

- ID 11611


›› Canadian Forces The Nova Scotia Highlanders, regimental badge (insignia)

- ID 11613


›› Canadian Forces The Ontario Regiment, regimental badge (insignia)

- ID 11602


›› Canadian Forces The Perth Regiment, regimental badge (insignia)

- ID 11620


›› Canadian Forces The Prince Edward Island Regiment, regimental badge (insignia)

- ID 11608


›› Canadian Forces The Queen's York Rangers (1st American Regiment), regiment badge (insignia)

- ID 11607


›› Canadian Forces The Royal Canadian Hussars (Montreal), regimental badge (insignia)

- ID 11594


›› Canadian Forces The Royal Highland Fusiliers of Canada, regimental badge (insignia)

- ID 11614


›› Canadian Forces The Royal Regiment of Canada, regimental badge (insignia)

- ID 11615


›› Canadian Forces The Saskatchewan Dragoons, regimental badge (insignia)

- ID 11609


›› Canadian Forces The Seaforth Highlanders of Canada, regimental badge (insignia)

- ID 11616


›› Canadian Forces The Sherbrooke Hussars, regimental badge (insignia)

- ID 11595


›› Canadian Forces The South Alberta Light Horse (SALH), regimental badge (insignia)

- ID 11603


›› Canadian Forces The South Saskatchewan Regiment, regimental badge (insignia)

- ID 11612


›› Canadian Forces The Windsor Regiment, regimental badge (insignia)

- ID 11604


›› Canadian Forces The Winnipeg Grenadiers, regimental badge (insignia)

- ID 11617


›› Canadian Forces The Yukon Regiment, regimental badge (insignia)

- ID 11618


›› Canadian Forces Toronto Scottish Regiment, badge

- ID 25816


›› Canadian Forces Victoria Rifles Of Canada, badge (insignia)

- ID 15672


›› Canadian Hydrographic Service, badge

- ID 32746


›› Canadian Naval Radio Station (NRS) Newport Corner, badge (crest)

- ID 11648


›› Canadian Naval Reserve HMCS Cabot, badge (crest)

- ID 11637


›› Canadian Naval Reserve HMCS Carleton, badge (crest)

- ID 11638


›› Canadian Naval Reserve HMCS Cataraqui, badge (crest)

- ID 11631


›› Canadian Naval Reserve HMCS Champlain, badge (crest)

- ID 11632


›› Canadian Naval Reserve HMCS Chippawa (Canada), badge (crest)

- ID 11218


›› Canadian Naval Reserve HMCS Discovery (Canada), badge (crest)

- ID 11212


›› Canadian Naval Reserve HMCS Donnacona (Canada), badge (crest)

- ID 11217


›› Canadian Naval Reserve HMCS Griffon (Canada), badge (crest)

- ID 11213


›› Canadian Naval Reserve HMCS Hunter, badge (crest)

- ID 11639


›› Canadian Naval Reserve HMCS Jolliet, badge (crest)

- ID 11633


›› Canadian Naval Reserve HMCS Malahat (Canada), badge (crest)

- ID 11214


›› Canadian Naval Reserve HMCS Montcalm, badge (crest)

- ID 11634


›› Canadian Naval Reserve HMCS Nonsuch (Canada), badge (crest)

- ID 11219


›› Canadian Naval Reserve HMCS Prevost, badge (crest)

- ID 11635


›› Canadian Naval Reserve HMCS Queen (Canada), badge (crest)

- ID 11216


›› Canadian Naval Reserve HMCS Queen Charlotte, badge (crest)

- ID 11636


›› Canadian Naval Reserve HMCS Scotian, badge (crest)

- ID 11640


›› Canadian Naval Reserve HMCS Star, badge (crest)

- ID 11641


›› Canadian Naval Reserve HMCS Tecumseh (Canada), badge (crest)

- ID 11215


›› Canadian Naval Reserve HMCS Unicorn, badge (crest)

- ID 11642


›› Canadian Naval Reserve HMCS York, badge (crest)

- ID 11643


›› Canadian Navy Acoustic Data Analysis Centre (Pacific) (ADAC (P)), badge (insignia)

- ID 11659


›› Canadian Navy First Canadian Submarine Squadron, crest (emblem)

- ID 31325


›› Canadian Navy HMCS Chicoutimi (SSK 879), submarine badge (crest)

- ID 11590


›› Canadian Navy HMCS Corner Brook (SSK-878), submarine badge (crest)

- ID 11567


›› Canadian Navy HMCS Ojibwa, crest (emblem)

- ID 31326


›› Canadian Navy HMCS Okanagan, crest (emblem)

- ID 31327


›› Canadian Navy HMCS Onondaga, crest (emblem)

- ID 31328


›› Canadian Navy HMCS Oriole (KC 480), sail training vessel badge (crest)

- ID 11645


›› Canadian Navy HMCS Preserver (AOR 510), replenishment oiler ship badge (crest)

- ID 11647


›› Canadian Navy HMCS Protecteur (AOR 509), replenishment oiler ship badge (crest)

- ID 11646


›› Canadian Navy HMCS Victoria (SSK 876), submarine badge (crest)

- ID 11588


›› Canadian Navy HMCS Windsor (SSK 877), submarine badge (crest)

- ID 11589


›› Canadian Security Intelligence Service, badge

- ID 32747


›› Canadian Submariner`s Badge (Dolphins)

- ID 15705


›› Cologne (North Rhine-Westphalia), coat of arms (#2)

- ID 18516


›› Conservation Officer Service (British Columbia), badge

- ID 32722


›› Conservation Officer Service (British Columbia), coat of arms

- ID 32724


›› Conservation Officer Service (British Columbia), flag

- ID 32723


›› Delta Police Department (British Columbia), badge

- ID 32725


›› Delta Police Department (British Columbia), flag

- ID 32726


›› Department of Public Safety and Emergency Preparedness, badge

- ID 32749


›› Dortmund (North Rhine-Westphalia), coat of arms (#2)

- ID 18517


›› Dortmund (North Rhine-Westphalia), flag (#2)

- ID 18518


›› Dresden (Saxony), coat of arms (#2)

- ID 18519


›› Erfurt (Thuringen), coat of arms (#2)

- ID 18520


›› Essen (North Rhine-Westphalia), coat of arms (#2)

- ID 18521


›› Germany, coat of arms (#2)

- ID 18522


›› Grand Duke Algirdas Mechanized Infantry Battalion 1st Company, emblem

- ID 24330


›› Grand Duke Algirdas Mechanized Infantry Battalion Support Company, emblem

- ID 21711


›› Greater Vancouver Transportation Authority Police Service (British Columbia), badge

- ID 32727


›› Greater Vancouver Transportation Authority Police Service (British Columbia), coat of arms

- ID 32729


›› Greater Vancouver Transportation Authority Police Service (British Columbia), flag

- ID 32728


›› Hamburg, coat of arms (#2)

- ID 18523


›› Hamburg, flag (#2)

- ID 18524


›› Hamburg, small coat of arms (#2)

- ID 18525


›› Hamilton Police Service (Ontario), badge

- ID 32718


›› Hannover (Lower Saxony), coat of arms (#2)

- ID 18526


›› HMAS Adelaide, emblem

- ID 29896


›› HMAS Anzac, emblem

- ID 29897


›› HMAS Archer (P 86), emblem

- ID 30034


›› HMAS Armidale (ACPB 83), emblem

- ID 29717


›› HMAS Arrow, emblem

- ID 29898


›› HMAS Balikpapan, emblem

- ID 29899


›› HMAS Ballarat (FFH 155), emblem

- ID 30069


›› HMAS Banks (G244), emblem

- ID 30035


›› HMAS Barricade, emblem

- ID 29900


›› HMAS Barwon (K406), emblem

- ID 30070


›› HMAS Bayonett, emblem

- ID 29901


›› HMAS Benalla, emblem

- ID 29902


›› HMAS Bendigo, emblem

- ID 29903


›› HMAS Brisbane (DDG 41), emblem

- ID 30036


›› HMAS Brunei, emblem

- ID 29904


›› HMAS Buccaneer (P 100), emblem

- ID 29718


›› HMAS Bunbury, emblem

- ID 29905


›› HMAS Condamine (K698), emblem

- ID 30552


›› HMAS Creswell, emblem

- ID 29906


›› HMAS Darwin (FFG 04), emblem

- ID 29585


›› HMAS Derwent, emblem

- ID 29907


›› HMAS Diamantina, emblem

- ID 29908


›› HMAS Dubbo, emblem

- ID 29909


›› HMAS Duchess, emblem

- ID 29910


›› HMAS Encounter, emblem

- ID 29911


›› HMAS Fremantle (FCPB 203), emblem

- ID 29720


›› HMAS Gawler (FCPB-212), emblem

- ID 29165


›› HMAS Geraldton (FCPB-213), emblem

- ID 29644


›› HMAS Hawk, emblem

- ID 29912


›› HMAS Hawkesbury, emblem

- ID 29945


›› HMAS Hobart (DDG 39), emblem

- ID 30037


›› HMAS Ipswich (FCPB 209), emblem

- ID 29721


›› HMAS Kuttabul, emblem

- ID 29913


›› HMAS Lachlan, emblem

- ID 29914


›› HMAS Lonsdale, emblem

- ID 29915


›› HMAS Macquarie, emblem

- ID 29946


›› HMAS Madang, emblem

- ID 29916


›› HMAS Manoora (L 52), emblem

- ID 29722


›› HMAS Mermaid, emblem

- ID 29917


›› HMAS Moresby, emblem

- ID 29918


›› HMAS Murchison, emblem

- ID 29947


›› HMAS Napier, emblem

- ID 29919


›› HMAS Nepal (D14), emblem

- ID 29404


›› HMAS Nestor, emblem

- ID 29920


›› HMAS Newcastle, emblem

- ID 29948


›› HMAS Nizam, emblem

- ID 30071


›› HMAS Norman, emblem

- ID 29921


›› HMAS Orion, emblem

- ID 29949


›› HMAS Otway (S 59), emblem

- ID 30072


›› HMAS Ovens, emblem

- ID 29922


›› HMAS Paluma, emblem

- ID 29923


›› HMAS Parramatta (FFH 154), emblem

- ID 30038


›› HMAS Perth, emblem

- ID 29924


›› HMAS Pioneer, emblem

- ID 29925


›› HMAS Protector, emblem

- ID 29926


›› HMAS Quality, emblem

- ID 29927


›› HMAS Quickmatch (F04), emblem

- ID 29586


›› HMAS Rushcutter, emblem

- ID 29950


›› HMAS Shepparton, emblem

- ID 29951


›› HMAS Shoalwater (M 81), emblem

- ID 29724


›› HMAS Stirling, emblem

- ID 29928


›› HMAS Stuart, emblem

- ID 29952


›› HMAS Success, emblem

- ID 29929


›› HMAS Swan, emblem

- ID 29940


›› HMAS Tarakan, emblem

- ID 29930


›› HMAS Tarangau, emblem

- ID 29931


›› HMAS Toowoomba, emblem

- ID 29953


›› HMAS Townsville (FCPB 205), emblem

- ID 29725


›› HMAS Vendetta, emblem

- ID 29954


›› HMAS Vengeance, emblem

- ID 29955


›› HMAS Voyager (D04), emblem

- ID 29587


›› HMAS Warramunga (FFH-152), emblem

- ID 29634


›› HMAS Warrnambool (FCPB-204), emblem

- ID 29635


›› HMAS Watson, emblem

- ID 29941


›› Japan, admiral rank flag

- ID 2584


›› Japan, Air Defense Command's flag

- ID 2580


›› Japan, Chief of Staff of Composite Forces' flag

- ID 2581


›› Japan, Coastal Safety Force's flag

- ID 2587


›› Japan, Defense Minister's flag

- ID 2588


›› Japan, flag of Maritime Safety Agency

- ID 2586


›› Japan, Infantry group flag

- ID 2582


›› Japan, naval ensign

- ID 2583


›› Japan, vice admiral rank flag

- ID 2585


›› Jerusalem (Israel), coat of arms (#2)

- ID 18534


›› Juozas Vitkus Engineer Battalion (3rd) General Engineering Company, emblem

- ID 22351


›› Juozas Vitkus Engineer Battalion (4th) Ordnance Company, emblem

- ID 22352


›› Juozas Vitkus Engineer Battalion (5th) Staff and Food Company, emblem

- ID 22857


›› Juozas Vitkus Engineer Battalion 1st Engineer Company, emblem

- ID 22346


›› Juozas Vitkus Engineer Battalion 2nd Engineer Company, emblem

- ID 22347


›› Kazakhstan Committee of Forestry and Wildlife of the Ministry of Ecology, Geology and Natural Resources, emblem

- ID 32041


›› Kazakhstan Ministry of Education and Science, emblem

- ID 31385


›› Kazakhstan State Revenue Committee of the Ministry of Finance, emblem

- ID 31168


›› Kenya Air Force, emblem (logo)

- ID 19208


›› Kenya Army, emblem (logo)

- ID 19209


›› Kenya Defence Forces (KDF), emblem (logo)

- ID 19211


›› Kenya Defence Forces (KDF), flag

- ID 19210


›› Kenya Navy, emblem (logo)

- ID 19212


›› Kiel (Schleswig-Holstein), coat of arms (#2)

- ID 18527


›› Kyrgyzstan Accounts Chamber, emblem

- ID 24613


›› Kyrgyzstan Constitutional Chamber, emblem

- ID 31464


›› Kyrgyzstan Council for the Selection of Judges, emblem

- ID 31320


›› Kyrgyzstan Department of Organic Agriculture of the Ministry of Agriculture, emblem

- ID 31359


›› Kyrgyzstan Finance Police, emblem

- ID 1287


›› Kyrgyzstan Probation Department of the Ministry of Justice, emblem

- ID 31214


›› Kyrgyzstan State Agency for Regulation of the Fuel and Energy, emblem

- ID 31459


›› Kyrgyzstan Supreme Court Juridical department, emblem

- ID 31321


›› Lacombe Police Service (Alberta), badge

- ID 11411


›› Lithuanian–Polish–Ukrainian Brigade (LITPOLUKRBRIG), emblem

- ID 21706


›› Los Angeles (California), seal (black/white)

- ID 18305


›› Louisiana, Cajun flag

- ID 10321


›› Louisiana, Creole flag

- ID 10320


›› Maine, flag (1901)

- ID 10322


›› Mainz (Rhineland-Palatinate), coat of arms (#2)

- ID 18530


›› Massachusetts Navy, historical flag of Washington's Cruisers (1775)

- ID 10368


›› Minnesota, proposal flag (2002)

- ID 10324


›› Munich (Bavaria), small coat of arms (#2)

- ID 18531


›› NATO Energy Security Centre of Excellence (ENSEC COE, Vilnius), emblem

- ID 23813


›› NATO Force Integration Unit (NFIU) Lithuania, emblem

- ID 23814


›› New Jersey Attorney General, seal

- ID 19510


›› New Jersey Board of Public Utilities (BPU), seal

- ID 19511


›› New Jersey Department of Environmental Protection, seal

- ID 19512


›› New Jersey Department of Military and Veterans Affairs, seal

- ID 19513


›› New Jersey Department of Transportation, seal

- ID 19514


›› New Jersey Office of Homeland Security and Preparedness, seal

- ID 19515


›› New Jersey State Police, logo

- ID 20613


›› New York District Attorney, seal

- ID 21423


›› North Carolina Supreme Court, seal

- ID 18696


›› Nürnberg (Bavaria), small coat of arms (#2)

- ID 18532


›› Oklahoma, flag (1911)

- ID 10323


›› Pennsylvania Germans, flag

- ID 10342


›› Pennsylvania Juvenile Justice, seal

- ID 20457


›› Princess Patricia`s Canadian Light Infantry, badge

- ID 26525


›› Rawson (Argentina), flag

- ID 14287


›› Rawson (Argentina), seal

- ID 14286


›› Regina Police Service (Saskatchewan), badge

- ID 18563


›› Royal Australian Air Force Band, emblem

- ID 30041


›› Royal Australian Air Force College (RAAF College, RAAFCOL), badge

- ID 16301


›› Royal Australian Armoured Corps (RAAC), badge

- ID 16302


›› Royal Australian Armoured Corps (RAAC), badge (#2)

- ID 30597


›› Royal Australian Army Chaplains Department (Christian) (RAACD(C)), badge

- ID 16303


›› Royal Australian Army Chaplains Department (Jewish) (RAACD(J)), badge

- ID 16304


›› Royal Australian Army Dental Corps (RAADC), badge

- ID 16305


›› Royal Australian Army Educational Corps (RAAEC), badge

- ID 16306


›› Royal Australian Army Medical Corps (RAAMC), badge

- ID 16307


›› Royal Australian Army Nursing Corps (RAANC), badge

- ID 16308


›› Royal Australian Army Ordnance Corps (RAAOC), badge

- ID 16309


›› Royal Australian Army Pay Corps (RAAPC), badge

- ID 16310


›› Royal Australian Artillery (RAA), badge

- ID 16311


›› Royal Australian Corps of Military Police (RACMP), badge

- ID 16312


›› Royal Australian Corps of Signals (RASigs), badge

- ID 16313


›› Royal Australian Corps of Transport (RACT), badge

- ID 16314


›› Royal Australian Electrical & Mechanical Engineers (RAEME), badge

- ID 16315


›› Royal Australian Engineers (RAE), badge

- ID 16316


›› Royal Australian Infantry Corps (RA Inf), badge

- ID 16317


›› Royal Australian Navy 805th Squadron, emblem

- ID 29932


›› Royal Australian Navy 816th Squadron, emblem

- ID 29933


›› Royal Australian Navy 817th Squadron, emblem

- ID 29934


›› Royal Australian Navy 851st Squadron, emblem

- ID 30040


›› Royal Australian Regiment, badge

- ID 20624


›› Royal Australian Survey Corps (RASvy), badge

- ID 16319


›› Royal Canadian Air Force (RCAF) Loadmaster, badge

- ID 31147


›› RSA Heraldry Bureau, coat of arms

- ID 27014


›› Ryukyu islands (Japan), unofficial flag

- ID 2387


›› Saint Patrick's Battalion (Los San Patricios), flag (1846, Erin Go Bragh flag)

- ID 10191


›› Sopron (Hungary), coat of arms

- ID 13479


›› South Carolina, historical flag of Fort Maultrie (1775)

- ID 10369


›› South Ossetia Office of Public Prosecutor, emblem

- ID 31324


›› South Ossetian Border Directorate of the Russian Federal Security Service, emblem (badge)

- ID 24620


›› Stuttgart (Baden-Württemberg), coat of arms (#2)

- ID 18533


›› Szeged (Hungary), coat of arms

- ID 13480


›› Székesfehérvár (Hungary), coat of arms

- ID 13481


›› Szolnok (Hungary), coat of arms

- ID 13482


›› Szombathely (Hungary), coat of arms

- ID 13483


›› Taber Police Service (Alberta), badge

- ID 18878


›› Tatabánya (Hungary), coat of arms

- ID 13484


›› U.S. 11th Marine Expeditionary Unit (11th MEU), emblem

- ID 11373


›› U.S. 1st Marine Special Operations Battalion (1st MSOB), emblem

- ID 11753


›› U.S. 22nd Marine Expeditionary Unit (22nd MEU), branch insignia

- ID 12163


›› U.S. 24th Marine Expeditionary Unit (24th MEU), branch insignia

- ID 12164


›› U.S. 26th Marine Expeditionary Unit (26th MEU), branch insignia

- ID 12165


›› U.S. 2nd Marine Special Operations Battalion (2nd MSOB), emblem

- ID 11754


›› U.S. Air Force 172nd Combat Communications Flight, emblem

- ID 14384


›› U.S. Air Force 173rd Combat Communications Flight, emblem

- ID 14385


›› U.S. Air Force 1st Airborne Command and Control Squadron (1st ACCS), emblem (patch)

- ID 12678


›› U.S. Air Force 7th Expeditionary Airborne Command and Control Squadron (7th EACCS), emblem (patch)

- ID 12679


›› U.S. Air Force 94th Combat Communications Flight, emblem

- ID 14383


›› U.S. Air Force 961st Airborne Air Control Squadron (961st AACF), emblem

- ID 12681


›› U.S. Air Force 962nd Airborne Air Control Squadron (962d AACS, Eyes of the Eagle), emblem

- ID 12682


›› U.S. Air Force 963rd Airborne Air Control Squadron (963d AACS), emblem

- ID 12683


›› U.S. Air Force 964th Airborne Air Control Squadron (964th AACS), emblem

- ID 12684


›› U.S. Army 102nd Signal Battalion, coat of arms

- ID 11829


›› U.S. Army 102nd Signal Battalion, distinctive unit insignia

- ID 11828


›› U.S. Army 105th Military Police Battalion, coat of arms

- ID 12199


›› U.S. Army 105th Military Police Battalion, distinctive unit insignia

- ID 12198


›› U.S. Army 105th Signal Battalion, coat of arms

- ID 11801


›› U.S. Army 105th Signal Battalion, distinctive unit insignia

- ID 11800


›› U.S. Army 108th Signal Battalion, coat of arms

- ID 11803


›› U.S. Army 108th Signal Battalion, distinctive unit insignia

- ID 11802


›› U.S. Army 10th Field Artillery Regiment, coat of arms

- ID 17576


›› U.S. Army 10th Field Artillery Regiment, distinctive unit insignia

- ID 17577


›› U.S. Army 10th Military Police Battalion, coat of arms

- ID 12219


›› U.S. Army 10th Military Police Battalion, distinctive unit insignia

- ID 12218


›› U.S. Army 10th Psychological Operations Battalion (10th PSYOP), coat of arms

- ID 14127


›› U.S. Army 10th Psychological Operations Battalion (10th PSYOP), distinctive unit insignia

- ID 14128


›› U.S. Army 10th Signal Battalion, coat of arms

- ID 11817


›› U.S. Army 10th Signal Battalion, distinctive unit insignia

- ID 11816


›› U.S. Army 10th Transportation Battalion, coat of arms

- ID 12573


›› U.S. Army 10th Transportation Battalion, distinctive unit insignia

- ID 12572


›› U.S. Army 112th Military Police Battalion, coat of arms

- ID 12201


›› U.S. Army 112th Military Police Battalion, distinctive unit insignia

- ID 12200


›› U.S. Army 114th Signal Battalion, coat of arms

- ID 11821


›› U.S. Army 114th Signal Battalion, distinctive unit insignia

- ID 11820


›› U.S. Army 115th Military Police Battalion, coat of arms

- ID 12203


›› U.S. Army 115th Military Police Battalion, distinctive unit insignia

- ID 12202


›› U.S. Army 117th Military Police Battalion, coat of arms

- ID 12205


›› U.S. Army 117th Military Police Battalion, distinctive unit insignia

- ID 12204


›› U.S. Army 11th Psychological Operations Battalion (11th PSYOP), coat of arms

- ID 14130


›› U.S. Army 11th Psychological Operations Battalion (11th PSYOP), distinctive unit insignia

- ID 14129


›› U.S. Army 11th Transportation Battalion, coat of arms

- ID 12575


›› U.S. Army 11th Transportation Battalion, distinctive unit insignia

- ID 12574


›› U.S. Army 121st Signal Battalion, coat of arms

- ID 11827


›› U.S. Army 121st Signal Battalion, distinctive unit insignia

- ID 11826


›› U.S. Army 123rd Signal Battalion, coat of arms

- ID 11831


›› U.S. Army 123rd Signal Battalion, distinctive unit insignia

- ID 11830


›› U.S. Army 125th Signal Battalion, coat of arms

- ID 11819


›› U.S. Army 125th Signal Battalion, distinctive unit insignia

- ID 11818


›› U.S. Army 129th Signal Battalion, coat of arms

- ID 11823


›› U.S. Army 129th Signal Battalion, distinctive unit insignia

- ID 11822


›› U.S. Army 12th Psychological Operations Battalion (12th PSYOP), coat of arms

- ID 14131


›› U.S. Army 12th Psychological Operations Battalion (12th PSYOP), distinctive unit insignia

- ID 14132


›› U.S. Army 136th Military Police Battalion, coat of arms

- ID 12207


›› U.S. Army 136th Military Police Battalion, distinctive unit insignia

- ID 12206


›› U.S. Army 13th Psychological Operations Battalion (13th PSYOP), coat of arms

- ID 14134


›› U.S. Army 13th Psychological Operations Battalion (13th PSYOP), distinctive unit insignia

- ID 14133


›› U.S. Army 14th Psychological Operations Battalion (14th PSYOP), coat of arms

- ID 14135


›› U.S. Army 14th Psychological Operations Battalion (14th PSYOP), distinctive unit insignia

- ID 14136


›› U.S. Army 14th Transportation Battalion, coat of arms

- ID 12577


›› U.S. Army 14th Transportation Battalion, distinctive unit insignia

- ID 12576


›› U.S. Army 151st Signal Battalion, coat of arms

- ID 11805


›› U.S. Army 151st Signal Battalion, distinctive unit insignia

- ID 11804


›› U.S. Army 156th Information Operations Battalion (156th IOC), coat of arms

- ID 14098


›› U.S. Army 156th Information Operations Battalion (156th IOC), distinctive unit insignia

- ID 14099


›› U.S. Army 15th Psychological Operations Battalion (15th PSYOP), coat of arms

- ID 14138


›› U.S. Army 15th Psychological Operations Battalion (15th PSYOP), distinctive unit insignia

- ID 14137


›› U.S. Army 16th Psychological Operations Battalion (16th PSYOP), coat of arms

- ID 14139


›› U.S. Army 16th Psychological Operations Battalion (16th PSYOP), distinctive unit insignia

- ID 14140


›› U.S. Army 16th Signal Battalion, coat of arms

- ID 11807


›› U.S. Army 16th Signal Battalion, distinctive unit insignia

- ID 11806


›› U.S. Army 173rd Airborne Brigade Combat Team (Sky Soldiers), distinctive unit insignia

- ID 12675


›› U.S. Army 173rd Airborne Brigade Combat Team (Sky Soldiers), shoulder sleeve insignia

- ID 12676


›› U.S. Army 17th Psychological Operations Battalion (17th PSYOP), coat of arms

- ID 14142


›› U.S. Army 17th Psychological Operations Battalion (17th PSYOP), distinctive unit insignia

- ID 14141


›› U.S. Army 17th Signal Battalion, coat of arms

- ID 11825


›› U.S. Army 17th Signal Battalion, distinctive unit insignia

- ID 11824


›› U.S. Army 18th Psychological Operations Battalion (18th PSYOP), coat of arms

- ID 14143


›› U.S. Army 18th Psychological Operations Battalion (18th PSYOP), distinctive unit insignia

- ID 14144


›› U.S. Army 19th Military Police Battalion, coat of arms

- ID 12217


›› U.S. Army 19th Military Police Battalion, distinctive unit insignia

- ID 12216


›› U.S. Army 1st Psychological Operations Battalion (1st PSYOP), coat of arms

- ID 14119


›› U.S. Army 1st Psychological Operations Battalion (1st PSYOP), distinctive unit insignia

- ID 14120


›› U.S. Army 1st Signal Battalion, coat of arms

- ID 11809


›› U.S. Army 1st Signal Battalion, distinctive unit insignia

- ID 11808


›› U.S. Army 1st Space Battalion, coat of arms

- ID 12660


›› U.S. Army 1st Space Battalion, distinctive unit insignia

- ID 12659


›› U.S. Army 1st Transportation Battalion, coat of arms

- ID 12571


›› U.S. Army 1st Transportation Battalion, distinctive unit insignia

- ID 12570


›› U.S. Army 204th Military Intelligence Battalion, coat of arms

- ID 12466


›› U.S. Army 204th Military Intelligence Battalion, distinctive unit insignia

- ID 12465


›› U.S. Army 22nd Military Police Battalion, coat of arms

- ID 12221


›› U.S. Army 22nd Military Police Battalion, distinctive unit insignia

- ID 12220


›› U.S. Army 24th Signal Battalion, coat of arms

- ID 11811


›› U.S. Army 24th Signal Battalion, distinctive unit insignia

- ID 11810


›› U.S. Army 24th Transportation Battalion, coat of arms

- ID 12579


›› U.S. Army 24th Transportation Battalion, distinctive unit insignia

- ID 12578


›› U.S. Army 25th Transportation Battalion, coat of arms

- ID 12581


›› U.S. Army 25th Transportation Battalion, distinctive unit insignia

- ID 12580


›› U.S. Army 27th Transportation Battalion & 27th Transportation Center, distinctive unit insignia

- ID 12582


›› U.S. Army 27th Transportation Battalion, coat of arms

- ID 12583


›› U.S. Army 28th Transportation Battalion, distinctive unit insignia

- ID 12584


›› U.S. Army 2nd Information Operations Battalion (2nd IOC), coat of arms

- ID 14102


›› U.S. Army 2nd Information Operations Battalion (2nd IOC), distinctive unit insignia

- ID 14103


›› U.S. Army 302nd Information Operations Battalion (302nd IOC), coat of arms

- ID 14097


›› U.S. Army 302nd Information Operations Battalion (302nd IOC), distinctive unit insignia

- ID 14096


›› U.S. Army 303rd Military Intelligence Battalion, coat of arms

- ID 12430


›› U.S. Army 303rd Military Intelligence Battalion, distinctive unit insignia

- ID 12429


›› U.S. Army 304th Information Operations Battalion (304th IOC), coat of arms

- ID 14101


›› U.S. Army 304th Information Operations Battalion (304th IOC), distinctive unit insignia

- ID 14100


›› U.S. Army 304th Military Intelligence Battalion, coat of arms

- ID 12432


›› U.S. Army 304th Military Intelligence Battalion, distinctive unit insignia

- ID 12431


›› U.S. Army 304th Signal Battalion, coat of arms

- ID 11815


›› U.S. Army 304th Signal Battalion, distinctive unit insignia

- ID 11814


›› U.S. Army 305th Military Intelligence Battalion, coat of arms

- ID 12434


›› U.S. Army 305th Military Intelligence Battalion, distinctive unit insignia

- ID 12433


›› U.S. Army 306th Military Intelligence Battalion, coat of arms

- ID 12436


›› U.S. Army 306th Military Intelligence Battalion, distinctive unit insignia

- ID 12435


›› U.S. Army 309th Military Intelligence Battalion, coat of arms

- ID 12438


›› U.S. Army 309th Military Intelligence Battalion, distinctive unit insignia

- ID 12437


›› U.S. Army 30th Signal Battalion, coat of arms

- ID 11813


›› U.S. Army 30th Signal Battalion, distinctive unit insignia

- ID 11812


›› U.S. Army 310th Military Intelligence Battalion, coat of arms

- ID 12440


›› U.S. Army 310th Military Intelligence Battalion, distinctive unit insignia

- ID 12439


›› U.S. Army 312th Military Intelligence Battalion, coat of arms

- ID 12442


›› U.S. Army 312th Military Intelligence Battalion, distinctive unit insignia

- ID 12441


›› U.S. Army 313th Military Intelligence Battalion, coat of arms

- ID 12444


›› U.S. Army 313th Military Intelligence Battalion, distinctive unit insignia

- ID 12443


›› U.S. Army 314th Military Intelligence Battalion, coat of arms

- ID 12446


›› U.S. Army 314th Military Intelligence Battalion, distinctive unit insignia

- ID 12445


›› U.S. Army 319th Military Intelligence Battalion, coat of arms

- ID 12448


›› U.S. Army 319th Military Intelligence Battalion, distinctive unit insignia

- ID 12447


›› U.S. Army 321st Military Intelligence Battalion, coat of arms

- ID 12450


›› U.S. Army 321st Military Intelligence Battalion, distinctive unit insignia

- ID 12449


›› U.S. Army 323rd Military Intelligence Battalion, coat of arms

- ID 12452


›› U.S. Army 323rd Military Intelligence Battalion, distinctive unit insignia

- ID 12451


›› U.S. Army 337th Military Intelligence Battalion, coat of arms

- ID 12454


›› U.S. Army 337th Military Intelligence Battalion, distinctive unit insignia

- ID 12453


›› U.S. Army 341st Military Intelligence Battalion, coat of arms

- ID 12456


›› U.S. Army 341st Military Intelligence Battalion, distinctive unit insignia

- ID 12455


›› U.S. Army 344th Military Intelligence Battalion, coat of arms

- ID 12458


›› U.S. Army 344th Military Intelligence Battalion, distinctive unit insignia

- ID 12457


›› U.S. Army 368th Military Intelligence Battalion, coat of arms

- ID 12460


›› U.S. Army 368th Military Intelligence Battalion, distinctive unit insignia

- ID 12459


›› U.S. Army 36th Transportation Battalion, distinctive unit insignia

- ID 12585


›› U.S. Army 372nd Military Intelligence Battalion, coat of arms

- ID 12462


›› U.S. Army 372nd Military Intelligence Battalion, distinctive unit insignia

- ID 12461


›› U.S. Army 378th Military Intelligence Battalion, coat of arms

- ID 12464


›› U.S. Army 378th Military Intelligence Battalion, distinctive unit insignia

- ID 12463


›› U.S. Army 38th Transportation Battalion, distinctive unit insignia

- ID 12586


›› U.S. Army 39th Transportation Battalion, coat of arms

- ID 12588


›› U.S. Army 39th Transportation Battalion, distinctive unit insignia

- ID 12587


›› U.S. Army 3rd Field Artillery Regiment, coat of arms

- ID 17592


›› U.S. Army 3rd Field Artillery Regiment, distinctive unit insignia

- ID 17593


›› U.S. Army 3rd Psychological Operations Battalion (3rd PSYOP), coat of arms

- ID 14122


›› U.S. Army 3rd Psychological Operations Battalion (3rd PSYOP), distinctive unit insignia

- ID 14121


›› U.S. Army 40th Military Police Battalion, coat of arms

- ID 12223


›› U.S. Army 40th Military Police Battalion, distinctive unit insignia

- ID 12222


›› U.S. Army 519th Military Intelligence Battalion, coat of arms

- ID 12468


›› U.S. Army 519th Military Intelligence Battalion, distinctive unit insignia

- ID 12467


›› U.S. Army 51st Military Police Battalion, coat of arms

- ID 12225


›› U.S. Army 51st Military Police Battalion, distinctive unit insignia

- ID 12224


›› U.S. Army 524th Military Intelligence Battalion, coat of arms

- ID 12470


›› U.S. Army 524th Military Intelligence Battalion, distinctive unit insignia

- ID 12469


›› U.S. Army 527th Military Intelligence Battalion, coat of arms

- ID 12472


›› U.S. Army 527th Military Intelligence Battalion, distinctive unit insignia

- ID 12471


›› U.S. Army 532nd Military Intelligence Battalion, coat of arms

- ID 12474


›› U.S. Army 532nd Military Intelligence Battalion, distinctive unit insignia

- ID 12473


›› U.S. Army 5th Psychological Operations Battalion (5th PSYOP), coat of arms

- ID 14123


›› U.S. Army 5th Psychological Operations Battalion (5th PSYOP), distinctive unit insignia

- ID 14124


›› U.S. Army 628th Military Intelligence Battalion, coat of arms

- ID 12476


›› U.S. Army 628th Military Intelligence Battalion, distinctive unit insignia

- ID 12475


›› U.S. Army 629th Military Intelligence Battalion, coat of arms

- ID 12478


›› U.S. Army 629th Military Intelligence Battalion, distinctive unit insignia

- ID 12477


›› U.S. Army 640th Military Intelligence Battalion, coat of arms

- ID 12480


›› U.S. Army 640th Military Intelligence Battalion, distinctive unit insignia

- ID 12479


›› U.S. Army 642nd Military Intelligence Battalion, coat of arms

- ID 12482


›› U.S. Army 642nd Military Intelligence Battalion, distinctive unit insignia

- ID 12481


›› U.S. Army 6th Psychological Operations Battalion (6th PSYOP), coat of arms

- ID 14115


›› U.S. Army 6th Psychological Operations Battalion (6th PSYOP), distinctive unit insignia

- ID 14116


›› U.S. Army 6th Transportation Battalion, coat of arms

- ID 12590


›› U.S. Army 6th Transportation Battalion, distinctive unit insignia

- ID 12589


›› U.S. Army 7th Transportation Battalion, coat of arms

- ID 12592


›› U.S. Army 7th Transportation Battalion, distinctive unit insignia

- ID 12591


›› U.S. Army 8th Field Artillery Regiment, coat of arms

- ID 17584


›› U.S. Army 8th Field Artillery Regiment, distinctive unit insignia

- ID 17585


›› U.S. Army 8th Psychological Operations Battalion (8th PSYOP), coat of arms

- ID 14118


›› U.S. Army 8th Psychological Operations Battalion (8th PSYOP), distinctive unit insignia

- ID 14117


›› U.S. Army 91st Military Police Battalion, coat of arms

- ID 12227


›› U.S. Army 91st Military Police Battalion, distinctive unit insignia

- ID 12226


›› U.S. Army 92nd Military Police Battalion, coat of arms

- ID 12209


›› U.S. Army 92nd Military Police Battalion, distinctive unit insignia

- ID 12208


›› U.S. Army 93th Military Police Battalion, coat of arms

- ID 12211


›› U.S. Army 93th Military Police Battalion, distinctive unit insignia

- ID 12210


›› U.S. Army 95th Military Police Battalion, coat of arms

- ID 12213


›› U.S. Army 95th Military Police Battalion, distinctive unit insignia

- ID 12212


›› U.S. Army 96th Military Police Battalion, coat of arms

- ID 12215


›› U.S. Army 96th Military Police Battalion, distinctive unit insignia

- ID 12214


›› U.S. Army 9th Psychological Operations Battalion (9th PSYOP), coat of arms

- ID 14126


›› U.S. Army 9th Psychological Operations Battalion (9th PSYOP), distinctive unit insignia

- ID 14125


›› U.S. Army Band, coat of arms

- ID 12643


›› U.S. Army Band, distinctive unit insignia

- ID 12642


›› U.S. Army Command and General Staff College (C&GSC), Combined Arms Center (CAC) & Fort Leavenworth, device (coat of arms)

- ID 11362


›› U.S. Army Command and General Staff College (C&GSC), Combined Arms Center (CAC) & Fort Leavenworth, distinctive unit insignia

- ID 11363


›› U.S. Army Command and General Staff College (C&GSC), Combined Arms Center (CAC) & Fort Leavenworth, shoulder sleeve insignia

- ID 11361


›› U.S. Army Field Band, distinctive unit insignia

- ID 12645


›› U.S. Army Field Band, shoulder sleeve insignia

- ID 12644


›› U.S. Army Philippine Battalion, shoulder sleeve insignia

- ID 12639


›› U.S. Army Sergeants Major Academy (USASMA), device (coat of arms)

- ID 11335


›› U.S. Army Sergeants Major Academy (USASMA), distinctive unit insignia

- ID 11336


›› U.S. Army Sergeants Major Academy (USASMA), shoulder sleeve insignia

- ID 11337


›› U.S. Army Soldier Support Institute (USASSI), device (coat of arms)

- ID 12651


›› U.S. Army Soldier Support Institute (USASSI), distinctive unit insignia

- ID 12650


›› U.S. Army Soldier Support Institute (USASSI), shoulder sleeve insignia

- ID 12649


›› U.S. Army Warrant Office Career Center, device (coat of arms)

- ID 12648


›› U.S. Army Warrant Office Career Center, distinctive unit insignia

- ID 12646


›› U.S. Army Warrant Office Career Center, shoulder sleeve insignia

- ID 12647


›› U.S. Army, United in Memory Emblem (2001/09/11)

- ID 6436


›› U.S. B. Franklin`s «Join, or Die» Flag (1754)

- ID 10463


›› U.S. Bennigton flag (1777)

- ID 10367


›› U.S. Culpeper Flag (1775-1776)

- ID 10461


›› U.S. Drug Enforcement Administration (DEA), special agent badge

- ID 14154


›› U.S. Fire Administration, emblem

- ID 20825


›› U.S. Gadsden Flag (1775)

- ID 10462


›› U.S. Marine 2nd Reconnaissance Battalion, emblem

- ID 12158


›› U.S. Marine 3rd Force Reconnaissance Company, emblem

- ID 12160


›› U.S. Marine 4th Force Reconnaissance Company, emblem

- ID 12161


›› U.S. Marine Corps 5th Battalion 14th Marines Regiment, insignia

- ID 14299


›› U.S. Marine Force Reconnaissance Company, emblem

- ID 12159


›› U.S. Military Sealift Command (MSC), emblem of Office Diego Garcia

- ID 11739


›› U.S. National Communications System (NCS), seal

- ID 21307


›› U.S. National Oceanic and Atmospheric Administration (NOAA) Commissioned Officer Corps, seal

- ID 18695


›› U.S. Naval Aviation Enterprise (NAE), insignia (emblem)

- ID 12148


›› U.S. Navy Chief Petty Officer, rank insignia (collar device)

- ID 12152


›› U.S. Navy LCS Classron (Littoral Combat Ship), emblem (crest)

- ID 14514


›› U.S. Navy LCS Squadron One (Littoral Combat Ship), emblem (crest)

- ID 14079


›› U.S. Navy Master Chief Petty Officer, rank insignia (collar device)

- ID 14240


›› U.S. Navy Senior Chief Petty Officer, rank insignia (collar device)

- ID 12153


›› U.S. Navy USS Abraham Lincoln (CVN-72), supercarrier emblem

- ID 11129


›› U.S. Navy USS Alabama (SSBN-731), submarine emblem

- ID 14525


›› U.S. Navy USS Alaska (SSBN-732), submarine emblem

- ID 14337


›› U.S. Navy USS Albany (SSN-753), submarine emblem

- ID 14344


›› U.S. Navy USS Albuquerque (SSN-706), submarine emblem

- ID 14323


›› U.S. Navy USS Alexandria (SSN-757), submarine emblem

- ID 14345


›› U.S. Navy USS America (LHA-6), amphibious assault ship emblem

- ID 14516


›› U.S. Navy USS Annapolis (SSN-760), submarine emblem

- ID 14308


›› U.S. Navy USS Antietam (CG 54), cruiser emblem (crest)

- ID 14167


›› U.S. Navy USS Antrim (FFG-20), frigate emblem (crest)

- ID 14076


›› U.S. Navy USS Anzio (CG 68), cruiser emblem (crest)

- ID 14177


›› U.S. Navy USS Arleigh Burke (DDG 51), destroyer emblem (crest)

- ID 14086


›› U.S. Navy USS Arlington (LPD 24), amphibious transport dock emblem (crest)

- ID 14080


›› U.S. Navy USS Atlanta (SSN-712), submarine emblem

- ID 14358


›› U.S. Navy USS Aubrey Fitch (FFG 34), frigate emblem (crest, decommissioned)

- ID 14077


›› U.S. Navy USS Barry (DDG 52), destroyer emblem (crest)

- ID 14087


›› U.S. Navy USS Bataan (LHD-5), amphibious assault ship emblem (crest)

- ID 11709


›› U.S. Navy USS Belleau Wood (LHA-3, «Devil Dog»), amphibious assault ship emblem (decommissioned)

- ID 11702


›› U.S. Navy USS Benfold (DDG 65), destroyer emblem (crest)

- ID 14088


›› U.S. Navy USS Birmingham (SSN-695), submarine emblem

- ID 14324


›› U.S. Navy USS Boise (SSN-764), submarine emblem

- ID 14314


›› U.S. Navy USS Bonhomme Richard (LHD-6, Revolutionary Gator), amphibious assault ship emblem (crest)

- ID 11710


›› U.S. Navy USS Boxer (LHD-4), amphibious assault ship emblem (crest)

- ID 11708


›› U.S. Navy USS Bremerton (SSN-698), submarine emblem

- ID 14325


›› U.S. Navy USS Buffalo (SSN-715), submarine emblem

- ID 14309


›› U.S. Navy USS Bunker Hill (CG 52), cruiser emblem (crest)

- ID 14165


›› U.S. Navy USS Carl Vinson (CVN-70), supercarrier emblem

- ID 11127


›› U.S. Navy USS Chafee (DDG 90), destroyer emblem (crest)

- ID 14091


›› U.S. Navy USS Cheyenne (SSN-773), submarine emblem

- ID 14310


›› U.S. Navy USS Chicago (SSN-721), former submarine emblem

- ID 14346


›› U.S. Navy USS Chicago (SSN-721), submarine emblem

- ID 14315


›› U.S. Navy USS Chosin (CG 65), cruiser emblem (crest)

- ID 14175


›› U.S. Navy USS Chung-Hoon (DDG 93), destroyer emblem (crest)

- ID 14092


›› U.S. Navy USS City of Corpus Christy (SSN-705), submarine emblem

- ID 14326


›› U.S. Navy USS Cole (DDG 67), destroyer emblem (crest)

- ID 14089


›› U.S. Navy USS Columbus (SSN-762), submarine emblem

- ID 14316


›› U.S. Navy USS Connecticut (SSN-22), submarine emblem

- ID 14313


›› U.S. Navy USS Constitution (Old Ironsides), ship emblem

- ID 14517


›› U.S. Navy USS Cowpens (CG 63), cruiser emblem (crest)

- ID 14181


›› U.S. Navy USS Decatur (DDG 73), destroyer emblem (crest)

- ID 14090


›› U.S. Navy USS Dewey (DDG 105), destroyer emblem (crest)

- ID 14230


›› U.S. Navy USS Donald Cook (DDG 75), destroyer emblem (crest)

- ID 14216


›› U.S. Navy USS Dwight D. Eisenhower (CVN-69), supercarrier emblem

- ID 11126


›› U.S. Navy USS Enterprise (CVN-65), supercarrier emblem (crest)

- ID 11124


›› U.S. Navy USS Essex (LHD-2), amphibious assault ship emblem

- ID 11706


›› U.S. Navy USS Estocin (FFG-20), frigate emblem (crest, decommissioned)

- ID 14515


›› U.S. Navy USS Farragut (DDG 99), destroyer emblem (crest)

- ID 14229


›› U.S. Navy USS Fitzgerald (DDG 62), destroyer emblem (crest)

- ID 14213


›› U.S. Navy USS Fort Worth (LCS 3), littoral combat ship emblem (crest)

- ID 14078


›› U.S. Navy USS George H. W. Bush (CVN-77), supercarrier emblem

- ID 11134


›› U.S. Navy USS George Washington (CVN-73), supercarrier emblem

- ID 11130


›› U.S. Navy USS Georgia (SSGN-729), submarine emblem

- ID 14341


›› U.S. Navy USS Gettysburg (CG 64), cruiser emblem (crest)

- ID 14174


›› U.S. Navy USS Gonzalez (DDG 66), destroyer emblem (crest)

- ID 14214


›› U.S. Navy USS Green Bay (LPD 20), amphibious transport dock emblem (crest)

- ID 14081


›› U.S. Navy USS Greeneville (SSN-772), submarine emblem

- ID 14307


›› U.S. Navy USS Halsey (DDG 97), destroyer emblem (crest)

- ID 14228


›› U.S. Navy USS Hampton (SSN-767), submarine emblem

- ID 14529


›› U.S. Navy USS Harry S. Truman (CVN-75), supercarrier emblem

- ID 11132


›› U.S. Navy USS Hawaii (SSN-776), submarine emblem

- ID 14317


›› U.S. Navy USS Helena (SSN-725), submarine emblem

- ID 14318


›› U.S. Navy USS Henry M. Jackson (SSBN-730), submarine emblem

- ID 14338


›› U.S. Navy USS Higgins (DDG 76), destroyer emblem (crest)

- ID 14217


›› U.S. Navy USS Honolulu (SSN-718), submarine emblem (crest, decommissioned)

- ID 14528


›› U.S. Navy USS Houston (SSN-713), submarine emblem

- ID 14360


›› U.S. Navy USS Hué City (CG 66), cruiser emblem (crest)

- ID 14176


›› U.S. Navy USS Hyman G. Rickover (SSN-709), submarine emblem

- ID 14327


›› U.S. Navy USS Iwo Jima (LHD-7), amphibious assault ship emblem (crest)

- ID 11711


›› U.S. Navy USS Jacksonville (SSN-699), submarine emblem

- ID 14328


›› U.S. Navy USS Jason Dunham (DDG 109), destroyer emblem (crest)

- ID 14232


›› U.S. Navy USS John C. Stennis (CVN-74), supercarrier emblem

- ID 11131


›› U.S. Navy USS John F. Kennedy (SV-67), supercarrier emblem (decommissioned)

- ID 11125


›› U.S. Navy USS Kearsarge (LHD-3), amphibious assault ship emblem (crest)

- ID 11707


›› U.S. Navy USS Key West (SSN-722), submarine emblem

- ID 14361


›› U.S. Navy USS La Jolla (SSN-701), submarine emblem

- ID 14329


›› U.S. Navy USS Lake Champlain (CG 57), cruiser emblem (crest)

- ID 14170


›› U.S. Navy USS Lake Erie (CG 70), cruiser emblem (crest)

- ID 14179


›› U.S. Navy USS Lassen (DDG 82), destroyer emblem (crest)

- ID 14222


›› U.S. Navy USS Leyte Gulf (CG 55), cruiser emblem (crest)

- ID 14168


›› U.S. Navy USS Los Angeles (SSN-688), submarine emblem (crest, decommissioned)

- ID 14530


›› U.S. Navy USS Louisville (SSN-724), submarine emblem

- ID 14330


›› U.S. Navy USS Mahan (DDG 72), destroyer emblem (crest)

- ID 14215


›› U.S. Navy USS Makin Island (LHD-8), amphibious assault ship emblem (crest)

- ID 11712


›› U.S. Navy USS Maryland (SSBN-738), submarine emblem

- ID 14526


›› U.S. Navy USS Mason (DDG 87), destroyer emblem (crest)

- ID 14224


›› U.S. Navy USS McCampbell (DDG 85), destroyer emblem (crest)

- ID 14223


›› U.S. Navy USS Memphis (SSN-691), submarine emblem

- ID 14331


›› U.S. Navy USS Mesa Verde (LPD 19), amphibious transport dock emblem (crest)

- ID 14082


›› U.S. Navy USS Miami (SSN-755), submarine emblem

- ID 14332


›› U.S. Navy USS Michael Murphy (DDG 112), destroyer emblem (crest)

- ID 14093


›› U.S. Navy USS Michigan (SSGN-727), submarine emblem

- ID 14343


›› U.S. Navy USS Minneapolis (SSN-708), submarine emblem

- ID 14359


›› U.S. Navy USS Mississippi (SSN-782), submarine emblem

- ID 14319


›› U.S. Navy USS Mobile Bay (CG 53), cruiser emblem (crest)

- ID 14166


›› U.S. Navy USS Momsen (DDG 92), previous destroyer emblem (crest)

- ID 14227


›› U.S. Navy USS Montgomery (LCS 8), littoral combat ship emblem (crest)

- ID 19452


›› U.S. Navy USS Montpelier (SSN-765), submarine emblem

- ID 14333


›› U.S. Navy USS Mustin (DDG 89), destroyer emblem (crest)

- ID 14225


›› U.S. Navy USS Nassau (LHA-4), amphibious assault ship emblem

- ID 11703


›› U.S. Navy USS New Mexico (SSN-779), submarine emblem

- ID 14312


›› U.S. Navy USS New Orleans (LPD 18), amphibious transport dock emblem (crest)

- ID 14083


›› U.S. Navy USS New York (LPD 21), amphibious transport dock emblem (crest)

- ID 14084


›› U.S. Navy USS Newport News (SSN-750), submarine emblem

- ID 14347


›› U.S. Navy USS Nimitz (CVN-68), supercarrier emblem

- ID 11123


›› U.S. Navy USS Norfolk (SSN-714), submarine emblem

- ID 14531


›› U.S. Navy USS Normandy (CG 60), cruiser emblem (crest)

- ID 14173


›› U.S. Navy USS O'Kane (DDG 77), destroyer emblem (crest)

- ID 14218


›› U.S. Navy USS Ohio (SSGN-726), submarine emblem

- ID 14342


›› U.S. Navy USS Ohio (SSGN-726), submarine emblem

- ID 14527


›› U.S. Navy USS Oklahoma City (SSN-723), submarine emblem

- ID 14348


›› U.S. Navy USS Olympia (SSN-717), submarine emblem

- ID 14349


›› U.S. Navy USS Oscar Austin (DDG 79), destroyer emblem (crest)

- ID 14220


›› U.S. Navy USS Pasadena (SSN-752), submarine emblem

- ID 14350


›› U.S. Navy USS Peleliu (LHA-5), amphibious assault ship emblem

- ID 11704


›› U.S. Navy USS Philippine Sea (CG 58), cruiser emblem (crest)

- ID 14171


›› U.S. Navy USS Pinckney (DDG 91), destroyer emblem (crest)

- ID 14226


›› U.S. Navy USS Pittsburgh (SSN-720), submarine emblem

- ID 14334


›› U.S. Navy USS Porter (DDG 78), destroyer emblem (crest)

- ID 14219


›› U.S. Navy USS Portsmouth (SSN-707), submarine emblem (crest, decommissioned)

- ID 14532


›› U.S. Navy USS Preble (DDG 88), destroyer emblem (crest)

- ID 14233


›› U.S. Navy USS Princeton (CG 59), cruiser emblem (crest)

- ID 14172


›› U.S. Navy USS Providence (SSN-719), submarine emblem

- ID 14335


›› U.S. Navy USS Rhode Island (SSBN-740), submarine emblem

- ID 14339


›› U.S. Navy USS Ronald Reagan (CVN-76), supercarrier emblem

- ID 11133


›› U.S. Navy USS Roosevelt (DDG 80), destroyer emblem (crest)

- ID 14221


›› U.S. Navy USS Saipan (LHA-2), amphibious assault ship emblem (decommissioned)

- ID 11701


›› U.S. Navy USS Salt Lake City (SSN-716), submarine emblem

- ID 14357


›› U.S. Navy USS San Antonio (LPD 17), amphibious transport dock emblem (crest)

- ID 14085


›› U.S. Navy USS San Francisco (SSN-711), submarine emblem

- ID 14322


›› U.S. Navy USS San Jacinto (CG 56), cruiser emblem (crest)

- ID 14169


›› U.S. Navy USS San Juan (SSN-751), submarine emblem

- ID 14533


›› U.S. Navy USS Santa Fe (SSN-763), submarine emblem

- ID 14321


›› U.S. Navy USS Scranton (SSN-756), submarine emblem

- ID 14351


›› U.S. Navy USS Seawolf (SSN-21), submarine emblem

- ID 14336


›› U.S. Navy USS Shoup (DDG 86), destroyer emblem (crest)

- ID 15008


›› U.S. Navy USS Tarawa (LHA-1, Eagle of the Sea), amphibious assault ship emblem (decommissioned)

- ID 11700


›› U.S. Navy USS Tarawa (LHA-1, Eagle of the Sea), amphibious assault ship emblem (round shape, decommissioned)

- ID 11699


›› U.S. Navy USS Taylor (FFG 50), frigate emblem (crest)

- ID 14074


›› U.S. Navy USS Texas (SSN-775), submarine emblem

- ID 14311


›› U.S. Navy USS Thach (FFG 43), frigate emblem (crest)

- ID 14075


›› U.S. Navy USS Theodore Roosevelt (CVN-71), supercarrier emblem

- ID 11128


›› U.S. Navy USS Ticonderoga (CG 47), cruiser emblem (crest)

- ID 14161


›› U.S. Navy USS Toledo (SSN-769), submarine emblem

- ID 11120


›› U.S. Navy USS Valley Forge (CG 50), cruiser emblem (crest)

- ID 14164


›› U.S. Navy USS Vandegrift (FFG-48), frigate emblem (crest)

- ID 14073


›› U.S. Navy USS Vella Gulf (CG 72), cruiser emblem (crest)

- ID 14180


›› U.S. Navy USS Vicksburg (CG 69), cruiser emblem (crest)

- ID 14178


›› U.S. Navy USS Vincennes (CG 49), cruiser emblem (crest)

- ID 14163


›› U.S. Navy USS Virginia (SSN-774), submarine emblem

- ID 14320


›› U.S. Navy USS Wasp (LHD-1), amphibious assault ship emblem (crest)

- ID 11705


›› U.S. Navy USS Wayne E. Meyer (DDG 108), destroyer emblem (crest)

- ID 14231


›› U.S. Navy USS West Virginia (SSBN-736), submarine emblem

- ID 14340


›› U.S. Navy USS Winstron S. Churchill (DDG 81), destroyer emblem (crest)

- ID 14234


›› U.S. Navy USS Wyoming (SSBN-742), submarine emblem

- ID 14534


›› U.S. Navy USS Yorktown (CG 48), cruiser emblem (crest)

- ID 14162


›› U.S. Office of Personnel Management (OPM), seal

- ID 19446


›› U.S. POW/MIA, flag

- ID 8832


›› U.S. Revolutionary Battle Flag (1776)

- ID 11154


›› U.S. Serapis Flag (1779)

- ID 10464


›› UK-led Joint Expeditionary Force (JEF), emblem

- ID 23963


›› Vancouver (British Columbia), badge of Police Department

- ID 11673


›› Vermont Republic, flag (1777, flag of the Green Mountain Boys)

- ID 10260


›› Veszprém (Hungary), coat of arms

- ID 13485


›› Warsaw Treaty Organization (Warsaw Pact), emblem

- ID 30697


›› Women`s Royal Australian Army Corps (WRAAC), badge

- ID 16320


›› Zalaegerszeg (Hungary), coat of arms

- ID 13486


›› Christian (Protestant) flag

- ID 10351